Maximum Settings is a North American Cloud Gaming Platform. We classify them as a PC Rental Service, meaning you get to use a full-fledged gaming PC, not just access to pre-installed games. They have a single data center in Toronto, Ontario, Canada. They maintain their own hardware and develop some software for their service. Over the past year, they've gone through some significant changes.
I'm Little Quick, and today we're taking an updated look at Maximum Settings.
How do you get started?
Maximum Settings requires a subscription to play. To sign up, visit their website and fill out the forms. You'll be set up in minutes. If the tier you want is not currently available, they have a discord that will notify you of when signups are active again. I recommend hopping on their discord anyway if you sign up. Once they assign hardware to your account, your machine is yours and yours alone, so you'll never have to wait unless there's some kind of maintenance.
What's the cost?
Maximum Settings charges by the hour similar to AirGPU or Paperspace.  Once you have an account, you buy credit on their website and that credit will be consumed for each minute your cloud PC is running.  To their credit, Maximum Settings doesn't nickel and dime you. You're not going to spend more on storage space, RAM, bitrate or any of that extra stuff.  It's much simpler – You pick a tier, you pay that price, and that price is comparatively low when weighed against their rivals on a hardware to hardware basis. They also give you a hefty amount of storage, so you won't find yourself deleting games every time you want to switch it up.  They also promise great upload and download speeds for each tier.
Tier Cost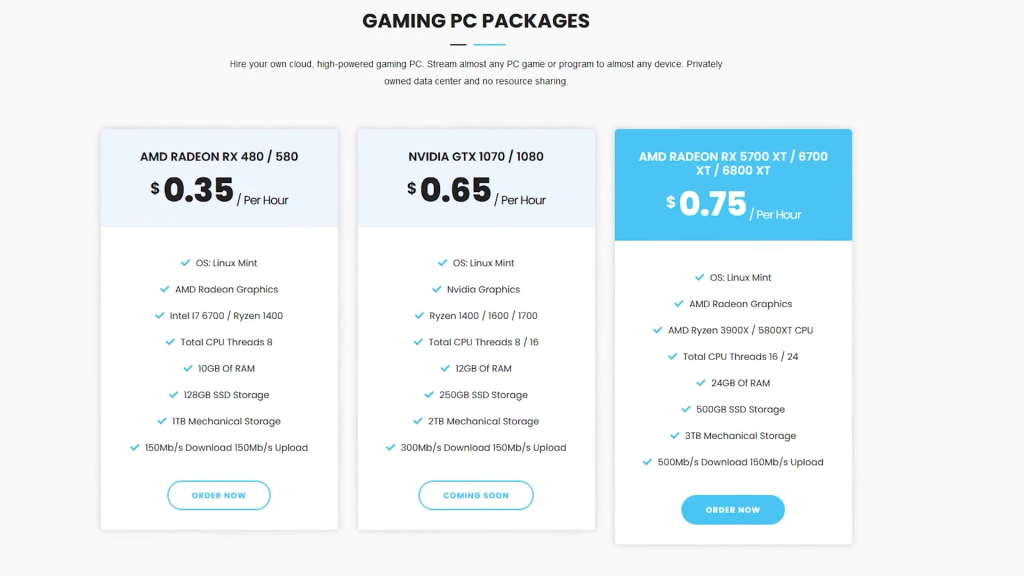 They have a simple tier at $0.35 an hour featuring an AMD Radeon 480 or 580.  There's a good amount of storage at 128GB Solid State and 1 Terabyte of Mechanical storage.  You'll also have access to 10GB of RAM and a Ryzen 1400 or Intel i7 6700 processor with 8 CPU threads.
Their respectable NVidia GTX 1070/1080 tier is featured at $0.65 an hour. The Ryzen processor is a 1400, 1600, or 1700. Also included is 12 GB of RAM and double the storage of the previous tier.
The best offering to me, however, is the $0.75 an hour AMD Radeon RX 5700/6700/6800 XT tier. These are AMD's offerings that are comparable to NVidia's forbidden RTX 3000 series.
You get 24 GB of RAM, 16 to 24 CPUs thread with Ryzen 3900X or 6800XT CPU and 3 and a half terabytes of storage, with 500 GB of it being on Solid State.
How It Works
So what's the catch?  How do they offer all of this at such a great rate, especially compared to their rivals?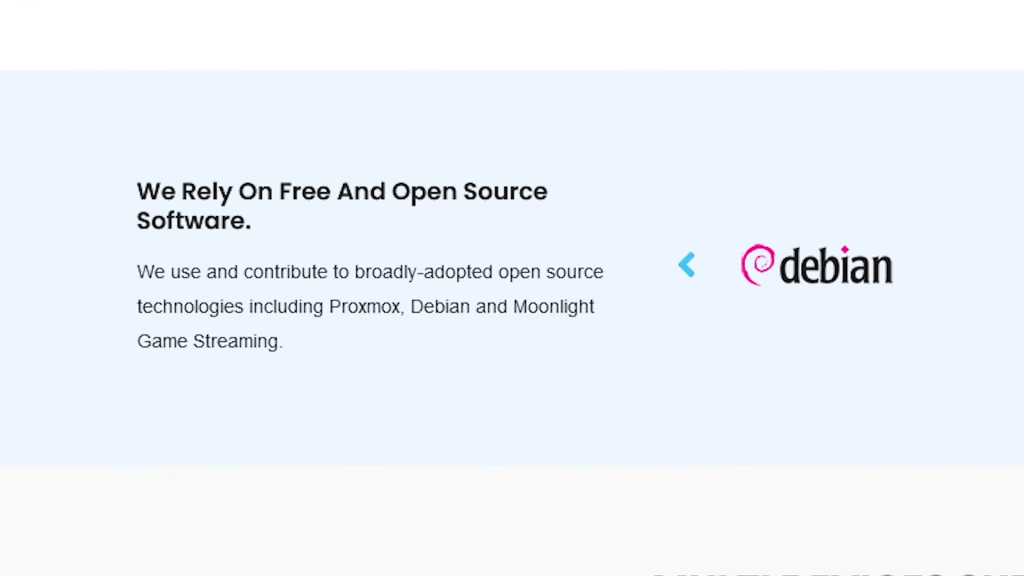 A big theme with Maximum Settings is using modified open source technology.
They stream to your devices using Moonlight, an open source application originally designed for use with NVidia GPUs. They've evolved Sunshine, an open source app that works with AMD hardware and Moonlight, into the Maxximizer so they aren't locked into only using NVidia Hardware and prevented from using top of the line GPUs.
Since Moonlight runs on so many devices, you can connect from not only another PC, but also a Mac, Android, iOS device, Apple TV and more. Whichever device you connect with, remember that you may need certain peripherals, such as a controller, mouse or keyboard to make the most of it.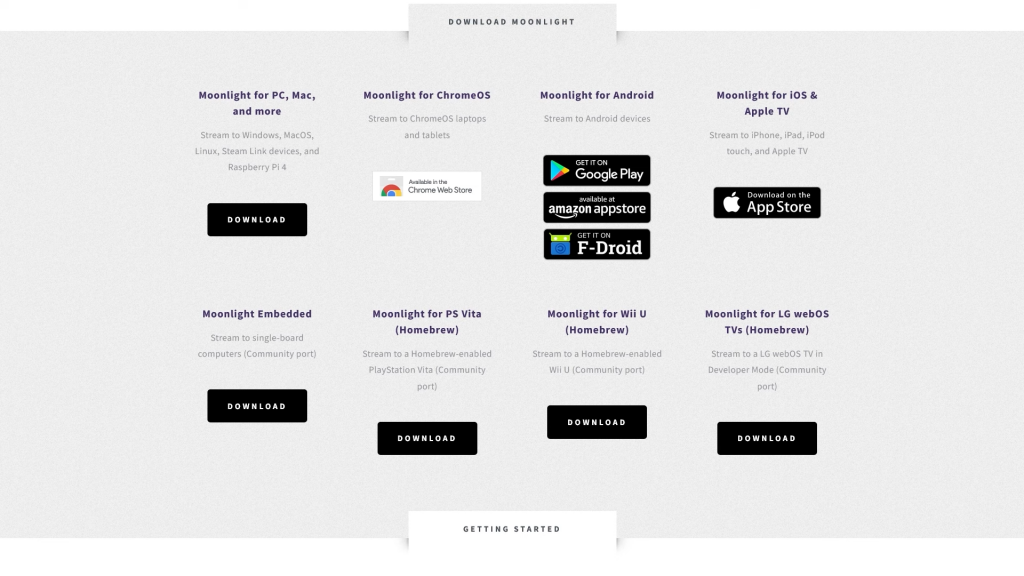 The machines they provide come with Linux Mint OS, a free-to-use operating system with many open source components that is fairly easy to learn and use.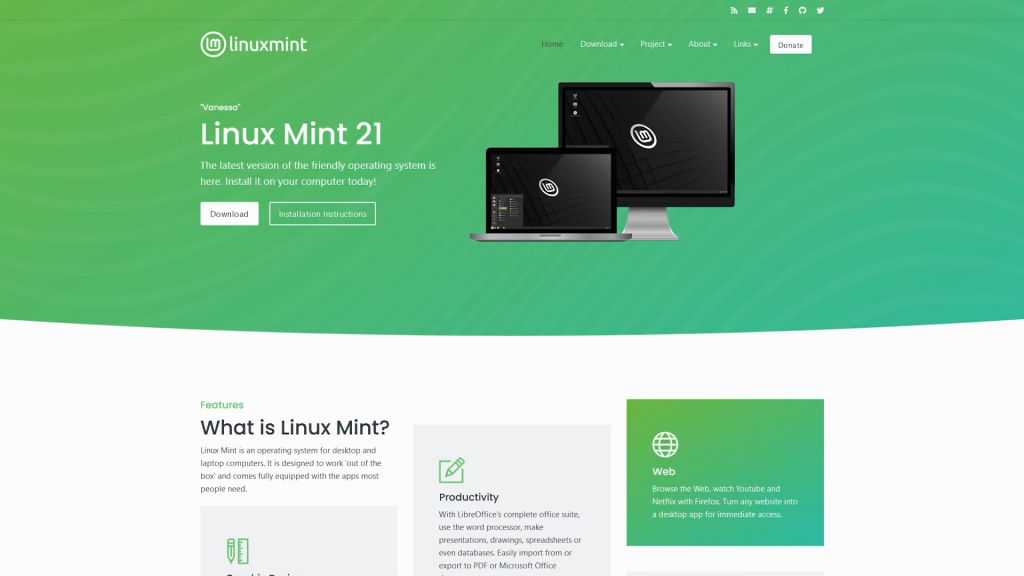 This means no Windows on any new accounts.  If you've seen Maximum Settings footage running Windows, even from us, those are legacy accounts and no longer available.  New users will  be using a Linux Operating System.  Installing Windows yourself outside of the Mint Virtual Machine is currently not possible, but is a feature they intend to implement in the future.
How do you use it?    
Turning on your cloud PC in order to play is done on the maximum settings website – you log in, turn on your PC, and then use moonlight to connect.  For more information on the setup process, check our getting started guide.  Once your Max Settings PC is running, you simply connect with whatever device that is running Moonlight and you're ready to go.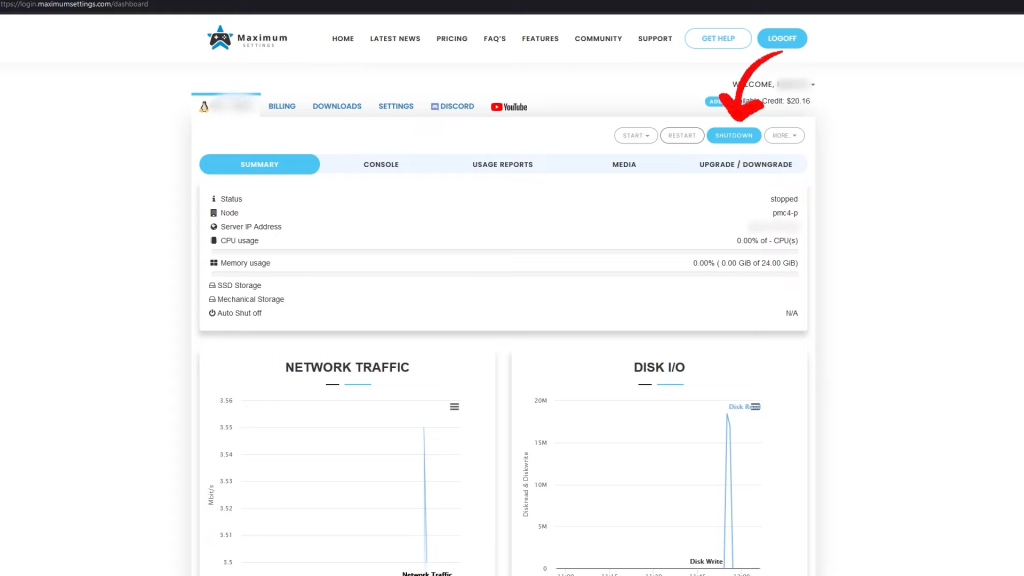 Just remember to turn your cloud PC off when you're done using it. Maximum Settings will run for 5 hours and then automatically shut off to prevent you from wasting your whole wallet, but it's best to turn it off yourself.
Linux supports a number of free applications that can do pretty much anything, such as GIMP for image editing, or KdenLive for Videos.  But you're not keeping it tuned to Cloud Office Work Battle. We play games.
What games work on Linux?
Surprisingly most of Steam will run on Linux one way or another.  When running Steam on a Linux machine, there is a filter to hide games that do not run in Linux.  Furthermore, there are compatibility programs, usually based on Wine, to help games built for windows to work on a Linux Operating system.
So then what doesn't work on Linux?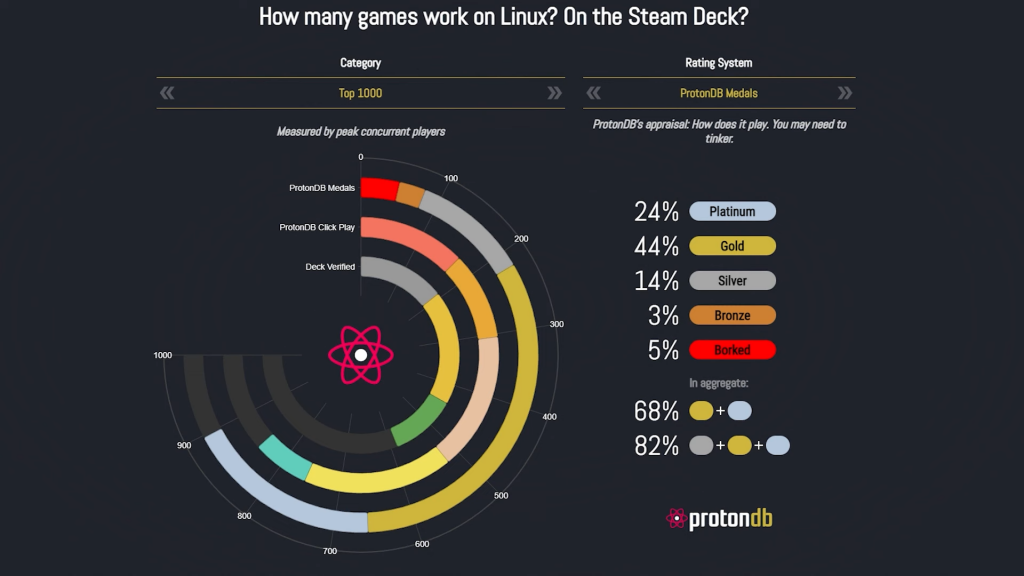 You'll find the most trouble for competitive games with strong anti-cheat, such as Dead by Daylight, Rainbow Six: Siege, Destiny 2 and PUBG: Battlegrounds.  Some of these games are among the most popular in the PC gaming community, so even though *most* games are supported, many of the most popular franchises won't work.  It's best to check the Proton Database to see which games are running well.
Windows Games on Linux
There are more ways to play games on Linux outside of Steam. Lutris is a popular Wine-based application that helps get games running from all kinds of installers from Epic Games Store, GOG, Humble Bundle, and more, including emulators and locally installed games.  Check out Lutris.net for more information or to search for games there.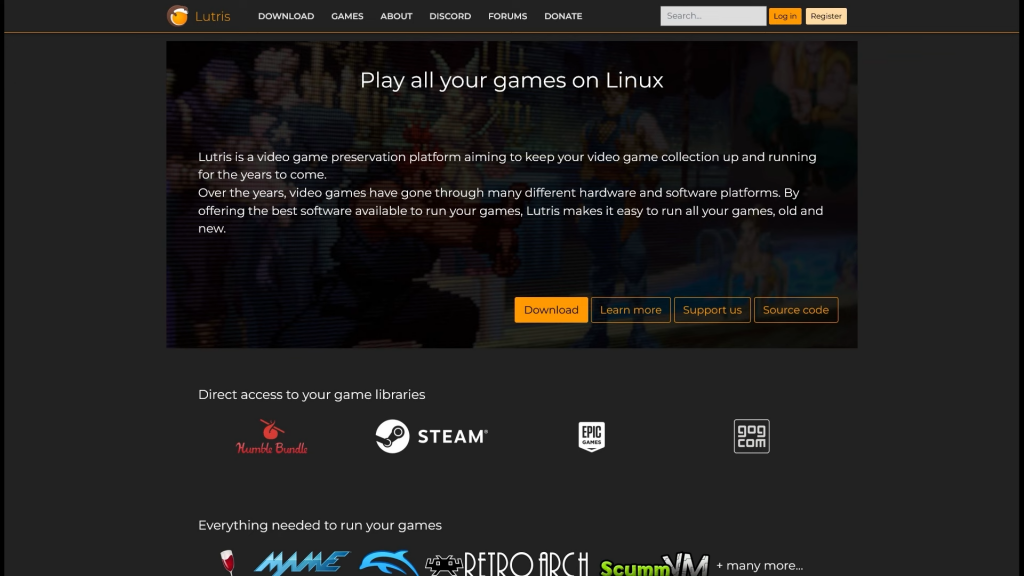 Let's show a game that doesn't run on Linux natively, running on Linux with some help from the compatibility programs. How about Starcraft 2? It's relatively complicated for an install, as we'll need to install Battle.net as a prerequisite to playing the game.
In order to install a game that runs on Windows but won't support Linux, we have 2 easier options. We could add it to steam as a non-steam game and enable proton and see if it works or we could open Lutris and install it through there. More people are familiar with Steam, so let's try Lutris.
Within Lutris, you have options to add the installers I mentioned before, but Battle.net isn't listed.  So we're going to add it ourselves.  I download the Windows executable, then I tell Lutris to install it with the Wine compatibility app.  With the assistance of Lutris and Wine, we can now install the program.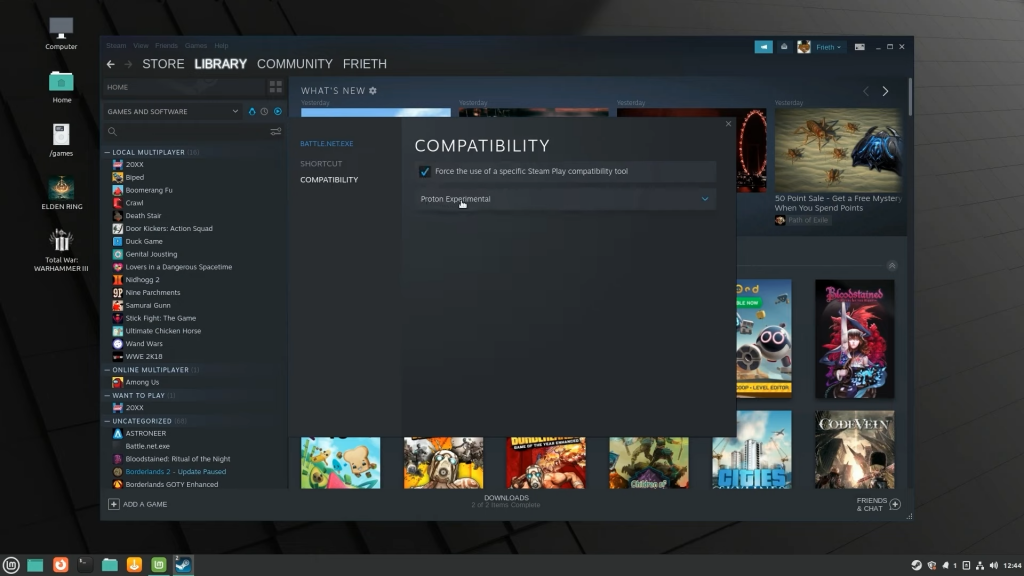 Simply install the program as you would on Windows through Battle.net and get moving. Once installed, the process to play is much easier: open Lutris, find Battle.net and play as normal, using Lutris as you would any game launcher.
I even ran Starcraft before it was done downloading in order to see if that caused problems with the compatibility layer. It did not.
I also tried a brand new game to see if it would work: Tower of Fantasy.  As the game is so very new, there aren't as many posts or examples of people playing it.  I'm able to get the installer running through Lutris, but the game fails when attempting to play.  Why?  Same reason Destiny won't work: The built-in anti-cheat doesn't like our compatibility program and won't let us in.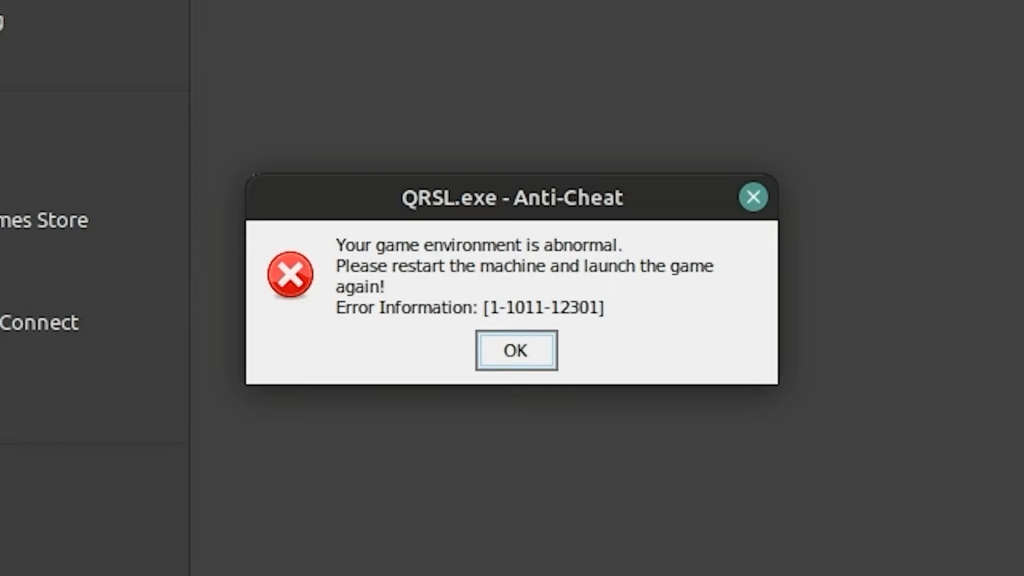 Let's talk about performance.  I am quite close to Toronto, Ontario, Canada as I am located in Cleveland, Ohio, USA so I pass the distance test. I get solid stream quality, solid frame rate and tight, reactive controls.  I'm running on the $0.75/hour tier.
Games Overview
I tried a number of games. Terraria runs natively and worked perfectly. Same for Shadow of War.
Monster Hunter RISE was great. This is a game that runs on a Switch after all, it won't need the latest hardware to function. It felt a little different than my home PC, but not in a significantly detrimental way.
Conversely, Elden Ring, a game known to have optimization troubles running on PC, runs great on this tier.
Starcraft 2 running through Wine Compatibility via Lutris worked very well for the most part.  It looked and played perfectly except for two small issues, neither of which affected my gameplay significantly.
Vermintide 2 and Tower of Fantasy would not run, even with compatibility enabled, but both have anti-cheat.
Total War: Warhammer 3 runs natively in Linux.  It's a very demanding game that will put your hardware through the paces and really stress test your machine.  I ran a benchmark at 1440p with everything set to Ultra and it hung around the 70 FPS mark. The hardware and performance of Maximum Settings is extremely solid.
The theme of Maximum Settings as a cloud platform begins to emerge after trying all these games: Hardware performance at this tier is rarely if ever a problem. Compatibility with Linux is.
Is Maximum Settings for You?
So should you get Maximum Settings or not?  I'd recommend it if you are close enough to their data center in Toronto for low latency and minimal control delay. Also if the games you favor require little to no tinkering to run.  If you like tinkering with computers and coaxing them to work, then definitely go for it.  Maximum Settings has great prices, support and community.  I've had little to no problems with the service itself.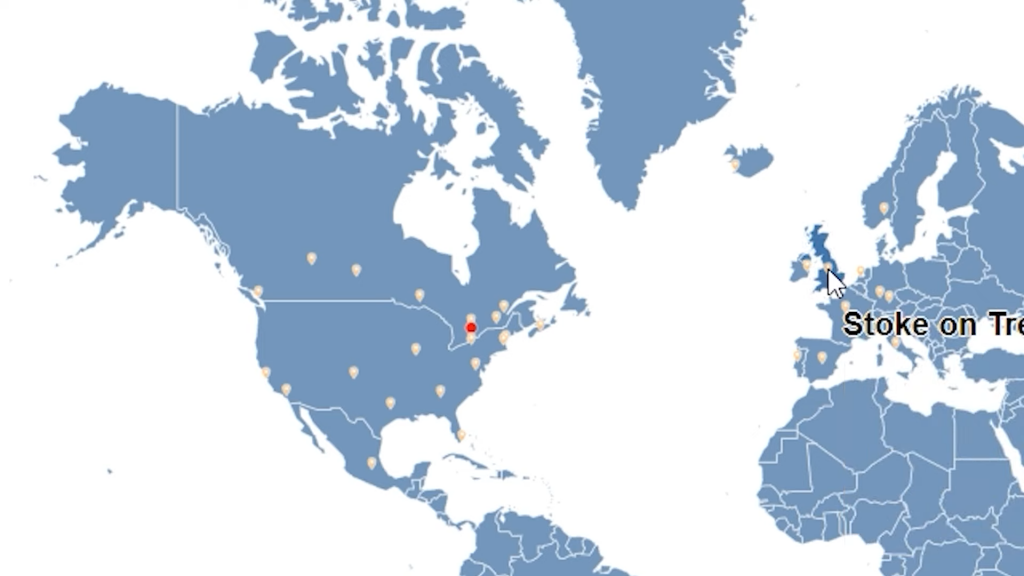 Pass on Maximum Settings if you are located too far away from Toronto to get the desired level of latency.  Link in the description to Maximum Settings' latency map to use as a guide.  Over 120ms will be miserable. 40 Milliseconds or less is the ticket to smooth gameplay and anything in between will be up to what kind of game you're playing and you personal taste. 
Another reason to avoid Max Settings would be if you favor games with strong Anti-Cheat programs like Destiny 2, Tower of Fantasy or Valorant.  Last, if you don't want to bother with Linux, you can't install an alternative yet, even if you provide your own Windows license.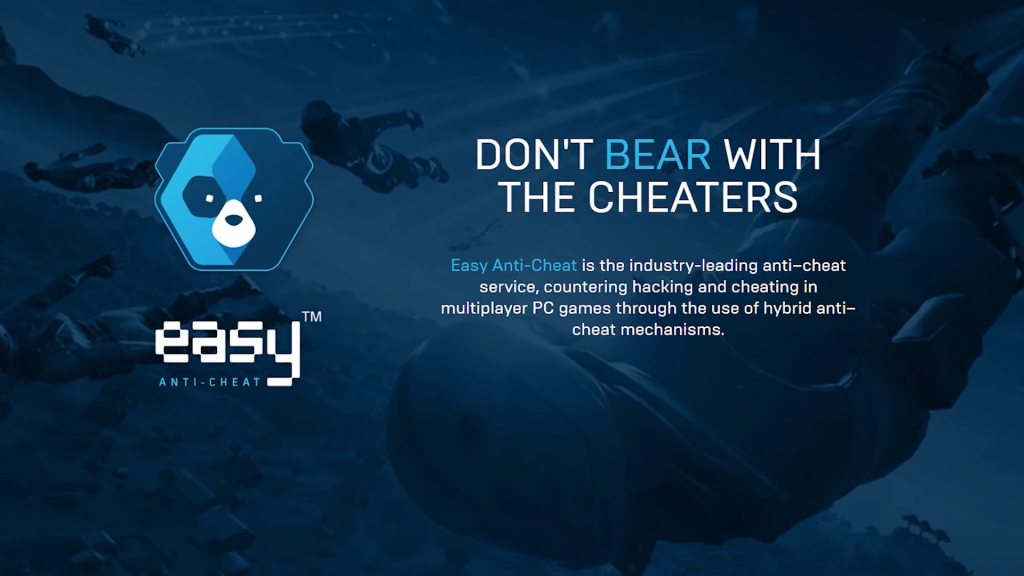 I've given Linux a chance, and I don't hate it, but it does take some time to get used to.  I'm going through a lot of the growing pains of learning something new.
Conclusion
Despite the massive changes to their service, Maximum Settings remains one of the highest quality cloud gaming options on the market.  It isn't a monthly subscription service, so gamers who are binge playing for endless hours would be better served by Shadow, GeForce NOW or Boosteroid. However, compared to the other pay by the hour services, such as AirGPU or Paperspace, the hardware to price ratio and service cannot be beat. For most people considering an hourly service it's down to location and Linux.
Keep it tuned right here to the only place you can do battle in gaming heaven, Cloud Gaming Battle.