Adventures through the realm of Greek myth and legend are back in the upcoming release of Ubisoft's Immortals Fenyx Rising. Though we've experienced and battled through different universes sharing the same theme like the iconic Daybreak title God of War, or most recently in Gameloft's Assassin's Creed: Odyssey, this game takes a more comedically animated approach to the Greek mythos. While some may feel like the theme is worn and tired, Immortals Fenyx Rising takes a fresh approach while following some very similar formatting to another fantasy title – The Legend of Zelda: Breath of the Wild.
Now while many of you may think this is just another carbon copy to the fantasy epic made by Ubisoft developers you'd be both right and wrong. There are some very clear similarities, arguably direct copies and other game mechanics in the fighting system. However, the game itself and its story does seem to have its own identity, it simply takes the strengths from these games and spins a Greek epic, Greek storytelling poem, within another dynamic, vibrant and quest-filled open world.
Immortals Fenyx Rising Backstory
We played the Immortals Fenyx Rising demo on Google Stadia to get a hands-on preview. Immediately, from the title screen, players are immersed in the theme of Greek myth. The overall story is that you play a Greek heroine or hero (players have the option of playing as a man or woman in the full release) within the chaotic world of ancient Greece.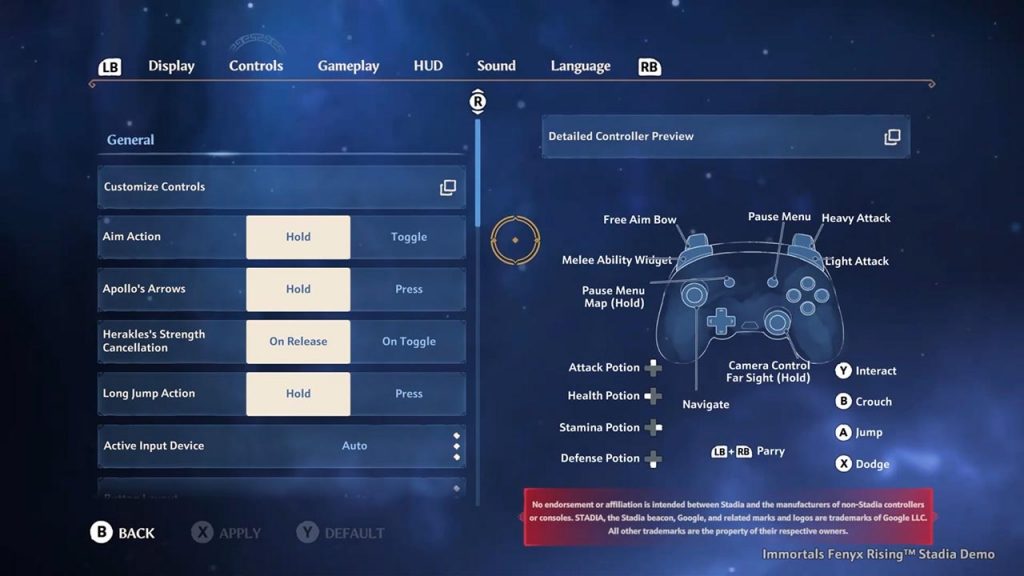 The Immortals Fenyx Rising story is told through the stoic narration of Prometheus, who is chained to his mountainous prison, and is trolled by a sarcastic and story-altering Zeus. Your main mission is to defeat the terrifying Typhon, King of Monsters, from destroying all of Greece, saving the Greek Pantheon; and with your magical weapon arsenal and equipment and your pet phoenix Phosphorous, as you journey through this mythological universe.
Dynamic and Vivid Graphics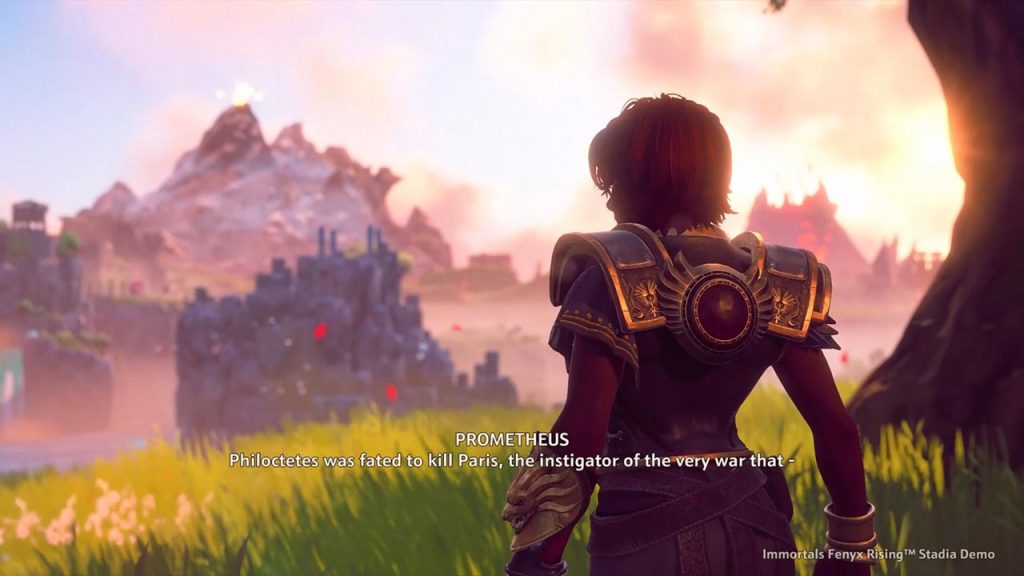 Before you even begin the starting tutorials, you immediately notice that the animation is dynamic and beautiful. Taking on a more cartoon animated theme, the colors and shades are vibrant and vivid. From the trees and constellation-filled sky above, and the teal and blue crystal waters you accidentally fall into as your stamina runs out. Even the design and details of the Immortal Fenyx Rising weapons, mounts, and enemies you face, make the experience extremely satisfying. In addition, we took advantage of the Google Stadia Pro-account's ability to stream in 4K, so the graphics were that much more intense.
Seemingly Limitless, Interactive Map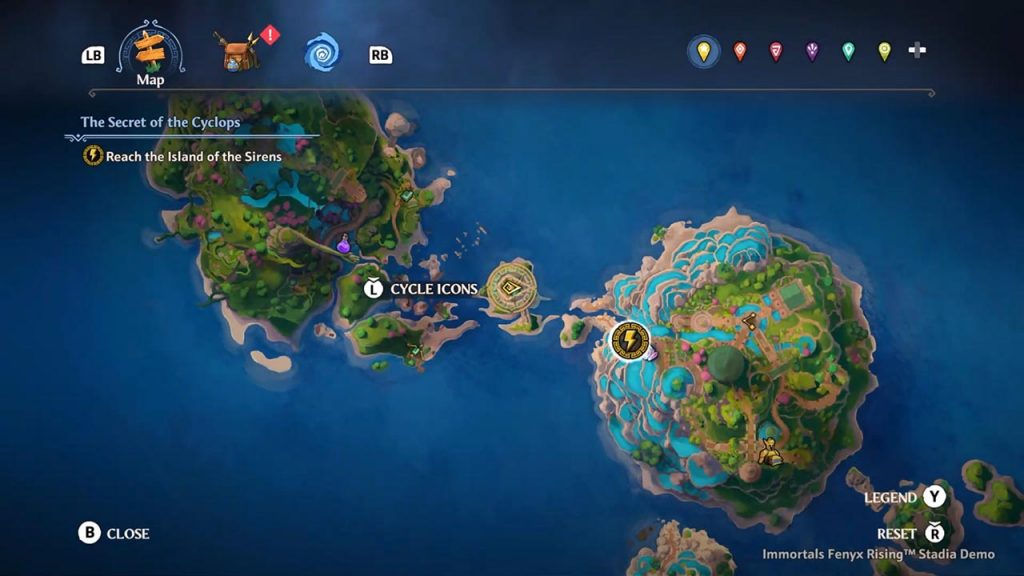 The game's open world is vast, intricate, and filled with quests and puzzles. Unlike most open world games that feature large scale maps which are not fully accessible, Immortals Fenyx Rising welcomes and openly challenges players to explore every bit of land available. The incentive is that doing so will unlock a multitude of secret gear, weapons, and hidden artifacts. 
Exploring the Landscape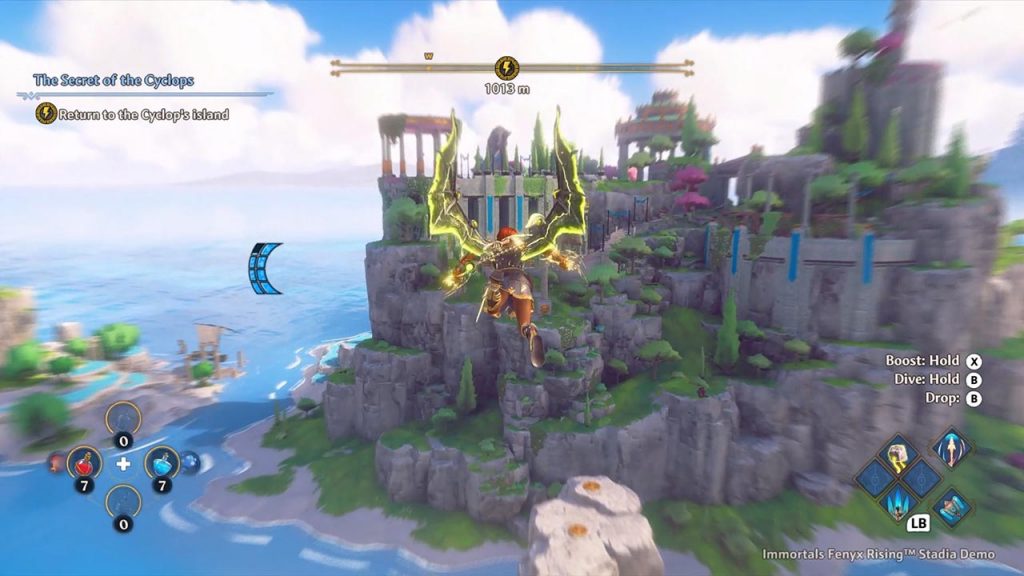 While playing the demo, Immortals Fenyx Rising features a waypoint system very similar to most open world games, with markers and different points of interest. After getting through the movement tutorial, you start the game from high up on a mountain cliffside, and you can immediately see the map's far reaching horizon. Your waypoint invites you immediately to fly over to the next area using your Daedalus-esque wings, and continue through to the main quest. However, immediately below you is an entirely separate beach which is completely playable. Here we found the first puzzle, which requires you to use your magic bow to guide an Arrow of Apollo through a number of rings.
Zelda fans will be reminded of the intricately specific puzzle activation by requiring players to achieve objectives with each puzzle in order to solve it. In addition to the mountain, you find a number of hostile animals: wild boar, bears, and even harpies. As you return to this point later, you find even the mountain where you begin is completely explorable.
The ability to explore and unlimited access to the open world is further cemented as you find the game not only plays horizontally, but also vertically and internally as you explore the depths of the oceans, traverse the tall peaks of the mythical landscape, and spelunk caverns and ancient ruins and temples.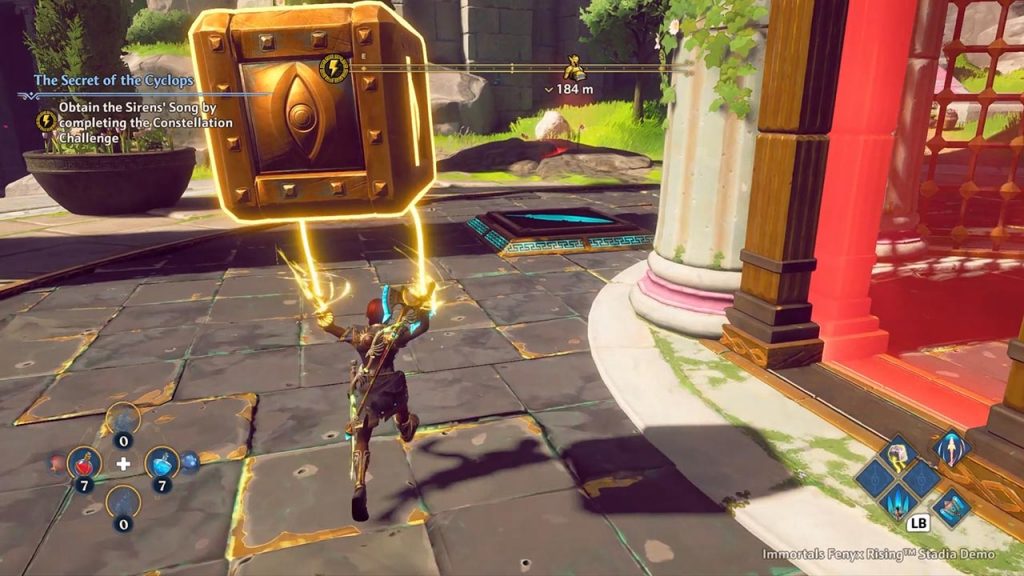 Secret puzzles throughout the landscape are another feature awaiting players in the full-game release of Immortals Fenyx Rising. A multitude of gear, weapons, and artifacts span the landscape, varying in secrecy and difficulty.
Main Landscape Puzzles
As mentioned before, fans of the action-adventure genre will enjoy and hate the objective specific puzzles, requiring players to think outside the box in order to solve the not-so straightforward solutions. Either using your god-given powers to move and push large objects like stones on to pressure pads, or use your magic harp in order to play certain tunes to unlock a passageway. Not only will a player's endurance be tested, but their wit to uncover new points and chest's within the game.
Realm of Tartarus
Though we did not have access to it during our demo gameplay, the Realm of Tartarus is another aspect to the puzzle feature of the game. Here puzzles and side-quests are entire pocket dimensions inside of red portals across the landscape. These serve to challenge players as they try to uncover further secrets and gear within the game.
Divine and Devastating Arsenal 
Gifts from heroes and gods of Ancient Greek lore, players are equipped with a number of unique and powerful weapons and gear. Not everything was available on the demo but you really got a good feel for how the weapons handled in game.
Weapon Arsenal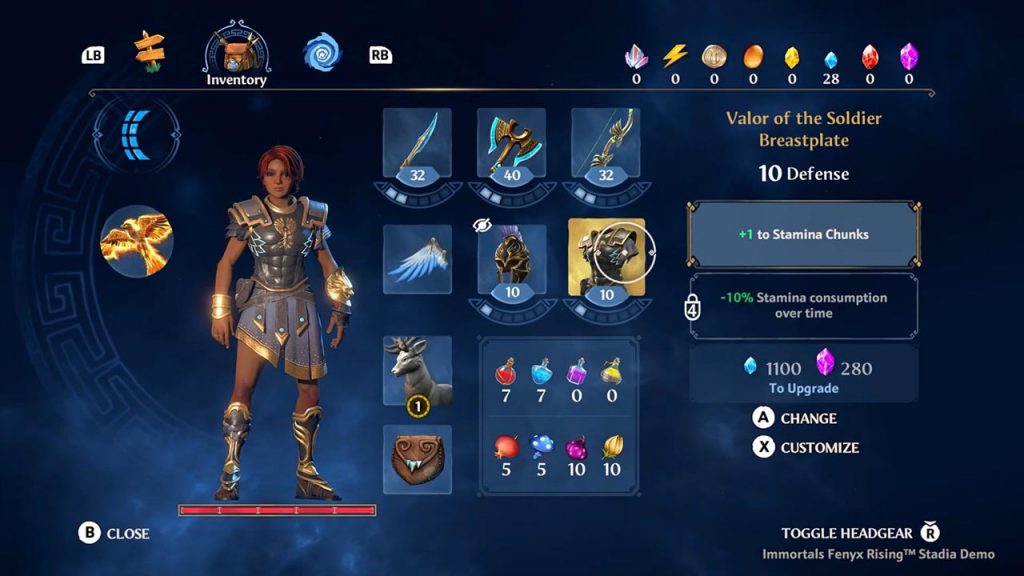 Fenyx is equipped with a light sword, used for light and fast attacks, and tactical parries; a large, two-handed axe, which can be used to bash heavy shields, and deal slow but devastating damage; a magic bow which can shoot not only charged arrows but use the guided, magical arrows of Apollo, hitting enemies from afar and with complete directional control. These weapons have specific purposes and uses, yet players can utilize and even freely chain attack combos using the different weapons.
In addition Fenyx has some special attacks which can deliver critical amounts of damage. Ares' Wrath is a spear ability which launches players high from the ground while spawning a number of sharp spears upward; Hephaestus' Hammer spawns a gigantic hammer which can rupture the ground and blast away enemies for crowd control; these being just a few available powers from the limited demo.
Divine Gear and Powers
Fenyx is also blessed with a number of godly gear and powers. Players are equipped with a set of powerful wings called the Wings of Daedalus enabling players to glide, dive, and cushion falls, as players travel to different areas. Fenyx's magic harp, believed to be homage to Link's Ocarina, can play a number of different melodies, and as mentioned before will probably be used to unlock puzzles, and is possibly a fast-travel system. A pair of mystic sandals called Athena's Dash allow players to sprint quickly, and even bombard enemies with a powerful tackle, at the cost of stamina.
One of the coolest features are Fenyx's magical ability called the Strength of Heracles, to lift heavy objects, enveloping them in a golden aura. Fenyx's body will glow with a light yellow aura and users are not limited to walking these objects to sections of the map, but are able to use Athena's Dash in conjunction at the cost of limited mobility. This was the most fun when using them in conjunction with solving puzzles, but the full game release should expound upon these divine abilities even further.
Traveling with your Trusty Steed and Fiery Companion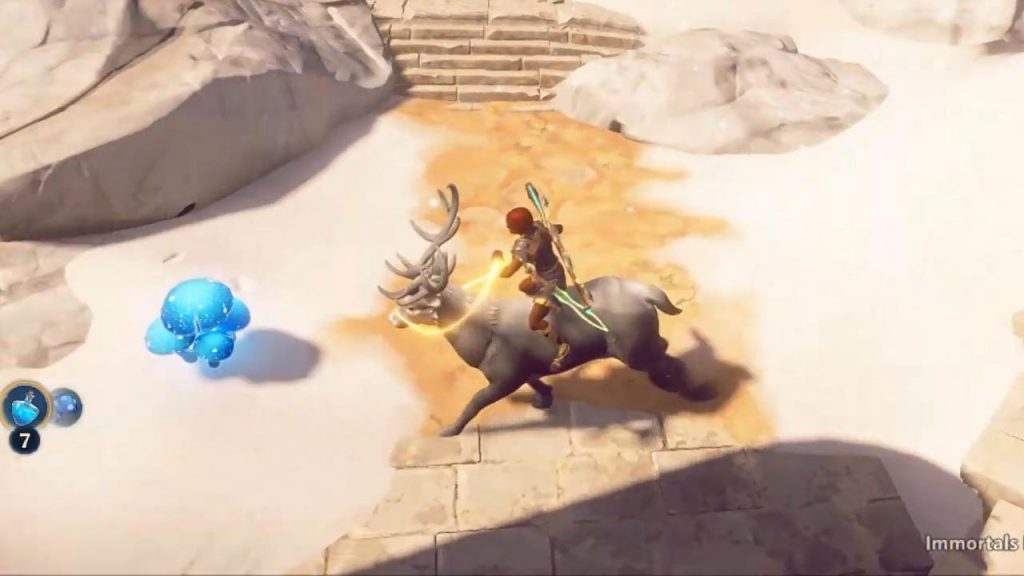 Another reminiscent feature of other action-adventure games, is the player's ability to call upon and ride an animal mount through any part of the game. In the demo, you are able to summon a majestic buck which you can ride for faster mobility, and utilize an unofficial jump boost feature, which will remind you of wasting Yoshi as you dismount to reach the final flag of Super Mario. Mounts can come in the form of any animals that you tame during your journey, but initially you begin with a steampunk horse in the full-game. In addition a small phoenix named Phosphorous flies alongside you and in the full game, you will be able to use it to attack enemies from afar and preemptively.
Extensive Customization
Players can not only customize their character's physical appearance with hair color and style, facial hair, and other facial features, but the gear system works in both appearance and performance. As you discover new gear and weapons player's not only increase their performance, but also the appearance of their gear and weapons in game, and the game mechanics move seamlessly with each change. Your gear aren't limited to solely being used in sets, and each provides a unique boost or buff. In the demo, we were able to discover the complete gear set of a winged-undead warrior which looked like it had been washed in the River styx with its eerie light green color and tattered appearance, and the unique boost provided extra damage. Within the full-game, using different armor pieces, switching pieces out to suit the needs of your play style and objective will serve as a benefit and advantage during missions.
You Are What You Eat
The in-game movement system allows players to sprint, climb, glide, and dive nearly limitless throughout the landscape. Players are only limited by the stamina system within the game. Abilities can be exhausted and depleted through continuous use. Your stamina is used for all your abilities and actions within the game, and are directly connected to their effectiveness. When your stamina is depleted, Fenyx will move more slowly and an exhausted animation will begin until your stamina is recovered.
Stamina and Magic Mushrooms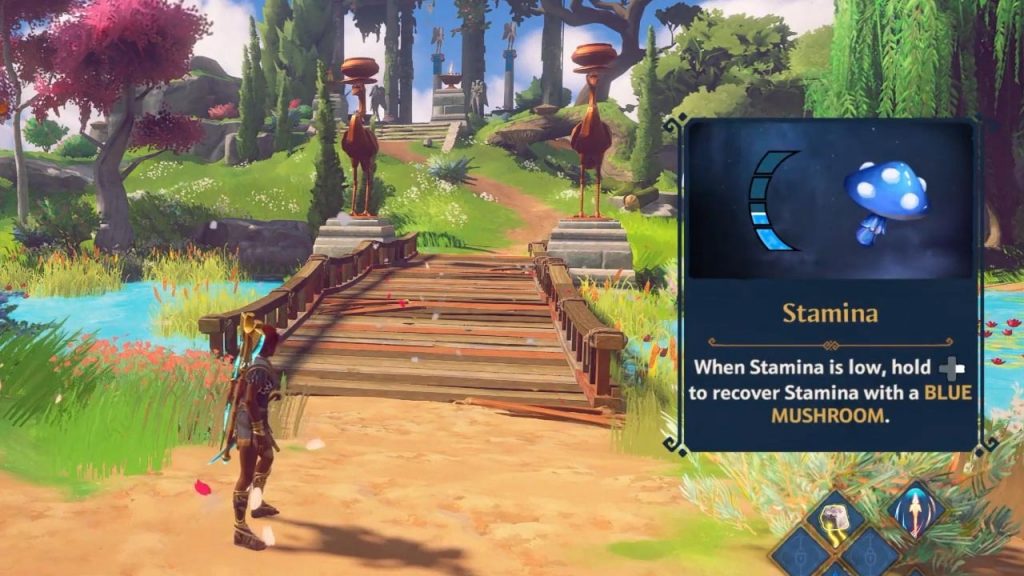 Stamina can be recovered through time, or by eating magic blue-colored mushrooms that spawn throughout the entirety of the map and are the quickest way to replenish your stamina. While these are the best way to replenish, they are most effectively used ,when stationary on flat land. During our gameplay, I attempted to climb to the peak of one of the mountains. While doing so, I eventually got to a point where I was unable to find a landing and my stamina was very close to depletion. Even though I tried to eat a mushroom while climbing, I recovered significantly less than I did when I was on flat land, leading to me falling all the way down to the base.
Health, Hades Pomegranates and Divine Ambrosia
The game's health system is based on hit points which are registered with a red bar. The more damage a player takes, the lower the health bar will go until depletion and death. Though we did not die during our gameplay, we came close in the final battle against the unfrozen Cyclops. When you are close to death, Fenyx noticeably becomes affected with panting animations, in addition your screen will begin to get a red-glowing outline, signifying to you that you need to heal immediately.
Since the demo finishes at the end of the cyclops battle, we were unable to see if your health regenerates with time. On the verge of death though, players are saved by the sweet taste of pomegranates, referencing the Greek God Hades favorite snack. Similar to the magic mushrooms, these can be found throughout the map and collected. Ambrosia, the divine food of the gods can be found in hard to reach places of the game. They'll remind you of a piece of the Dragoon in the Super Smash Bros. titles. These collectibles provide a health boost when eaten and are not easily found, so players are encouraged to search high and low for their rich taste.
Tactical Battle System
As players traverse the wide landscape of Ancient Greece, players will be pit against numerous enemies, fallen heroes, bosses, and monsters alike. The game's battle system follows directly with the Breath of the Wild, allowing players to take control in how they approach battles. With an extensive arsenal at your disposal, a player can fight directly and aggressively with the use of Fenyx's sword, axe, and their special abilities, and fight from a distance using Apollo's arrows and magic bow. In addition players can fight tactically by using preemptive stealth attacks which deal critical damage, Phosphorus the Phoenix's dive bombs while chaining weapon attacks, and even used timed parries to break opponent stances and land lethal blows.
With this array of abilities, we predict that future battles will require players to use situational tactics in order to best defeat a foe. With the original name of the game being Gods and Monsters, and the final boss of the demo being a large cyclops, players can expect Monster Hunter style boss battles, warring against humongous foes with unique attack patterns and defenses. 
First Look Conclusion
In our experience with the demo on Google Stadia, Immortals Fenyx Rising is a lot of fun, and displays exciting potential as an extensive game. If you enjoy similar action-adventure games, you will definitely enjoy Ubisoft's take on a very similar game with a mythological and Ancient Greek theme.
As far as shortcomings or complaints, there weren't many that we had, other than the occasional confusion on the location of objects on the waypoint, but I'm the type of player that feels that this level of ambiguity adds to the challenge of the overall game. In our review of the game's demo, you'll see me fail multiple times at the big puzzles that are featured, even feeling stupid once I figured out the solution.
Now for some, they may complain and say they wish there were some form of waypoint that explained where to start the puzzle or given some more extensive direction. For us at Cloud Gaming Battle, these mishaps are a part of the experience and increase the enjoyability of the game, as once completed, the sense of accomplishment and possible rare gear is enough of a reward for the frustration of figuring out each puzzle or difficult task. We look forward to the official release which is coming December 3, 2020.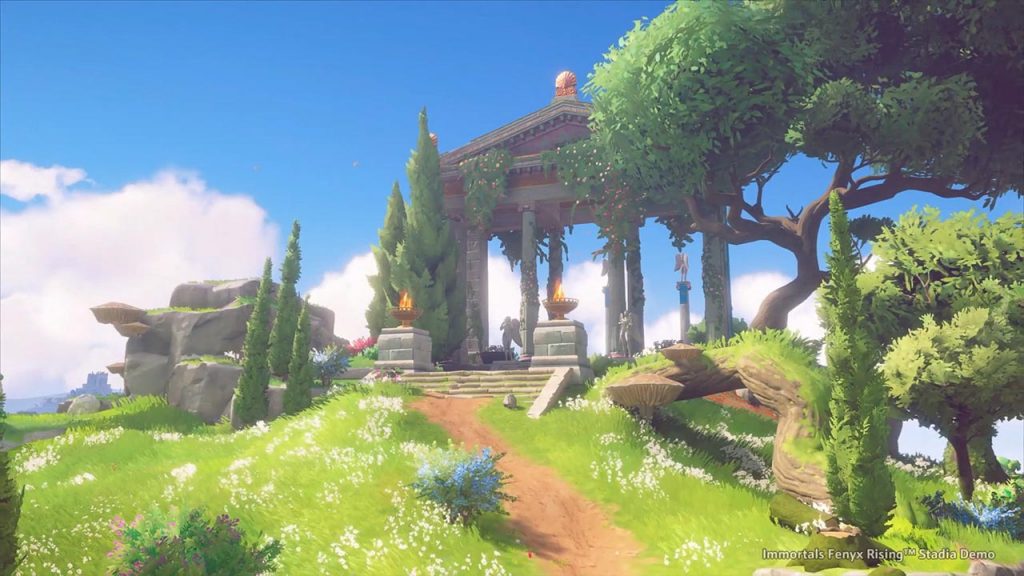 Being the holiday season, I definitely recommend Immortals Fenyx Rising as a gift for yourself and loved ones of all ages. The battle sequences are not too easy or too difficult for the casual player, yet for young children, the puzzles may be slightly too difficult at times. We feel this adds to the game's overall wealth and enjoyability. It encourages players to think and use their wit to win, which is refreshing and a change of pace, compared to most titles which simply have players smash and bash their way through repetitive levels.
Don't forget to check your notifications on our YouTube channel for our complete walkthrough of the game, and until next time keep battling at the only place where you can do battle in gaming heaven – Cloud Gaming Battle.