Maximum Settings is a cloud gaming service based in Toronto, Ontario, Canada. We designate Maximum Settings as a PC rental service similar to Shadow PC. A cloud PC rental service like this is a dream for PC gamers who want to use and play a top-notch PC anywhere they go without actually taking their hardware with them.
We are going to run a full PC benchmark on our mid-tier GTX 1080 Maximum Settings PC. The benchmark will be a score on the overall PC performance using Unigine Superposition. Then we will breakdown the components of the Maximum Settings PC and see how it will compare with similar PC services.
Failed Benchmarks
As we did with our Shadow Benchmarks, we tried benchmarking the Maximum Settings PC with the same software. PCMark 10 and 3DMark crashed every time we tried to run the benchmark so we opted for the Unigine benchmark software instead.
Unigine Superposition Benchmark
For this benchmark, we are going to run two presets. The default preset for 1080p Medium settings and then the High-end 1080p settings. Here is the full benchmark.
1080p Medium Results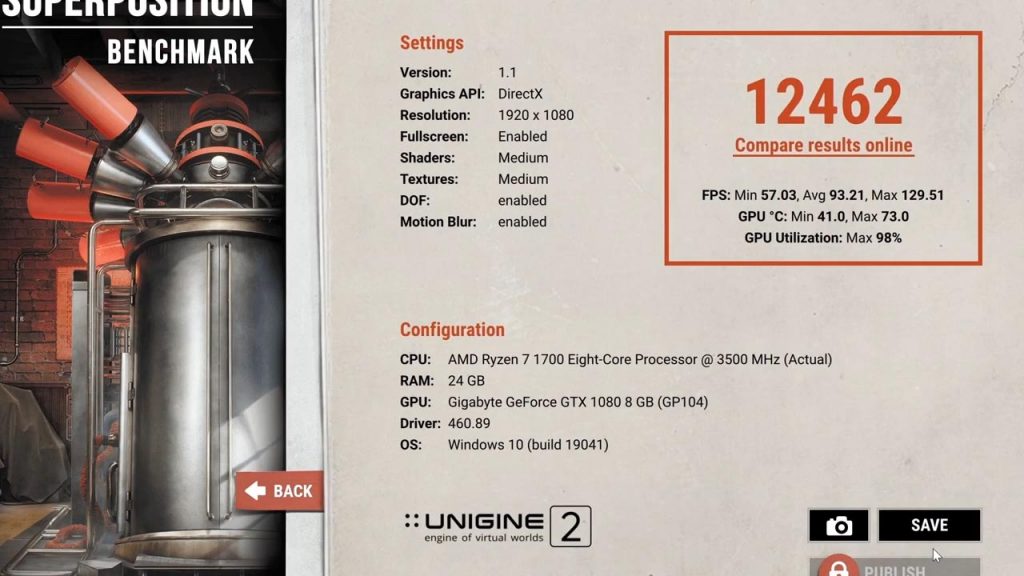 The score for the Medium preset is decent as expected at this resolution. It presents a min FPS of 57, an average of 93, and a max of about 130. For a system that is using a GTX 1080 for the GPU, I expected a score like this at 1080p.
1080p Extreme Results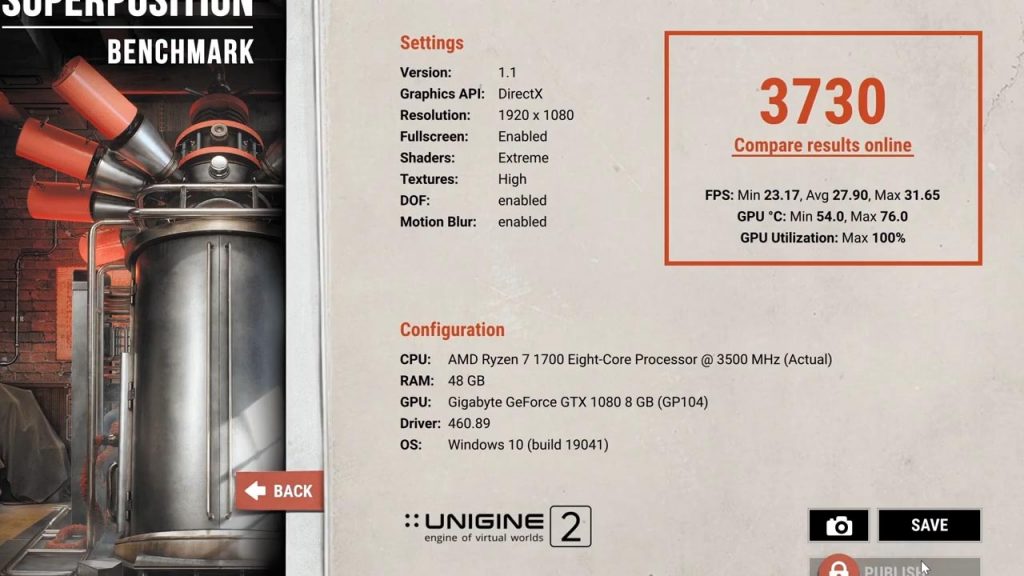 This benchmark is an Extreme or Ultra preset for PCs. I have a score for this and will just show it here instead of running the benchmark again for you.
The score is lower because the settings are maxed out. This is a mid-tier machine for Maximum Settings. This benchmark is a lot lower compared to Shadow's mid-tier Ultra plan which I even ran in 4K.
System Specs
Now we'll check out the Maximum Settings stats using CPU-Z and GPU-Z. I had similar problems running HWMonitor for this benchmark so I skipped it.
Here are the stats:
AMD Ryzen 7 1700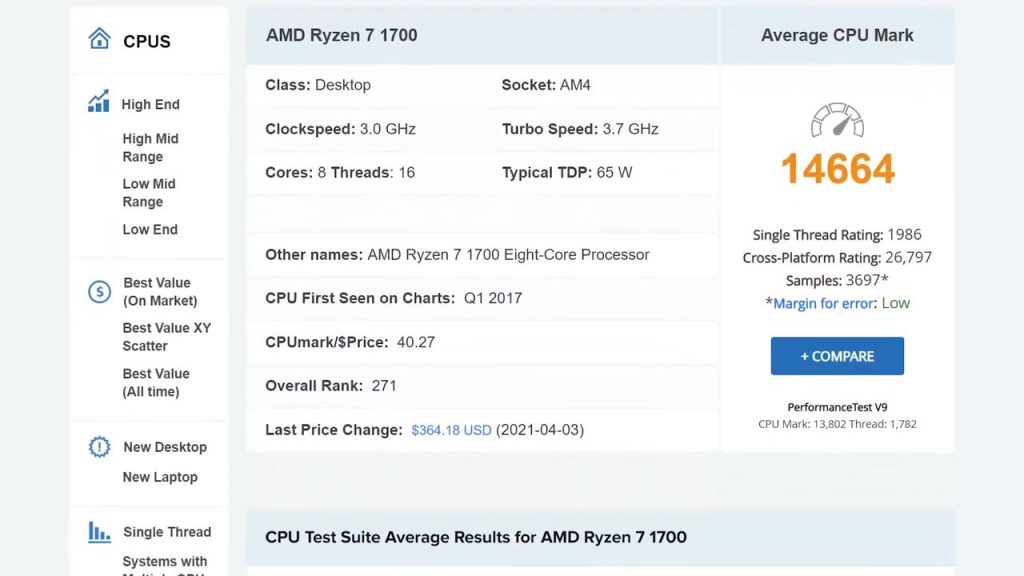 CPU-Z provides all the technical data on the CPU running your Maximum Settings PC. It reveals this machine is using an AMD Ryzen 7 1700, which is a desktop CPU. It is an Eight-Core processor and clocks in a 3.0 GHz. The Unigine benchmark displayed that it was actually running at 3.5 GHz. Note that it is an older lower performing AMD Ryzen processor compared to the latest AMD Ryzen processors but still a viable one.
NVIDIA GeForce GTX 1080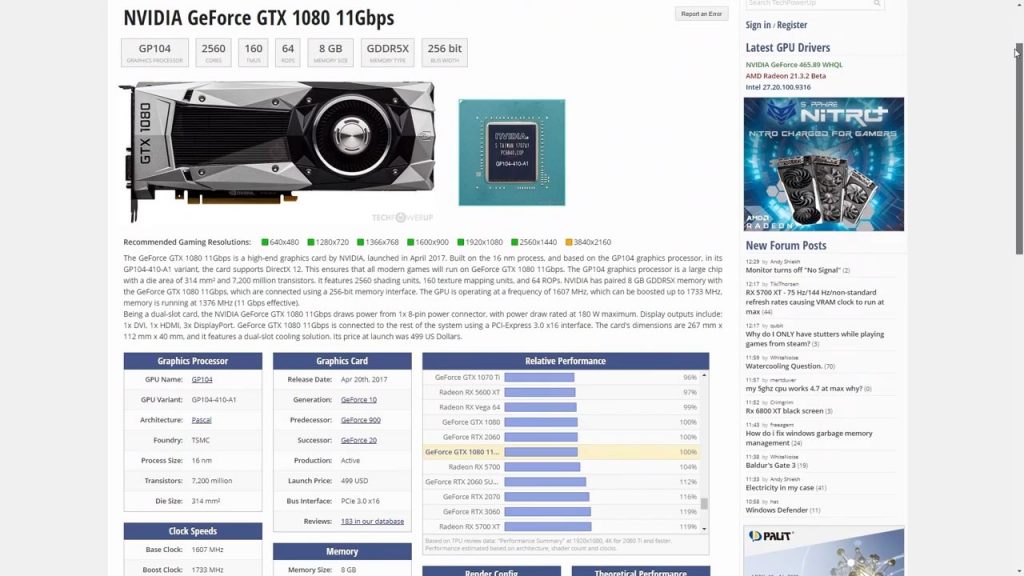 GPU-Z gives us the data on the machine's graphics card. It is using the NVIDIA GeForce GTX 1080. If you have been keeping up with the graphics card industry, you will know the GTX 1080 was an industry killer when it was released but, now it is 2.5 generations behind the most current NVIDIA graphics cards. The 1080 can't run RTX like most current setups.
12 GB RAM
12 GB of DDR4 RAM is plenty of RAM for gaming so you do not need to worry about having enough RAM for this Maximum Settings package.
Open-Source Software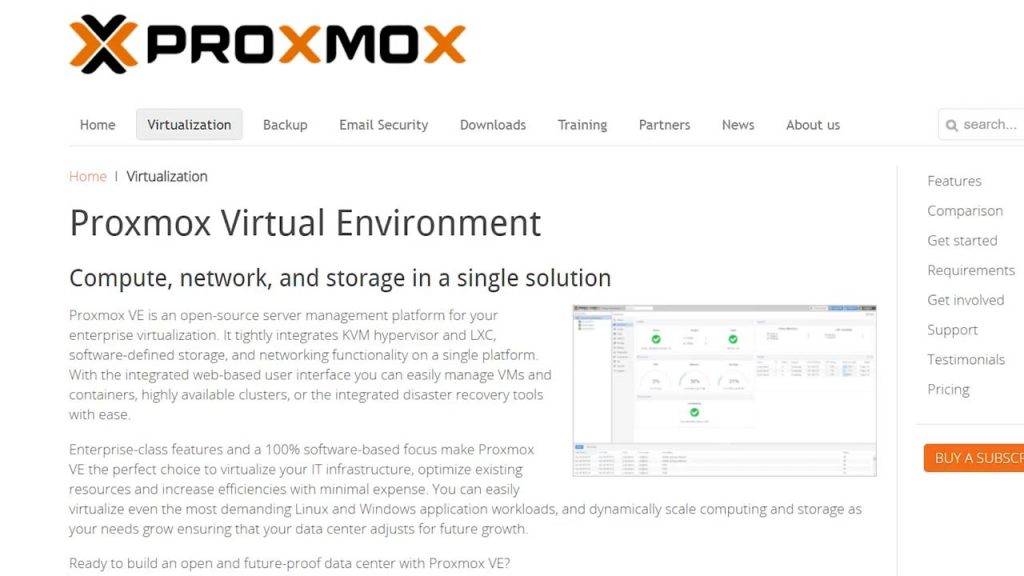 I was able to get an inside scoop on how the Maximum Settings infrastructure works. They use Open-Source software called ProxMox to virtualize their client PCs from a giant pool of available PC hardware. This also helps spread the cost of each user because users do not have a dedicated machine; they are using a virtual machine instead. They have created a custom proprietary script using ProxMox that creates your virtual machine every time you login so you are always utilizing the exact amount of your PC package.
Maximum Setting does this for every one of their plans. They are adding more hardware to their server cluster little by little plus GPUs are very hard to come by at this moment so this is why available machines are hard to come by.
Overview
Overall, I find this mid-tier PC rental on Maximum Settings to be underwhelming. I am surprised to see the PC specs to be desktop hardware but now knowing how the infrastructure is operated, it all makes sense.
I was also expecting to see more current hardware on this tier. This setup seems more of a low tier option instead of a mid-tier setup. Hopefully, Maximum Settings will upgrade their mid-tier plan to support RTX once the GPU market opens up more.
If you liked this Maximum Settings benchmark, give us a like and feel free to subscribe so you can get the latest news, gameplay, and comparisons on Cloud gaming at the only place where you can do battle in gaming heaven – Cloud Gaming Battle.