Monster keep pumping out new flavors to their Ultra lineup as they launch their Ultra Gold flavor. The latest Monster Energy Ultra flavor is based from one of my favorite fruits – pineapple. It comes in a great looking gold can with an original design as Monster always does with their lineup.
How does Ultra Gold stack up to the others? Well, I had a chance to try out a couple – not on the same day of course. I tried a couple over a number of days. You can't really get a taste for these drinks in just one can. Sometimes you have to try it a number of times to really get a clear picture on how this flavor stacks up to the others. Here is my overall take on the Ultra Gold flavor.
Ultra Gold Taste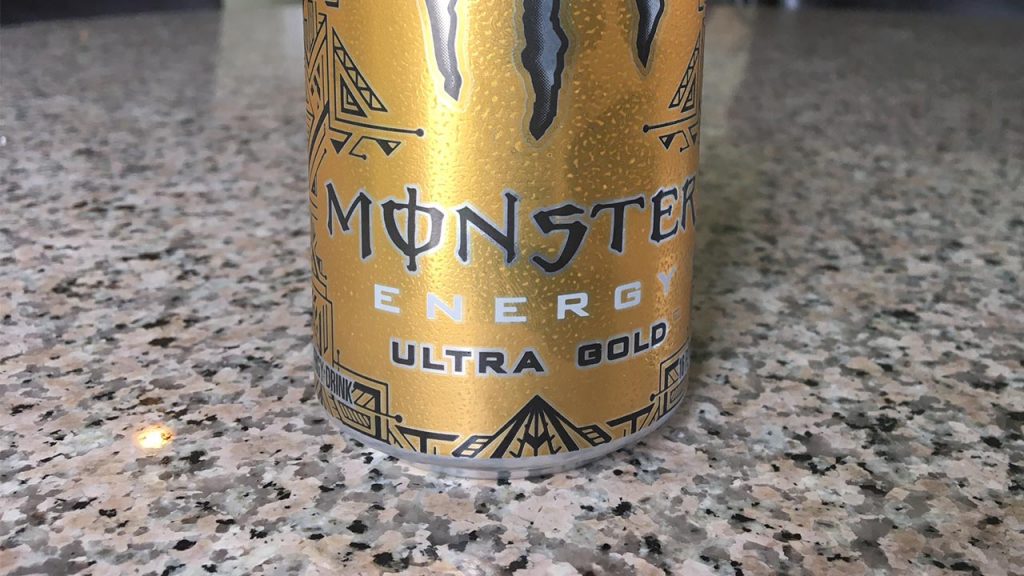 The biggest thing about this version of Monster is the taste. If you are a pineapple or pina colada fanatic, this Monster is for you. I think they got the flavor just right. It is just a light as their other flavors.
I do have to say, I usually don't taste an aftertaste in Monsters which is why I drink them over other energy drinks, but I do taste a slight aftertaste in the Ultra Gold. It is totally minimal though.
Ultra Gold Effectiveness
The Monster Energy Ultra Gold is no different than any other Monster Ultra. It's not anymore powerful or efficient than its Ultra siblings. Don't expect the Gold name to mean anything more than the flavor. It's Gold because pineapple has a golden tint. That's all.
Ultra Gold Ingredients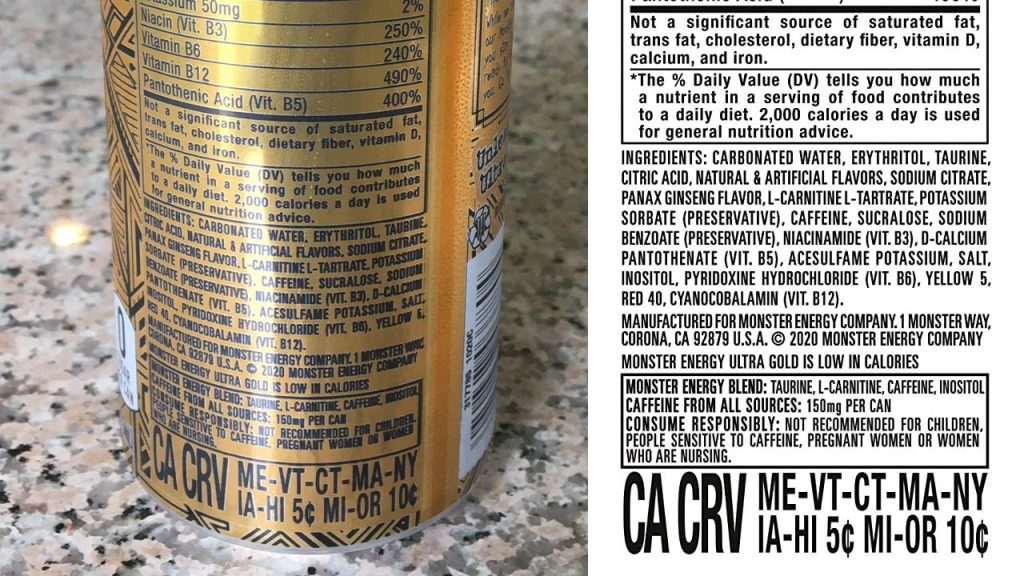 The ingredients are the basically the same as any other Monster. It does have slightly more caffeine than some of the other Monster Ultras at 150mg.
| | |
| --- | --- |
| Caffeine | Stimulant that heightens alertness for about 6 hours |
| Taurine | Naturally occurring amino acid that helps metabolism and brain function |
| L-Carnitine L-Tartrate | Helps the body use certain long-chain fatty acids for energy |
| B Vitamins | Niacin, Pyridoxine Hydrochloride, Cyanocobalamin, Pantothenic Acid. These are all the different B Vitamins in the can. B Vitamins have a direct impact on your energy levels, brain function, and cell metabolism. These are about half of the full B Vitamin complex in this formula to help give you significant energy. |
| Zero Sugar Sweeteners | Erythritol and Sucralose. Primarily erythritol, these artificial sweeteners provide the sweetness to the Zero Ultra formula. |
Where to Buy Ultra Gold
Monster Energy Ultra Gold, Sugar Free Energy Drink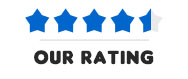 Monster Energy Ultra Gold has 10 calories and zero sugar, but with all the flavor you're accustomed to and packed with our sugar-free Monster Energy blend. With zero sugar, easy-drinking Ultra Gold has the heavenly fresh flavor of biting into a perfectly ripened golden pineapple.

Overall
Overall, this is a solid Monster Ultra flavor. Would I put it as competing for the top spot? No. Ultra Black and Ultra Fiesta are still my two favorites. Would I get the Ultra Gold again? Yes. Without a doubt. The Ultra Gold will provide a great change of pace between my regulars.
Give it a try and see what you think. If you like pineapple flavored beverages, you can't go wrong. To see other gaming reviews we have, feel free to stop on over to the Reviews section. We have plenty of interesting cloud gaming specific items and gamer favorites that we have reviewed.
For the latest news, gameplay, and comparisons on Cloud gaming, subscribe and stay tuned here at the only place where you can do battle in gaming heaven – Cloud Gaming Battle.