The original zero sugar energy drink. The Monster Energy Zero Ultra started a trend in the energy drink industry being one of the first, if not THE first energy drink that had zero sugar. It released with a less sweet, lighter carbonated, smoother citrus tasting formula all without the sugar that hindered many energy drinks due to the sugar crash.
We are reviewing this classic energy gamer drink. Being the first, some may deem this one to be the best. I don't necessarily disagree. There have been numerous Monster Energy Zero flavors to release since the initial release of the Ultra flavor. Let's see how well the Ultra holds up since it's launch.
Taste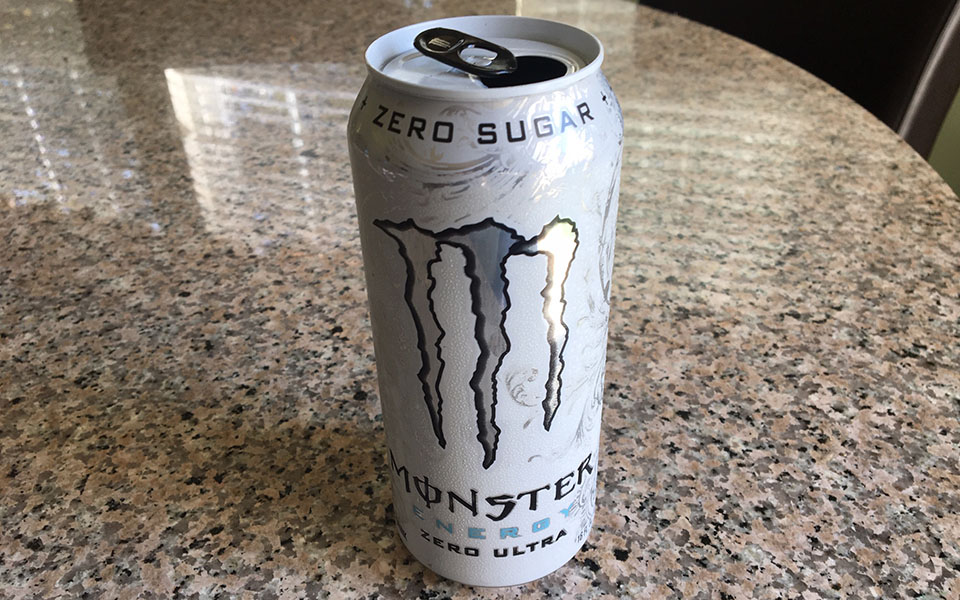 As mentioned, the Monster Energy Zero Ultra drink has a citrus flavor to it. The flavor is very smooth and light. It's actually very refreshing. For me, the Zero Ultra line is a step up in taste compared to the original black and green Monster Energy drink.
Nothing about the Monster Energy Zero Ultra is overpowering by any means. There are many citrus flavored beverages that are overpowered that taste like artificial flavors – not the Zero Ultra. You'll be surprised to taste it and wonder how they got a great flavor into a zero sugar formula.
Effectiveness
Most Monsters have about 140mg of caffeine in them. The Monster Energy Zero Ultra is no exception. It has 140mg exactly according to the label. This is a pretty standard amount of caffeine that comes in various energy drinks. 150mg of caffeine is probably the median amount. This is just enough caffeine to get a good kick from.
The additional ingredients like the L-carnitine and the Taurine also help in giving a boost. Nothing extreme or out of the ordinary though. Everything works as expected.
Ingredients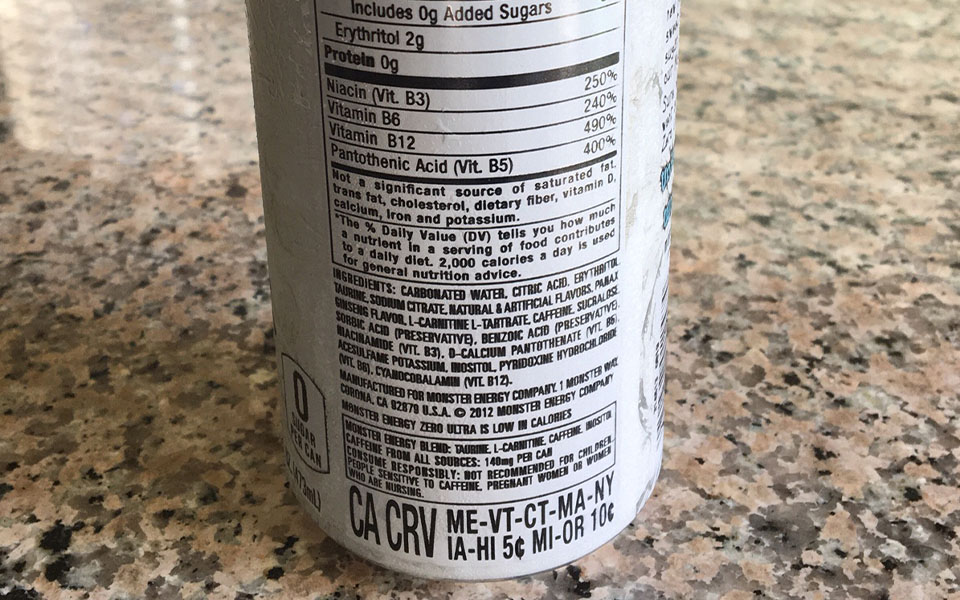 Let's take a look into these ingredients that supply you with the energy boost.
| | |
| --- | --- |
| Caffeine | Stimulant that heightens alertness for about 6 hours |
| Taurine | Naturally occurring amino acid that helps metabolism and brain function |
| L-Carnitine L-Tartrate | Helps the body use certain long-chain fatty acids for energy |
| B Vitamins | Niacin, Pyridoxine Hydrochloride, Cyanocobalamin, Pantothenic Acid. These are all the different B Vitamins in the can. B Vitamins have a direct impact on your energy levels, brain function, and cell metabolism. These are about half of the full B Vitamin complex in this formula to help give you significant energy. |
| Zero Sugar Sweeteners | Erythritol and Sucralose. Primarily erythritol, these artificial sweeteners provide the sweetness to the Zero Ultra formula. |
Where to Buy
You can actually see the Monster Energy Zero Ultra in many stores. It is the line's most prominent flavor. It is just about anywhere where beverages are sold. If you like this flavor a lot, I recommend you to buy in bulk.
Amazon supplies these in a 24 can supply so you can drink and save while doing it. Here is the link to get yourself the Monster Energy Zero Ultra in bulk:
Monster Energy Zero Ultra, Sugar Free Energy Drink, 16 Ounce (Pack of 24)
A little less sweet, lighter-tasting, zero calories, but with a full load of our Monster energy blend. Sure, white is the new black. Zero Ultra's lighter tasting flavor profile is a less sweet, sparkling, citrus energy drink that delivers refreshment, with just 140 mgs of Caffeine. Monster Energy Zero Ultra is great for any occasion.

Overview
As one of the original zero sugar energy drinks, the Monster Energy Zero Ultra is still one of the top energy drinks I see in stores. I still get it from time to time. It's refreshing and gives me an adequate boost when I need it.
To see other gaming reviews we have, feel free to stop on over to the Reviews section. We have plenty of interesting cloud gaming specific items and gamer favorites that we have reviewed.
For the latest news, gameplay, and comparisons on Cloud gaming, subscribe and stay tuned here at the only place where you can do battle in gaming heaven – Cloud Gaming Battle.