Tablets are the preferred device for playing games to-go. They are mobile but yet big enough to see more on the screen so you can concentrate of your game better without straining your eyes. There are numerous types of tablets that can play games but they are only a few that play games well due to the technology needed to play higher end games. To play cloud based games on today's cloud based services, the tablets need certain requirements to run these services properly. The MatrixPad S8 just barely makes that cut.
Stadia, GeForce Now, and the Shadow apps all have certain requirements to run their software on tablets. The tablets that usually have the requirements that qualify for these apps are usually pretty expensive. Most of them are usually the top of the line tablets that cost an arm and a leg. You do get what you pay for though. The MatrixPad S8 DOES have these requirements but only cost under a $100. Is it worth it? Can you play all of your games efficiently? Lets find out how the MatrixPad S8 handles the three top Cloud Gaming apps that are available for download.
Stadia on the Vankyo MatrixPad S8
As more people are starting to use Stadia, the demand to use it anywhere and everywhere on all devices are high. Thankfully the Stadia app is available for Android tablets. The MarixPad S8 is an Android tablet so this is a good thing.
Stadia App Install
The install on the app is easy. All you have to really do is download the add from the Google Play Store and search for it there. The Stadia website also has the link to the app on the home page. If you need assistance on installing the app on your personal Android tablet, check out our video on it.
Remember that you need to have a Google Account to get access to Google Stadia. I would have this ready beforehand so when you get in the app, you will have your Google Account email address ready to go.
Stadia Performance
The performance on Stadia was so-so. It really all depended on what game you were playing. Platform games and side-scrollers really don't have too many problems. The AAA games like The Division 2 and Destiny 2 all suffered pretty greatly.
The real problem with the AAA games and some of the others was the fact that Stadia wanted a 5Ghz Wi-Fi internet connection. When getting into a game, Stadia would always tell me that that my internet connection needs to be better. The 2.4Ghz Wi-Fi connectivity only really hinders the quality of your game because a tablet needs more bandwidth to display the game video at a decent speed unlike a mobile phone.
The Division 2 wasn't even playable on Stadia. Destiny 2 was playable so if you are interesting on how well the MatrixPad S8 handled Destiny 2, here is the video on that.
After the seeing the video, you will know that the game is playable. It's just not the best way to play the game at the slightest. I don't recommend the Vankyo MatrixPad S8 for Stadia play. The 2.4Ghz Wi-Fi only really hurts the gameplay. You might get lucky on a few games but overall but using this as an overall gaming tablet for Stadia is not really in the cards.
GeForce Now on the Vankyo MatrixPad S8
I was so glad to find that the GeForce Now app was available on Android when I first found out. This meant I could really take the game I own on the other games on third-party apps anywhere. Well, that what I hoped at least. I had some issues playing games on the app. Let me explain.
GeForce Now App Install
If you are looking to get setup with GeForce Now in general. Our video below will tell you how to get that started.
The Android download is on the same page with the PC download on the NVIDIA GeForce Now page on their website. If you can't find it by searching it up on the Google Play Store then you can use the link on the website to get right to it. Once again, it is no different than any of the apps that you may download on your tablet.
GeForce Now Performance
I wanted to enjoy every single game that I was able to play on the GeForce Now app. I want to tell you that it played so well and I had a wonderful time playing it on the MatrixPad S8 – But I can't. The app installed just fine. The MatrixPad S8 makes the all the minimum requirements for running games on it. Every time I tried to run a game, no matter what it, I got hit with an error code: Error code: 11. Can't launch <Enter Game Here>.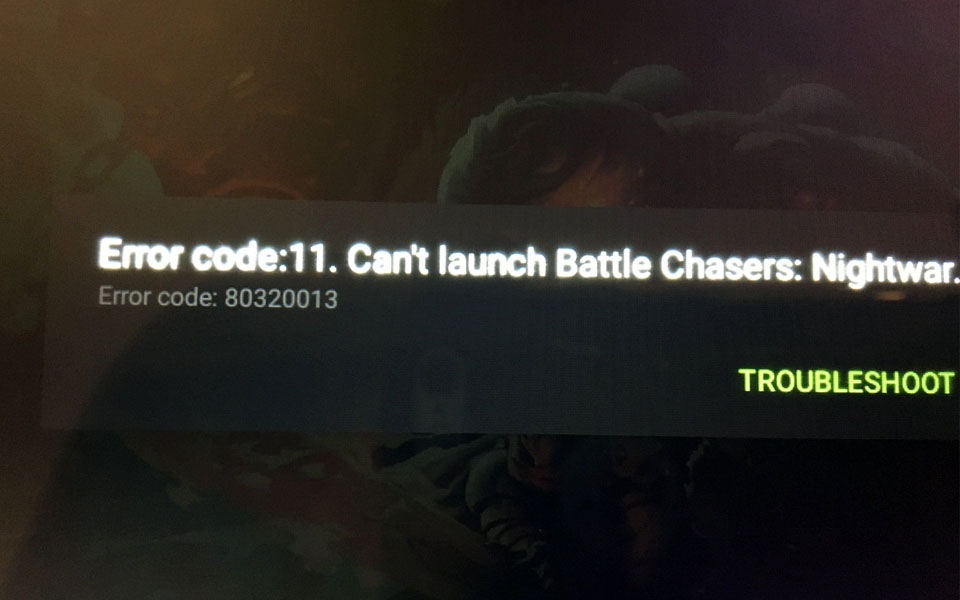 I even got in touch with GeForce Now support and they told be to clear the app cache and restart. That didn't work. Then they said to reinstall the app. That didn't work either. I pretty much gave up and was not able to run any game on the GeForce Now app.
I don't know what that error code actually means but I do believe this was all because of the 2.4Ghz speed as I mentioned before. Whether it's Stadia or GeForce Now, Cloud gaming needs a good amount of internet bandwidth to handle the video streaming of the games you are playing. 2.4Ghz is just not enough to handle the higher resolutions that these high end games are able to output these days. Get a tablet that is able to support 5Ghz Wifi.
Shadow Tech on the Vankyo MatrixPad S8
I love the Shadow Tech app. It works on Android, Apple products, PC, Linux, you name it. Yes, it runs on the Vankyo MatrixPad S8. Now, is it perfect – no. Since all Shadow Tech is is a custom Windows cloud PC that is streaming whatever you put on it, it still has streaming bandwidth limitations as the other Cloud Gaming apps do. Granted, it is much better than the others – at least to me.
Shadow is getting more popular but it is still pretty unfamiliar to most gamers. If you are looking for more information on Shadow, check out the video below.
Using the Shadow app on the Android is a breeze. Well, lets see how well the gaming performance held up once AAA games were being played. First, lets getting into installing the app.
Shadow Tech App Install
As with the other Android apps, installing the Shadow Tech app is very easy to install on your MatrixPad S8. If you would like a tutorial on the installation, we have a video on this as well.
Remember that you actually need to have an account with Shadow Tech to use their services. A cloud PC is leased to you to use as long as your membership is up-to-date. If you are looking to signup, go to their website and Pre-Order. The demand is very high so they have a Pre-Order list setup for new customers.
Shadow Tech Performance
The performance of the Shadow Tech app on the MatrixPad S8 is decent. It's like controlling a full Windows PC in the palm of my hand. Actually, that is exactly what I am doing. Use the touchscreen to tap on the icons you want. It is a bit hard to scroll down as it is hard to hit the scroll bars to drag it down with your finger. Other than that, things are pretty good.
I did get a full test playing Call of Duty Modern Warfare on the Shadow Tech app with an Xbox One Controller. If you are interested in seeing the video on this, I'll leave it right here.
Also, if you are looking for a great controller, the Xbox one controller is one of the best. Get one here
Microsoft Xbox Wireless Controller + Adapter
Probably the standard in video game controllers. The Xbox One controller has been viewed as one of the most renown controllers in the gaming world. Microsoft updated this version of their Xbox controller from the 360 controller and made some ergonomic changes to make this one of the best game controllers in history. Connects with USB dongle to PC, Xbox, and Android with Bluetooth.
As you saw in the video, I was able to get through a round of Multiplayer on Shoot House but just barely. The Shadow Tech app works well, but again, the 2.4Ghz WiFi hindered performance quite a bit. There is no way to tether using a PC's internet once connected to it via USB either (unless I just don't know how).
Out of the three cloud gaming apps, shadow was the best, at least to me.Plus, I can install anything I want on my Shadow PC and play it as I would with any other PC I own. This is a big hit for me and if you are a more of a PC gamer, I bet this would be a hit for you too.
Overview
Think of the Vankyo MatrixPad S8 as a great budget tablet that can do everything you usually do with a tablet except play high-end games. Lower end games you can get away with but trying to play the latest games on any of the three cloud gaming apps is a chore. It comes down to the 2.4Ghz WiFi limitation. If this tablet was capable of 5Ghz WiFi, this review might have gone completely different. Since streaming your game takes up so much bandwidth, 5Ghz it basically a must.
My overall vote is a no for this tablet for cloud gaming. Save your money and one with 5Ghz for sure. This way you won't have bandwidth issues. Its brother, the Vankyo MatrixPad S20 is the next version up and has all the required specs including 5Ghz WiFi. This might be the way to go instead.
Where to Buy
If you are still interested in the Vankyo MatrixPad S8, here is where you can get it
VANKYO MatrixPad S8 Tablet 8 inch
Featuring a vibrant 8-inch display, the tablet brings your digital media to life in rich colors and vivid details. The VANKYO MatrixPad S8 lets you browse, read books, watch your favorite shows and movies, play light games on a tablet that's light and comfortable in your hands. Equipped with 1.3GHz Quad-core processor and 2GB RAM. This GMS certified MatrixPad S8 is equipped with Android 9.0 Pie OS.
If you are more interested in the more qualified cloud gaming tablet, the Vankyo MatrixPad S20, the info and link for that is here:
VANKYO MatrixPad S20 10 inch Tablet
The MatrixPad S20 10″ octa-core tablet is the one you'll want to get your hands on. Reading with read mode or Eye health. Enjoying big sound video & music with dual box speakers. With 3GB RAM, gaming is thrill and smooth on the 10″ screen. Best of all, with a long-lasting 6000 mAh battery, the MatrixPad S20 10″ tablet keeps going strong all day. Most importantly, it has 2.4Ghz and 5Ghz Wifi