The EasySMX ESM 9110 Wireless Game Controller is the first third-party controller we decided to try for cloud gaming purposes because it looks like just an Xbox controller. All buttons and joysticks are in the same place plus it ergonomically holds the same way as a Xbox controller as well. So naturally we thought this controller would be a great introduction into third-party controllers for playing with cloud gaming platforms.
We had about 300 hours of play time with this controller with various games. The games played included first person shooters like Call of Duty: Modern Warfare and Far Cry 5. We also played third person games like The Division 2 and Star Wars: Jedi Fallen Order. All were perfectly playable with this controller. Let's go into depth on how well it plays on various cloud gaming platforms.
EasySMX ESM 9110 Unboxing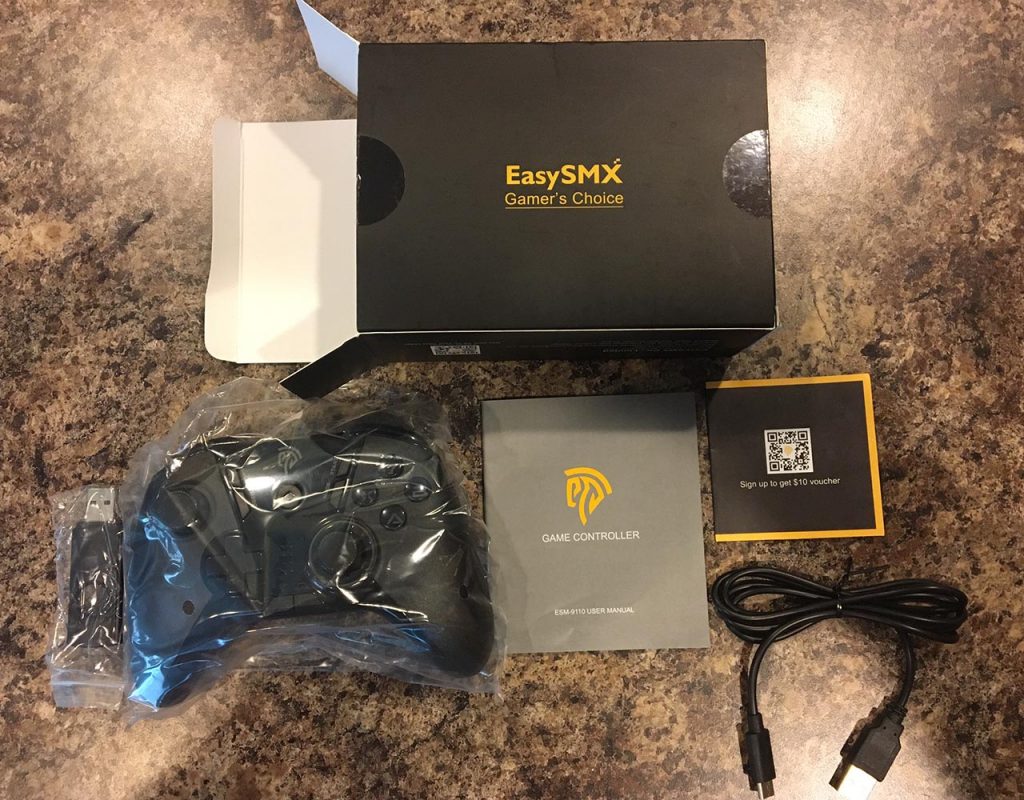 The feel of the EasySMX ESM 9110 Wireless Controller
One of the reasons this controller stood out to me was because the button layout was similar to an Xbox controller. To me this is a superior layout to say a Playstation controller layout.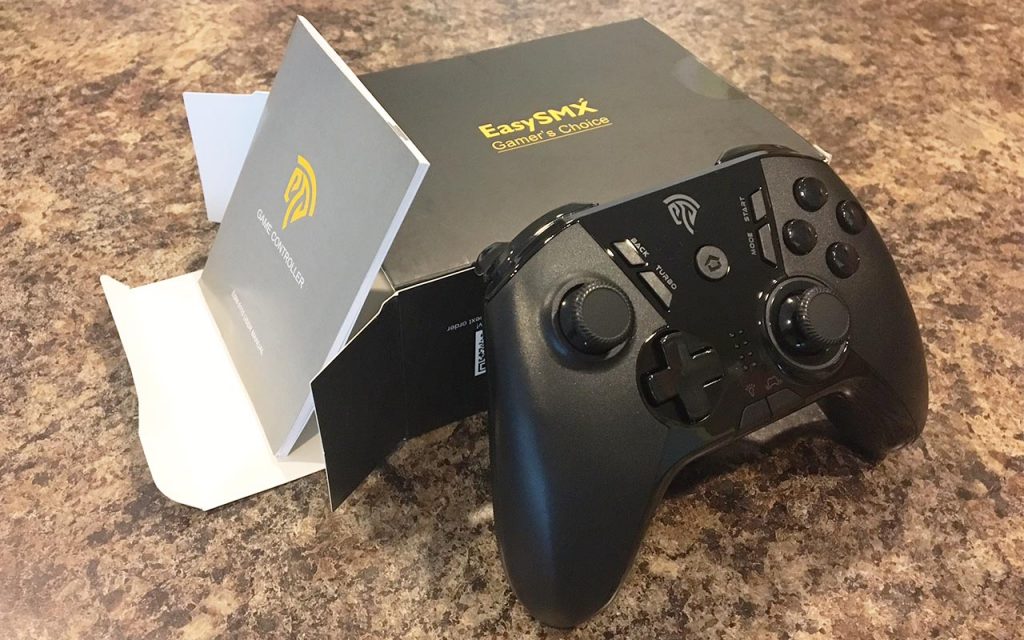 The main reason why the EasySMX ESM 9110 Wireless Game Controller stood out to me was the extra buttons. This controller has 4 mappable buttons on the back of the controller which fit right between where your middle fingers would go. These buttons are connected in sets of 2 so each piece has 2 buttons which equates to four buttons total. At first, I had to get used to these buttons because I usually press the rear of the controller pretty hard when things get tense in game.
Connection Compatibility
We were only able to play games on the PC with the EasySMX ESM 9110 Wireless Game Controller. It has a wireless USB dongle which is required to play with. The controller does come with a charging USB cable you plug into the computer as well, but you cannot play with the controller without the wireless dongle on and ready. The charging cable does not double as a connection cable like the Xbox controller cable does. This was something I was pretty upset about.
Playing with EasySMX Controller is very easy on PC. Just plug and play and you are good to go. If you don't care about mapping the buttons on the back, use the controller as you would an Xbox controller.
Mapping Buttons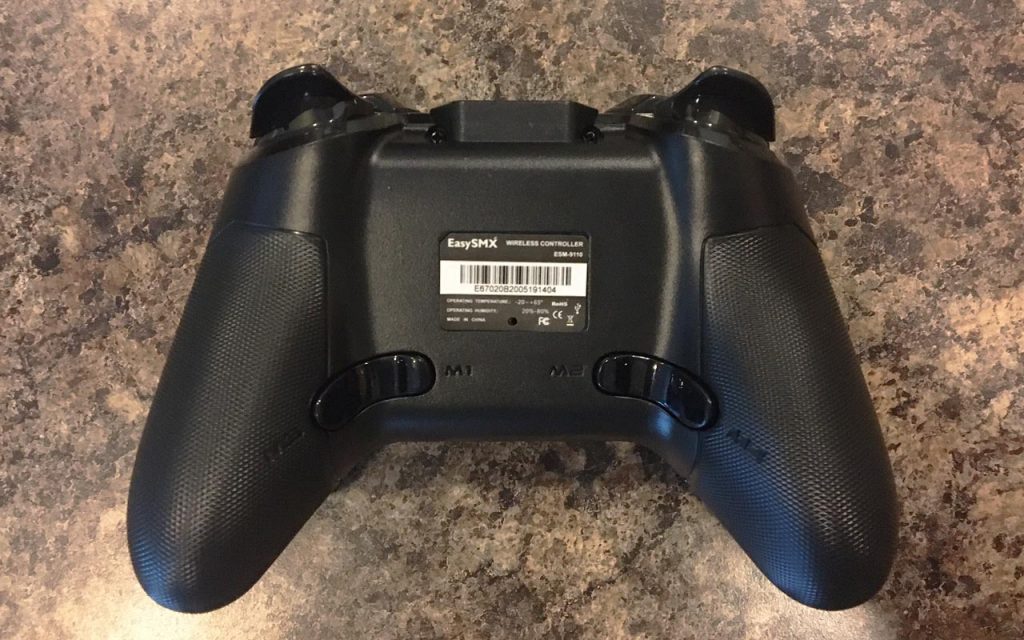 If you are interested in mapping the back buttons, check the instructions for certain but here it is in a nutshell:
Press and hold the button that needs to be customized, such as M1, and then press the BACK button. At this point, the ring LED light changes to a mixed color and enters the custom state.
Press the button that needs to be programmed to M1, such as A button. It can also be the combination button A B button.
Press the M1 button again, the ring LED will turn blue, setting successfully. Other M2 M3 M4 button settings are the same as above.
Mapping one on the back buttons to be a trigger backup really helps when needing to pull a trigger button very rapidly. This comes in handy when shooting pistols in Call of Duty where getting off shots quickly could mean the difference in getting the kill or adding to your deaths. I highly recommend this feature. It did take me some time to get used to it as I mentioned before, but when you do, those kills come quick.
Android Compatibility
I attempted to use the EasySMX Controller on my Android tablet with an OTG cable I picked up on Amazon. I put the wireless USB dongle in the OTG cable and plugged the cable in the Android tablet. I hit the home middle button and things connected with solid lights. Now you can play as you would with any other controller. You can also control your basic Android functions with this controller.
Playing the EasySMX Controller on Cloud Gaming
Now for the nitty gritty. I played as many games on as many cloud gaming platforms with this controller to see how well it worked. Some were better than others and some just didn't seem to work at all. I'll go through my experiences on all the cloud gaming services I was able to play the EasySMX ESM 9110 Controller on. Lets get started.
The EasySMX on Shadow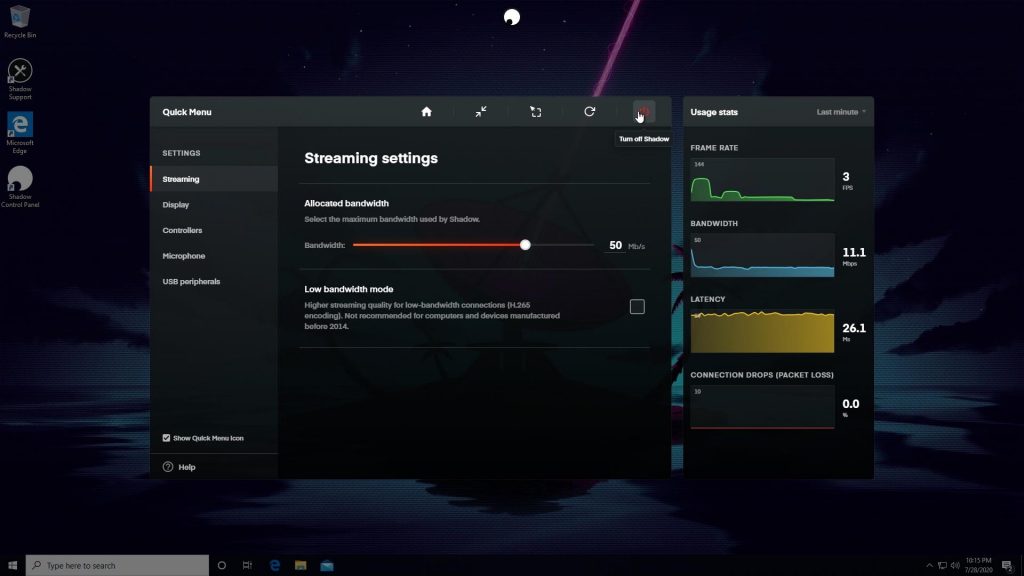 The Shadow app has a USB Peripherals menu where you can make sure all the USB devices from you PC is usable on the Quick Menu. This makes it possible to see whether the controller is connected or not. It comes up as an XInput Controller. Just make sure you install the USB drivers on the Shadow app before you login to your Shadow PC.
I tested out a couple of games but I mainly tested The Division 2 and Call of Duty: Modern Warfare. Everything works as you would expected. It plays like a perfectly good Xbox controller and the lightweight feel really enhances your accuracy.
The one glaring problem I had over it, was that it ghosted every so often. It wasn't a lot but sometimes it got stuck moving somewhere I didn't want to and I was penalized for it in game. It threw me off guard the first few times because I though it was lag from the game. Then I noticed it happening a few more times after. It happens quick – like half a second or less but it can detrimental to competitive shooters like Call of Duty where precision accuracy is necessary.
I eventually used my wired Xbox One controller to continue to play on Modern Warfare. This might have been an isolated issue or the Shadow drivers needed to be updated but, I can't fully recommend this controller for Shadow Tech just yet.
The EasySMX on GeForce Now
I didn't play GeForce Now too much with this controller. When I did, everything worked just fine. GeForce Now recognized it without any problems. I didn't notice any ghosting as I did with Shadow. Maybe it was because I didn't play as long as I did on Shadow. The games I played included Far Cry 5, The Division 2, Destiny 2, and Battle Chasers: Nightwar.
So, as of now, GeForce Now the EasySMX plays well on GeForce Now.
The EasySMX on Stadia
Stadia is another cloud gaming service where I had no issues with this controller. It played well on every game I tried. The main games I played with were Star Wars Jedi: Fallen Order, The Division 2, and Destiny 2.
I actually played Star Wars Jedi: Fallen Order quite a bit on this controller. Granted, this game has a high learning curve if you are not used to a game of this difficulty. The back buttons can be modified to your playing style. This came in handy when parrying. I wasn't used to parrying with the default buttons so I changed it so one of the back buttons can be easily pressed to parry as well. This came in clinch when parrying on time.
You can see that the back buttons can be a huge help for players who want a few extra buttons to help them out in-game. Sometimes they can make or break you. This could be a good or bad thing for some. This time was definitely a good thing.
The EasySMX on Amazon Luna
Unfortunately, I was not able to get the controller to get connected to Luna. I was on the desktop app so maybe that was why. You can play Luna directly through the browser and I didn't try that so maybe that would be a fix for now.
As of posting this, Luna is still in open beta as I got early access so hopefully, they will have all these bugs fleshed out upon full release. For now, you are going to have to use another controller for Luna.
EasySMX ESM 9110 Overview
This is a very solid controller for the PC. If you are an Xbox style controller fan, this might be a great alternative or cheaper replacement especially if you are getting the controller for the 4 programmable button on the back. With being almost half the price of an Xbox controller, you cannot go wrong with getting one to try out. You might even like the feel more so than other third-party Xbox controllers. Feel free to give it a try for your PC.
In terms of playing the EasySMX on various cloud gaming platforms, this is still a work-in-progress. For most platforms, it works just fine but for others, it had issues or just didn't work at all. Time will tell to see if future generations or updates with this controller will make this a viable option to play on cloud gaming platforms fully. For me, I'm going to put this one aside when I play on cloud gaming systems and go back to my highly reliable Xbox One controllers.
Where to Buy
EasySMX ESM 9110 Wireless Gaming Controller
Looking for an Xbox controller replacement? Look no further. Instead of paying for the name of Xbox, you get all the feature an Xbox wireless wrapped up in a less expensive controller. It even comes with a USB connection dongle and a USB cable for charging. Works on PC, Android, and Switch.