Are you a fan of Mountain Dew? Does Game Fuel really give you the alertness and accuracy that it says it does? Well, we have tried it out for you. We'll go into plenty of details on what Game Fuel does and what it does not. Mountain Dew AMP Game Fuel is not part of their Kickstart line just in case you were wondering. This Game Fuel line is specifically designed for gamers to be give just the right amount of ingredients to keep you alert and be at your best when you game.
We bought a whole box of 12 from Amazon. This way we could get a good feel for how Game Fuel worked over a couple of weeks. I suggest you do too if you really want to see how Game Fuel works for you. They also cost less this way.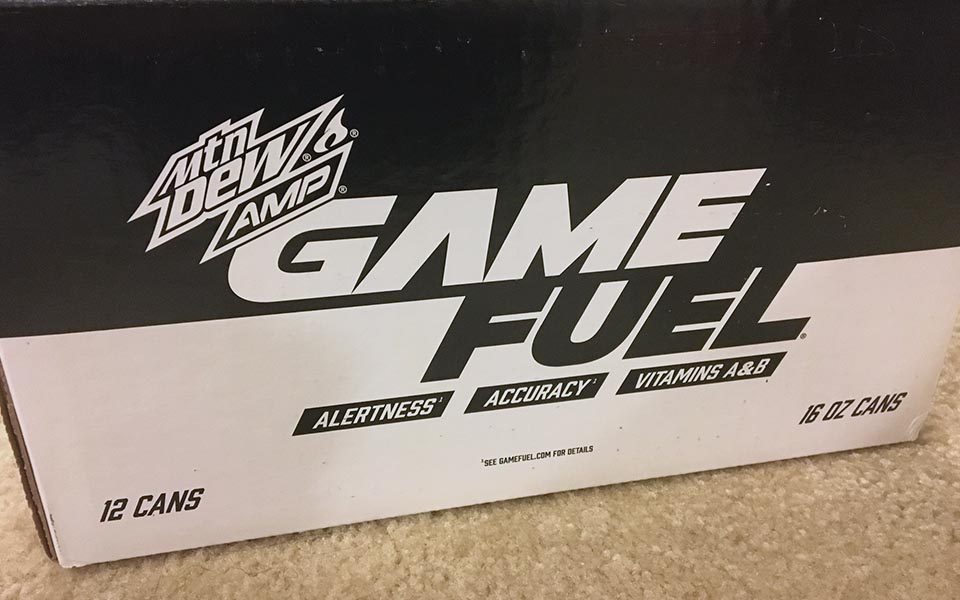 Enough with the pleasantries. Let see if Mountain Dew AMP Game Fuel is worth the buy.
Can Features
Mountain Dew is really setting a new standard with the can design and function. They designed this can to almost be reusable. One of the glaring different things about it is the way you are supposed to open the top. Also, the pattern on the can is not just a design but an actual textured material so you can hold the can more efficiently.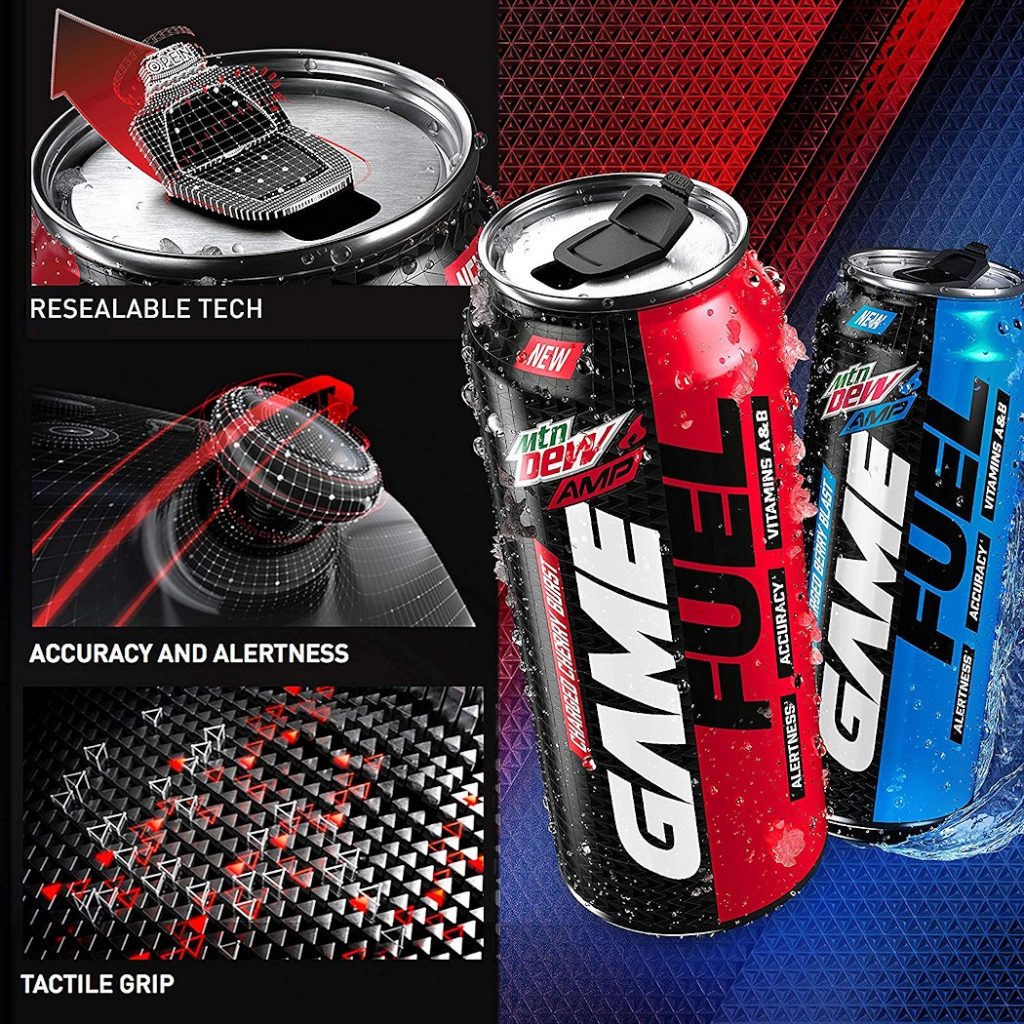 Unique Can Opener
So this is probably the most unique can opener I have ever seen on a beverage can ever. I also think it is very ingenus. Mountain Dew AMP Game Fuel uses the XO xolution can opening technology. See it in action here:
So how it works is pull the tab that says "open" up with your finger. Now with that tab up, take your finger and your thumb, grab that tab and pull it back. This will open can so you can start drinking. Also, if you decide to not finish the whole thing, you can push the tab forward to close the can and save it for later.
Can Grip
As mentioned, the can has a certain texture that help you grab on to the can better. What's cool too is that this textured grip also helps to counter condensation. It's a very cool feature that you don't see on many other canned beverages.
Flavors and Taste
Game Fuel comes in a good number of flavors. The main line consists of the flavors Charged Cherry Burst, Charged Berry Blast, Charged Original Dew, Charged Tropical Strike, and Charged Orange Storm. They just came out with two new flavors with zero calories to give the other energy drink that have "Zero" lines as well. These two flavors are Zero Charged Watermelon Shock and Zero Charged Raspberry Lemonade.
Everything looks good but does it taste good? Game Fuel has less sugar (zero sugar for the "zero" line) and lower caffeine than many of the other more mainstream energy drinks. But, this doesn't effect taste – at least for me. Regular Mountain Dew has a pretty strong sweet taste so I think a bit of less sugar is a good thing.
I can tell you one thing – I didn't like them all. I have a couple a like a lot, a couple I can handle, and a couple I won't drink again. Let's go over them each one by one.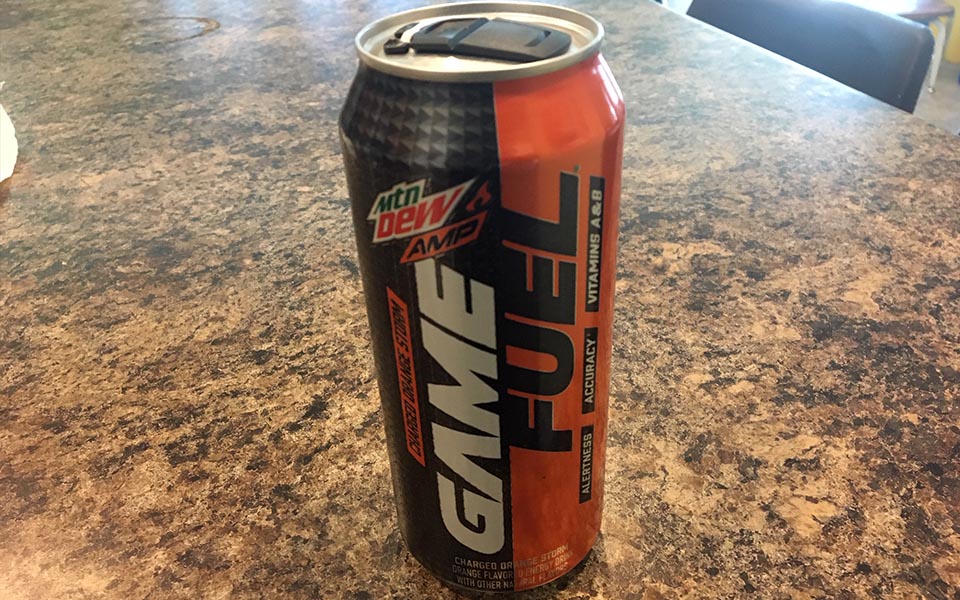 Charged Cherry Blast – The first one I ever tried. I like this one a lot. Some people have said that it tastes like cough syrup. I can see where they are coming from but it does the job for me.
Charged Orange Storm – My favorite! It's like a lite Mountain Dew Livewire. At least for me, it's the best of the bunch.
Charged Berry Blast – This one I cannot stand. It didn't taste like berry at all. To me, it tastes like straight chemicals (Not that I have tasted Windex)
Charged Original Dew – This one is like a lite version of the original Mountain Dew. If you like the original Mountain Dew flavor, this one should be great for you.
Charged Tropical Strike – I have mixed feelings about this one. Sure it has a tropical flavor. You can tell what they were trying to go for but, I don't think they completely hit the mark. I would try it again though. (Updated 9/11/2020) Actually now my new favorite.
Charged Watermelon Shock – The is the first of the new Zero line that I tried. It tasted okay. The way they sweeten the "Zero" line tastes much different from the others and that's what stands out the most.
Charged Raspberry Lemonade – Once again, the taste is there but it's not quite right. The way they sweeten it so it can quality as a "Zero" flavor hinders the overall taste.
Effectiveness
So you get a Game Fuel that you like and is flavorful. Does it really do what its supposed to do in regards of increasing your alertness, accuracy, and energy? Lets take a look at the ingredients that are in one of these cans so we can figure out exactly what is promoting these cognitive features.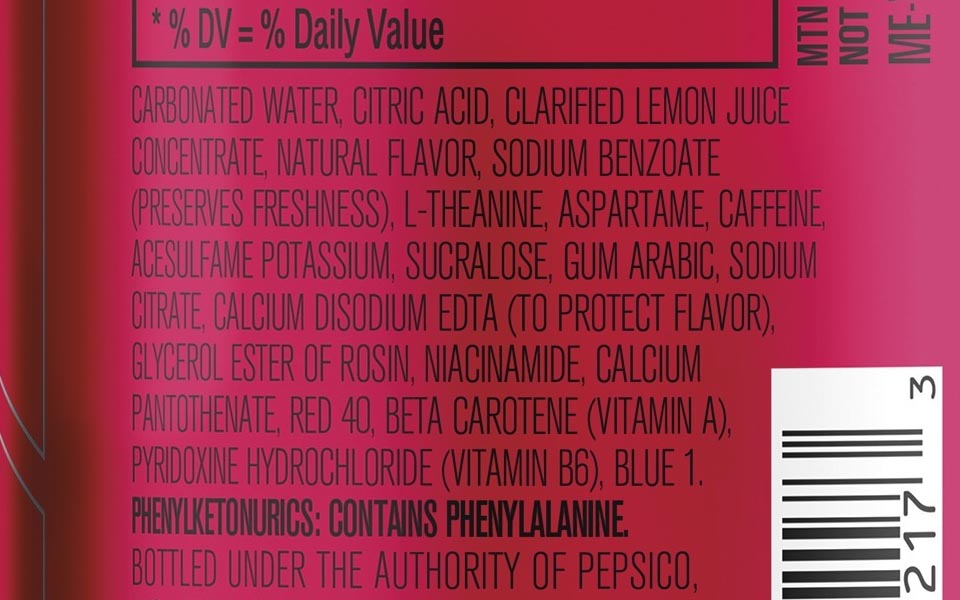 L-Theanine – The top focus ingredient on the list. L-Theanine is know for giving you a relaxed but alert feeling allowing for good focus and concentration
Caffeine – The stimulate we all know and love that keeps us from falling asleep. Studies actually shown that it works well with L-Theanine. These have 90 mg per can so they are actually pretty low compared to more modern energy drink which usually sport 150 mg to 300 mg of caffeine in a can.
Pyridoxine Hydrochloride – Vitamin B6 basically helps with maintaining healthy nerves and ultimately helping your brain transmit signals better.
These are the only real ingredients that really help with the claims of helping with accuracy and alertness. It is a decently small list but these three main nootropic ingredients have been proven to support increased brain function and focus.
Price and Where to Buy
As mentioned before, the best way to get Game Fuel for the best price is getting it in bulk. Amazon has a multi flavor and single flavor 12 packs. They are usually over $2. When you buy them in bulk, they end up being just under $2 each (at the current time of writing). Not a super bargain but every little bit helps. Check the link below to buy your flavor(s).
Mountain Dew Game Fuel, 4 Flavor Variety Pack, 16 fl oz. cans (12 Pack)
Specially crafted with theanine and caffeine, which in combination have been shown to improve accuracy and alertness. Resealable tech helps keep your Mtn Dew Game Fuel fresh and your hardware dry so you can focus on grinding. Made with real fruit juice.

Game Fuel for me actually works pretty well. I concentrate a bit more and I do feel more alert. Nothing crazy but I do feel dedicated to either my game or my work. So try it out. I highly recommend Charged Orange Storm (see above) and Charged Cherry Burst. If you are unsure about the 12 pack, feel free to go to the store and pick up a can or two before you get the 12 pack.
Enjoy the Game Fuel!
For the latest news, gameplay, and comparisons on Cloud gaming, subscribe and stay tuned here at the only place where you can do battle in gaming heaven – Cloud Gaming Battle.