If you have been keeping up with us, you know that we have the latest Boosteroid news and updates. And they just announced some awesome news for you.
Fanatical Partnership
Boosteroid just announced that they have a new partnership with the company Fanatical. If you don't know, Fanatical.com is website where you can buy digital PC games from various third party platforms usually at a decently discounted price.
Summer Promo Code
What does this mean for you? Boosteroid has made it so that every Boosteroid subscriber has the ability to use a 10% off coupon for ANY game in the store. As of now to July 8, Fanatical is offering a promo code BOOSTEROIDSUMMER to get an additional 10% off games.
Just login to your account and go to the Fanatical link to generate the code. Copy that code, go to the Fanatical website, choose the game you want to buy, and use this code at checkout.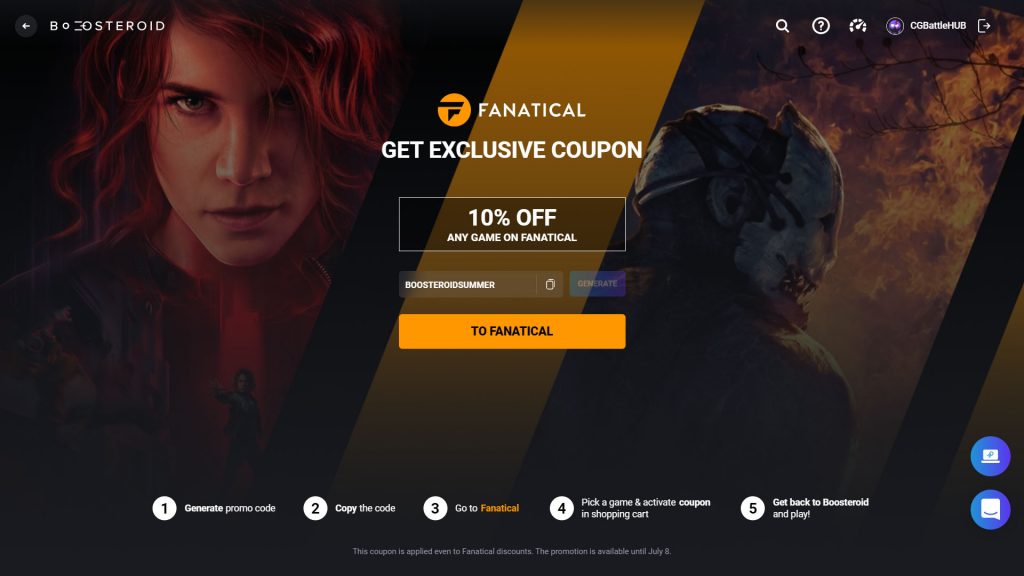 Now, I'm not sure why they have this landing page to generate this one promo code. It's not different for anyone so I don't know why this page is relevant, but that's neither here or there. The code works regardless.
Fanatical Integration
Boosteroid has made it easy to buy the games from Fanatical by using the Fanatical tab. Click the Fanatical button on the game you want to buy and purchase it from Fanatical, then you can come back to Boosteroid to play it.
With this new partnership, using this discount for your games will easily pay for your Boosteroid subscription.
Overview
It's obvious that Fanatical is running this to counter the Summer Steam sale. If you would like to take advantage of this deal and are not already a Boosteroid subscriber, click this link to sign up.