GeForce Now is a pickup n' play cloud gaming platform that allows you to play the PC games you bought from third party distributors like Steam and Origin. If you have been keeping up with the updates with GeForce Now, you'll know they just dropped their latest tier – the RTX 3080 tier which features support for 1440p and 4k resolutions at up to 120Hz.
Is GeForce Now the service for you? Are you trying to make the switch from console or are you not willing to shell out weeks of pay for a gaming PC that will just need updating again…and again? Well, we will go over all the points you need to make your decision. Stay tuned.
GeForce Now Free Version
Let's first cover the Free version of GeForce Now quickly. Yes, there is a free version of the service if you weren't aware. GeForce Now has over 1000 games from third-party distributors but, even if you don't have any purchased games on Steam and you want to try the service out, signup for a free Steam account and try out some of the free games GeForce Now offers from the Steam platform like Destiny 2. GeForce Now is compatible to play on PC and Mac desktops, iOS devices, and Android devices so you can play on the go.
One of the problems lies with the wait times to get into your game as you will most likely be waiting with other to get access to a server to play your game. Wait times could be seconds to 20-30 minutes depending on availability. The other problem is the lack of play time with the free version. GeForce Now only allows an hour of game time per session for the free tier. This will hinder long matches for many games so I would advise you to avoid games that have long gaming sessions like RPGs. Thankfully, you can just log back on to play again with restrictions.
GeForce Now Priority Tier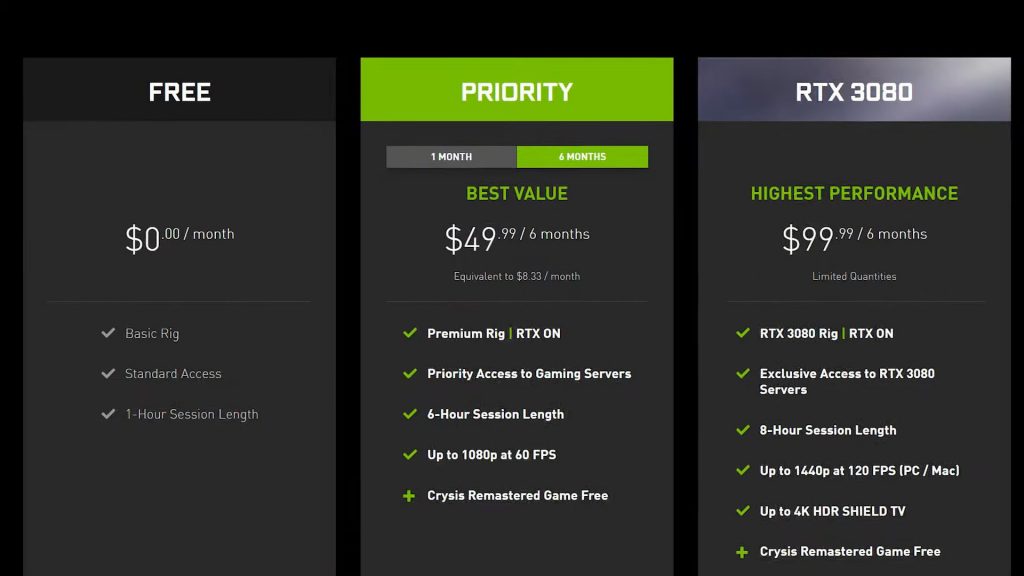 If you liked how things played on the Free version and you are looking to get a subscription, what will this mean for you? The first thing this will mean is that you will be put ahead of all the free members when logging into to play on GeForce Now. That means little to no wait times. It's like having an all-access pass for an amusement park to go ahead of that massive line at your favorite ride.
Priority members also enjoy a much longer gaming sessions of 6 hours so you'll be able to play just about every game you want without at time limitation. Unless you are doing dungeon runs with your guild that takes over 6 hours. Now you might have an issue.
Another great thing about the Priority tier is that you'll have access to use the RTX servers to play your games. These are Ray-tracing grade cloud gaming servers that will render your games at a constant 60 FPS frame rate with the NVIDIA RTX technology turned on. Check our benchmark video for more details.
Please note that not all games on the service has RTX active. It must be a more modern game that has RTX capability. Also note that your resolution will be capped at 1080p for Priority members.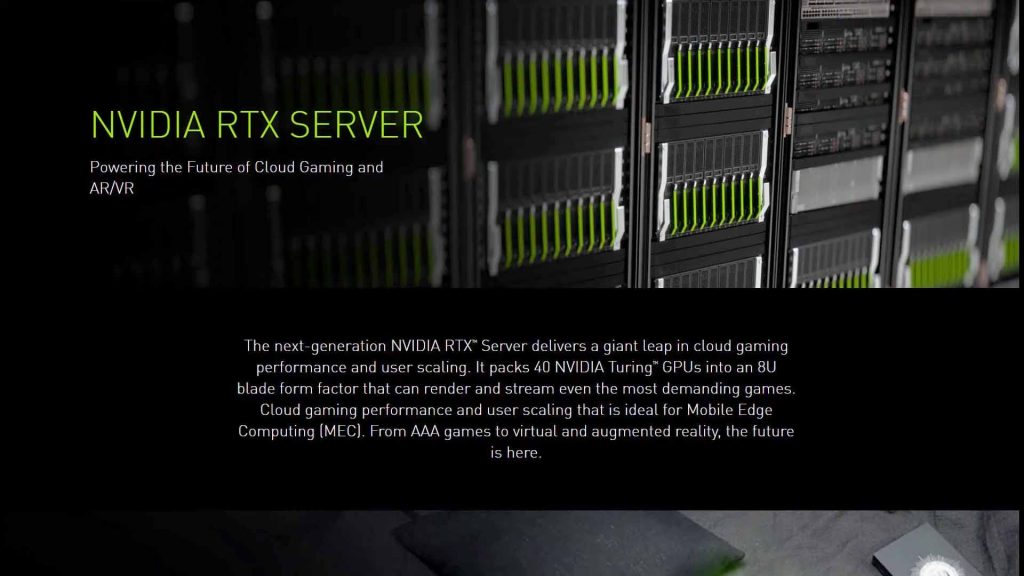 Let's talk price. The one-month price for GeForce Now Priority is $9.99 a month. If anything, try this first. If this is what you are looking for then I would highly suggest buying the 6-month subscription. If you are going to be using GeForce Now regularly, paying $49.99 for 6 months which turns into basically $100 a year is the way to go. This equates to $8.33 a month. That's a Chipotle burrito a month for 1080p, 60 FPS RTX PC gaming. If you don't have the latest PC hardware and have a 1080p display, this is a no brainer!
GeForce Now RTX 3080
Now if 1080p gameplay isn't enough for you for more hardcore PC gamers, here comes the RTX 3080 tier. How good is the tier?
Is it worth the $100 for 6 months which equates to $200 a year? You bet it is! You would still be saving a ton of money with this subscription rather than buying a really expensive gaming PC. Take a look at some of the average frames from some of the in-game benchmarks we performed. This tier supports 1440p gameplay for desktop users but be aware that 4K gameplay can only be activated using the NVIDIA SHIELD TV Android unit.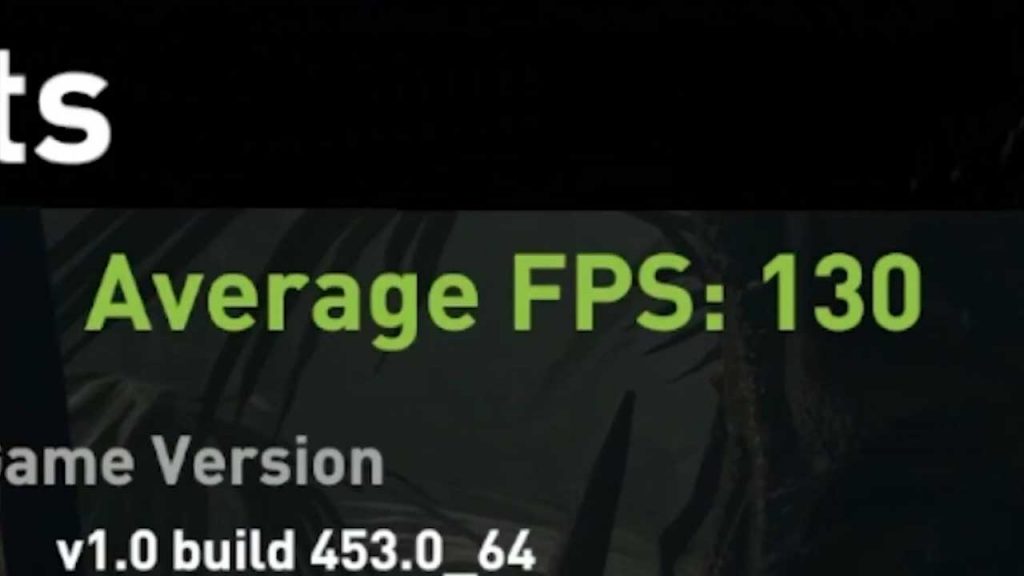 Now I wouldn't recommend this tier if you only have a 1080p monitor or TV that only performs at 60Hz. That would be a giant waste. This line is more for players who have a 1440p monitor or higher and have a refresh rate of 120Hz or better. This is where the RTX 3080 tier shines.
If you have a HTPC or actually have a SHIELD TV device connected to your large 4K TV like I do, the RTX 3080 tier is your ticket to High-Definition heaven. My 144Hz monitor also loves the frame rates. Keep in mind that not all games hit 120 frames consistently. You can see that in the benchmarks we performed. You might need to dial down the graphics settings a bit in order to maximize frames in newer games.
If you want more information on the benchmarks, check out our full RTX 3080 benchmark video. If you are looking to upgrade your monitor to a 1440p monitor, we have a list of great 1440p high refresh rate gaming monitors for you in the description.
The RTX 3080 tier also increases your game session from 6 to 8 hours.
Overview
Keep in mind for all tiers of GeForce Now, that you need good internet. There's no way around this – especially if you are planning to get the RTX 3080 package. This is the direction in which cloud gaming is going. You will trade PC hardware for internet speed. So, you might not need a good computer, but you will need fast internet.
I would have a minimum download speed 50mbps for Priority members and 100mbps for RTX 3080 tier so keep this in mind. Also, know that if you play on mobile, make sure you play on 5Ghz Wifi and not 2.4Ghz Wifi. You will stutter hard at 2.4Ghz, trust me.
Don't forget that other than the free games available on GeForce Now, all the games need to be purchased from third-party distributors. Steam, Origin, Epic Games, Ubisoft Connect, GOG.com, and others are all supported. Granted, it's not all the games from these platforms but it's usually the most popular games from these platforms that are the ones available.
Overall, GeForce Now is killing it on the cloud gaming front. It is easily our new favorite cloud gaming platform – especially for PC gamers. If you are a console gamer looking to get into cloud gaming, GeForce Now is also a great gateway into starting your journey into the cloud gaming world. Be sure to check our GeForce Now playlist for ways to get access on various devices. We'll be watching thoroughly on GeForce Now improvements and how it compares with all the other cloud gaming platforms available. If you liked this review of GeForce Now, give us a like. Also, don't forget to subscribe to get the latest news, gameplay, and comparisons on Cloud gaming at the only place where you can do battle in gaming heaven – Cloud Gaming Battle.