Over the past couple of years, Geforce Now has become a very popular cloud gaming service. The service allows the streaming of players own purchased games as long as they bought them on a gaming service GeForce Now supports like Uplay or Steam. We are going go over exactly how to get started with GeForce Now on your Android device, specifically a tablet.
Android Tablet Requirements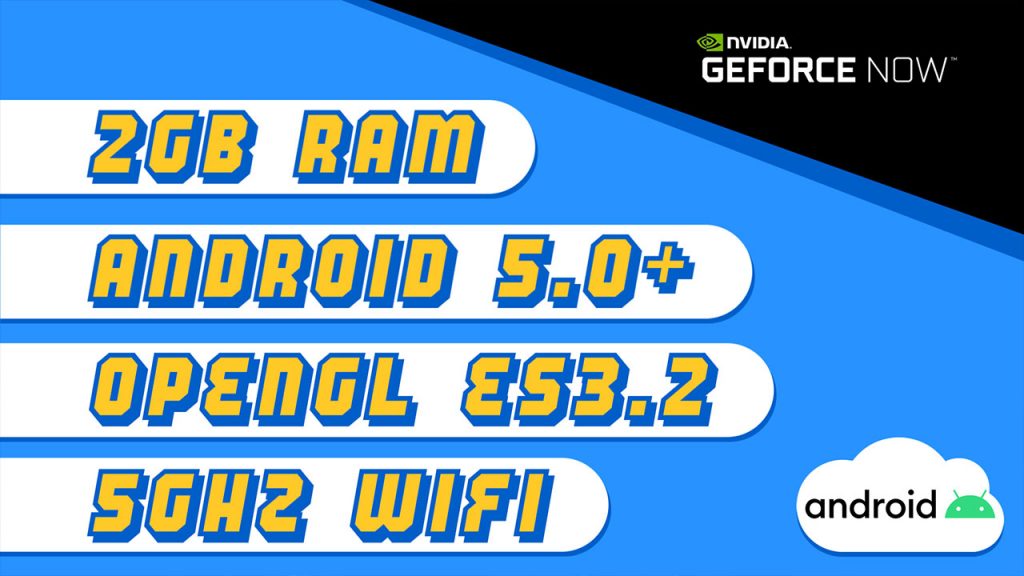 The GeForce Now app has specific tablet hardware and software requirements to stream the games efficiently. I highly recommend that you have a tablet that not just has the minimum requirements but exceeds the requirements fairly well to get the best gameplay possible.
The requirements needed are:
2GB RAM
Android 5.0 or Later
OpenGL ES3.2 – This is the software that renders the 3D video required in today's games. You may need to look up your tablet's processor to see if it supports OpenGL ES3.2
5GHz Wifi (Personal recommendation) – This is actually not listed in the GeForce Now requirements but this is my personal recommendation because, as you can see, the Geforce Now app alerts me that my connection speed to my router with 2.4Ghz Wifi is not sufficient as I am trying to play Destiny 2. Make sure you have a tablet and a router that supports connecting to 5Ghz wifi
If your tablet has these requirements, let's get started with the app install.
Download the App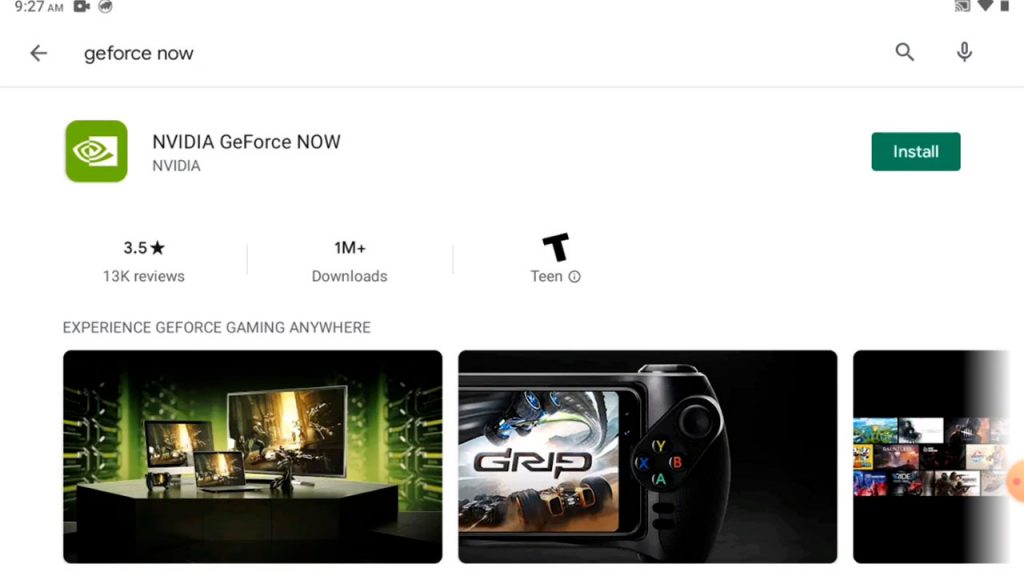 To get started with GeForce Now on your Android device, we need to download the app. The first way to do it is to search it up in the Google Play Store. Open it up and search for "geforce now". It should be the first to come up in the search results and you can install from here.
The second way of getting the app is from the website. Open up a browser and either search up "geforce now" or go to "geforcenow.com" and this will redirect you to the landing page for GeForce Now on "nvidia.com". From the home page, click on the hamburger menu icon to open up the menu, and hit the Download link. Scroll down to the Android device link and hit the Google Play button. This will send you directly to the Google Play app in the Store.
Starting Up GeForce Now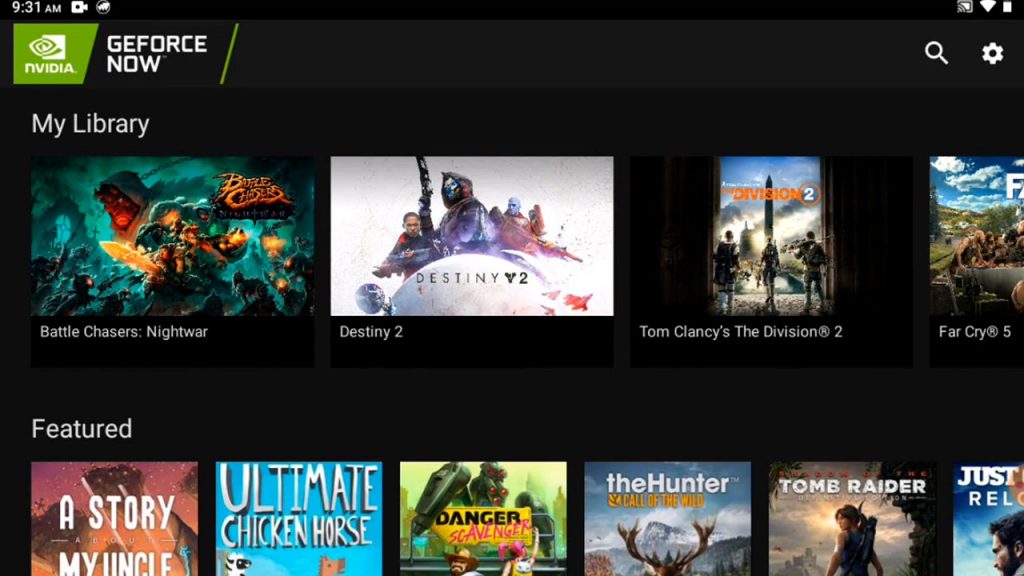 Go ahead and hit the app Install button to get the app installed. It is not a huge app so it shouldn't take too long on Wifi. Hit the Open button when finished to get into the app. Take note of the terms of use and hit agree and continue. You'll also need to sign up for an Nvidia account. If you have an account just sign in. Otherwise, hit the "Create account" link to create one.
For your first sign in, the app will need to download some account game data to load your dashboard. After the initial loading, all you need to do now is find the games you want to play. GeForce now makes it very easy to find the games that are available. Use the search feature to search the games you OWN on Uplay, Steam or the Epic game store to play them. Also, be aware that most games require a gamepad to play. Connecting a Bluetooth controller like an Xbox Controller before you open the app will work just fine.
Playing a Game on GeForce Now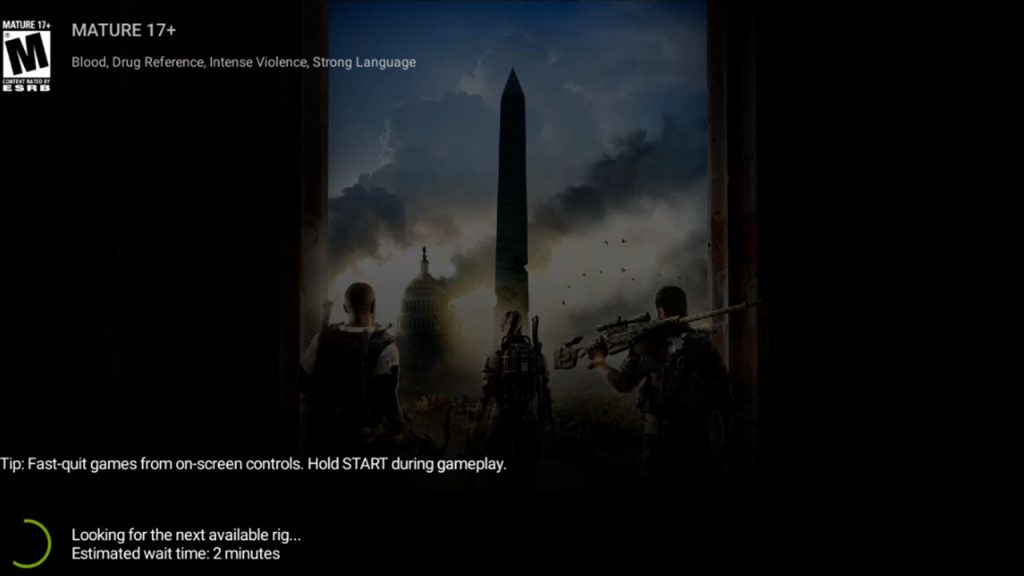 I feel like playing the Division 2, so I'll hit that game start it up. If you have used GeForce Now before, you'll know that it will also run a network analysis to determine if your internet speed is suitable for playing as I showed you previously.
Depending on how busy the service is, it might put you in queue of other players trying to log onto the service. You'll be able to see the estimated wait time you'll have to endure before you get your machine to play your game on. This only happens with the free version. You also have the option to upgrade your account so you do not have to wait by hitting the link to upgrade. As of now, this cost you $4.99 a month at this time. If you are not interested in upgrading, you'll just have to wait to play.
Overview
Overall, GeForce Now is a great way to start playing your games in the cloud. Download it on any Android device that meets the requirements and start playing anywhere as long as your internet speed is up to par. Be sure to subscribe to get the latest news, gameplay, and comparisons on Cloud gaming. So stay tuned here at the only place where you can do battle in gaming heaven – Cloud Gaming Battle