Get started with Stadia on an Android platform! Check out how easy it is to install the Stadia app and get started playing Stadia games. Here are a list of compatible mobile devices so you should know if your Android phone is compatible.
Getting Started
Stadia App Requirements
The Android version requires a mobile device running Android 6.0 or greater.
Internet connection 10 Mbps or greater
Stadia Controller, a PlayStation DualShock 4 Controller, an Xbox One Controller, or any other device supported controller
Note: Stadia is not compatible with G Suite, Google for Education, and certain other managed Google accounts.
Compatible Android Mobile Devices
Pixel 2, 2XL, 3, 3XL, 3a, 3a XL, 4, 4XL
Samsung S8, S8+, S8 Active, Note 8
Samsung S9, S9+, Note 9
Samsung S10, S10+, Note 10, Note 10+
Samsung S20, S20+, S20 Ultra
OnePlus 5, 6, 7, 7 Pro, 7 Pro 5G, 8, 8 Pro
OnePlus 5T, 6T, 7T, 7T Pro, 7T Pro 5G
Asus ROG Phone, ROG Phone II
Razer Phone, Razer Phone II
Getting the Stadia App from the Google Play Store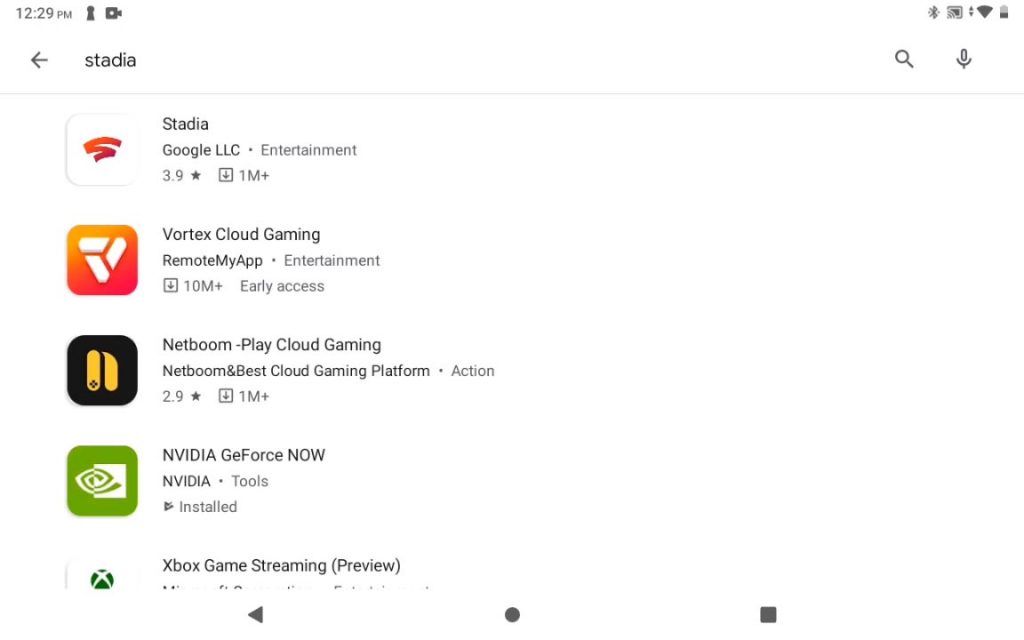 From your home screen on your tablet open up the Google Play Store. Type in the search bar "stadia" and hit search. This Stadia app should appear right at the top. The alternative way to get Stadia is getting Stadia through the website. Open a browser, and search up Stadia or go to stadia.google.com. Once you hit this Stadia web site, go ahead and click on the button "Get the app". This will take you to the Google Play Store.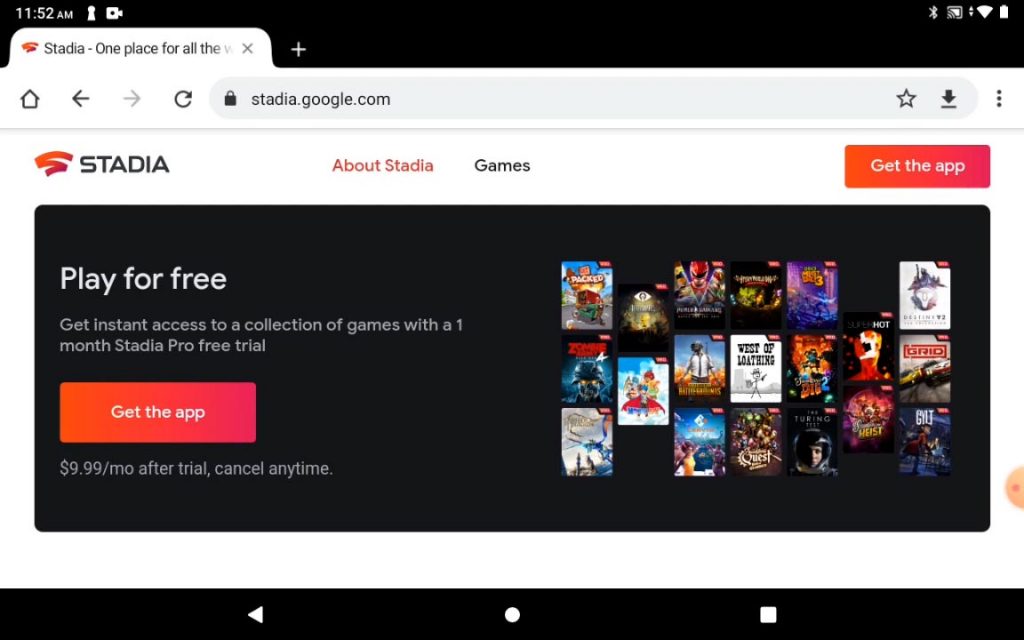 Once you are there, feel free to click on the button "Install" to begin the installation of Stadia. Once the installation is complete, go ahead and click on the open button. The alternative way of opening the app is to close out the Google Play Store and the app will be setting right on your home screen.
Opening Stadia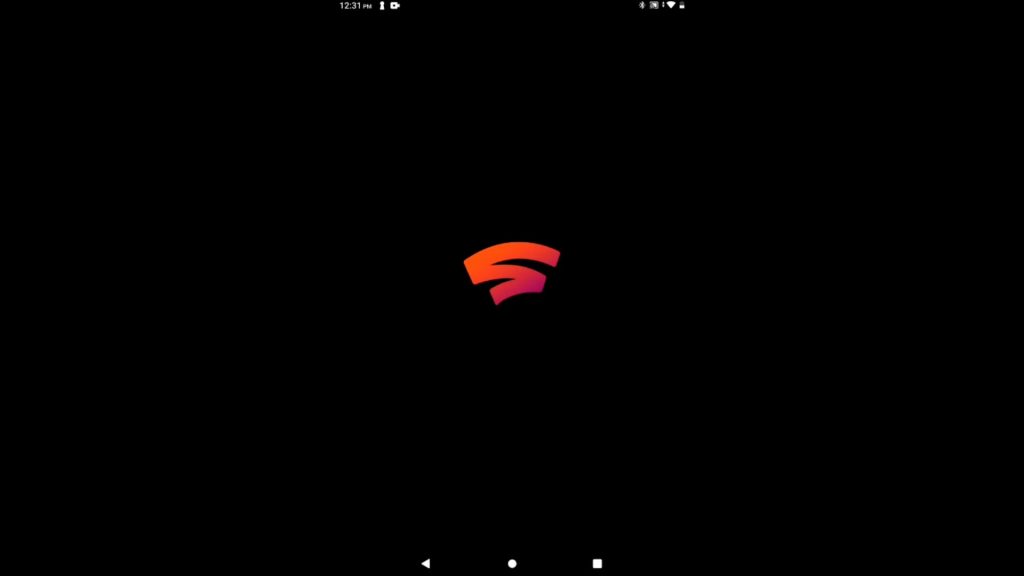 Once you are in the app, you will notice that the app will switch your screen to vertical mode. Feel free to flip it back to horizontal mode once the app is finished loading. Once you are in Stadia it will want you to login with a Google account. Go ahead and hit "Get Started" to login with the Google account or to create one. Once Stadia has logged in to your account, you will be at your destination – the Stadia home page.
The Home Screen
From the stadia home screen you will be able to edit your account add controllers add friends and explore this stadia store for new games. If you see a game in the center of your home screen, this is because this was the last game this user has played. If you want to dive right back in to the game, hit that button in the middle of the screen. This will allow you to pick up right where you left off when you quit the game last time.
If you scroll down the home screen, you will notice that you will have a list of your games for Stadia. If you do not have a list of games below the home screen, you do not have any games for your Stadia account.
Stadia Store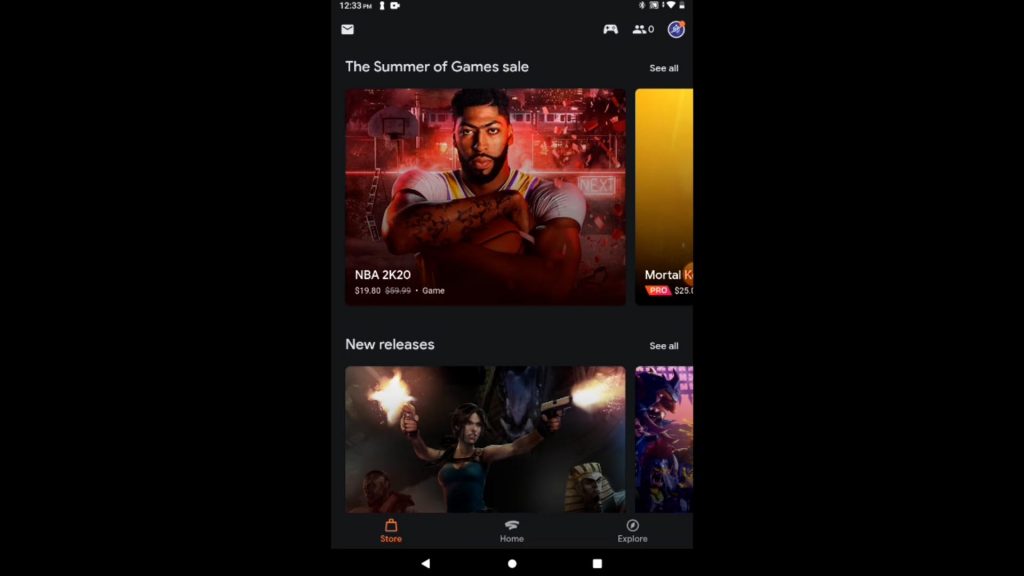 There are a number of popular categories for Stadia games in the Stadia store. Scrolled through all of them to get a good feel for how many different types of games Stadia has to offer. At the bottom of the store, there is a "See All" button which lists out all the games Stadia has. If there is a game you want to buy, feel free to purchase the game to add to your collection. Stadia Pro members will have games that are offered for free for just being a Stadia Pro member.
Explore Tab
This is where Stadia lists their news, events, and updates. Come back here to find the latest updates regarding upcoming games and software updates for Stadia.
Conclusion
This wraps up the short overview of how to setup Stadia on your Android device. Remember that each device will handle playing your game differently. Also, internet speed is a big factor on how well your game plays due to it streaming over the internet for you.
For more information on Stadia, check out our section on everything Stadia. We'll be constantly updating this section as Stadia grows.
For the latest news, gameplay, and comparisons on Cloud gaming, subscribe and stay tuned here at the only place where you can do battle in gaming heaven – Cloud Gaming Battle.