Loudplay is a cloud gaming service that is located in Russia. We define Loudplay as a credit based cloud PC rental service similar to Shadow and Maximum Settings. PC Rental services offer a fully function Windows PC based in the cloud that allow you to install and run any game or software that you would on your home PC.
So, what does Loudplay power their service with? Is it worthy of your gaming time? We'll we are going to run a full PC benchmark on the Loudplay system. The benchmark will be general stats for the overall PC performance using PCMark 10 and then a gaming benchmark using 3DMark. We'll also run an in-game benchmark on Far Cry 6 to see how things run on a modern game.
Loudplay Upgrades
Loudplay just recently upgraded their services to support 1080p gameplay so I have included both the old Loudplay specs and the new ones. I'll do a compare and contrast with both to see differences. Let's start with the old Loudplay specs.
Old Loudplay Specifications
Operating System: Microsoft Windows 10 Enterprise
Processor:Intel® Xeon® Gold 6132 @ 2.60GHz
RAM: 28 GB
GPU: NVIDIA GRID P40-6 1306 MHz
Operation System – Windows 10 Enterprise
Right out the gate, Loudplay starts to Impress us with having users use not Home, not Pro, but Windows 10 Enterprise as their operating system.
Loudplay CPU – Intel® Xeon® Gold 6132 @ 2.60GHz
The Intel Xeon Gold 6132 is a pretty decent server CPU with 14 cores and 28 threads clocking in at 2.60 GHz. The initial benchmark performance stats for this CPU puts it higher than their competitor, Shadow – Impressive. It has an impressive single thread rating which is important for gaming.
RAM and VRAM
Loudplay has over 32GB of RAM installed on their machines which 4.5 GB is being used for the virtualization process. That leaves 28 GB for gaming or whatever you want to do on our Loudplay PC.
GPU – NVIDIA GRID Tesla P40-6
For the GPU, it is running a Grid GTX Tesla P40, which is generally a workstation graphics card designed for up to six profiles and from 12 to 24 virtual users. You can compare the power you will get on a Tesla P40 to that of a GTX 1070.
PCMark 10 Score
Now for the overall PC score from PCMark 10. It's generally pretty low with a score of 3184. It's much lower than the Shadow benchmark we performed – about 2000 points lower.
3DMark Score
Now for the real test – how do the graphics score?
The Tesla P40 is the same GPU Boosteroid is using and it generally underperforms in gaming because it is 2 generations behind in graphics hardware. It is running the Pascal architecture. This is the main culprit of the bad gaming performance you will get while playing on Loudplay.
Far Cry 6 Benchmark
Would you like to see an example of bad performance in a modern game? Well, here is the benchmark in Far Cry 6 at 720p.
New Loudplay Specifications
Now lets get into 1080p with the brand new hardware they have running on their machines. Here are the specs of the new machines Loudplay is now running.
Operating System: Microsoft Windows 10 Enterprise
Processor: AMD EPYC 7302 @ 3.00GHz
RAM: 32 GB
GPU: NVIDIA GRID RTX 6000 P-6 1440 MHz
Yes, this is quite the upgrade. Let's check this hardware out and see how it compares with the old hardware.
Operation System – Windows 10 Enterprise
Loudplay is still using Windows 10 Enterprise which I have no problem with.
New Loudplay CPU – AMD EPYC 7302 @ 3.00GHz
Loudplay is now running AMD EPYC cpus! The AMD EPYC 7302 processor has 16-cores and 32 threads clocking in 3.00 Ghz. The initial benchmark comparison versus the old CPU, the Intel Gold 6132, is a massive improvement.
RAM and VRAM
They have also increased the RAM from 28 to 32 GBs with 3.6GB being used for the virtualization process.
GPU – NVIDIA GRID RTX 6000 P-6 1440 MHz
Here's another vast improvement. Loudplay upgraded their GPUs to a Ray-tracing compatible card – NVIDIA RTX 6000. You can compare this workstation graphics card to an RTX 2080.
3DMark Score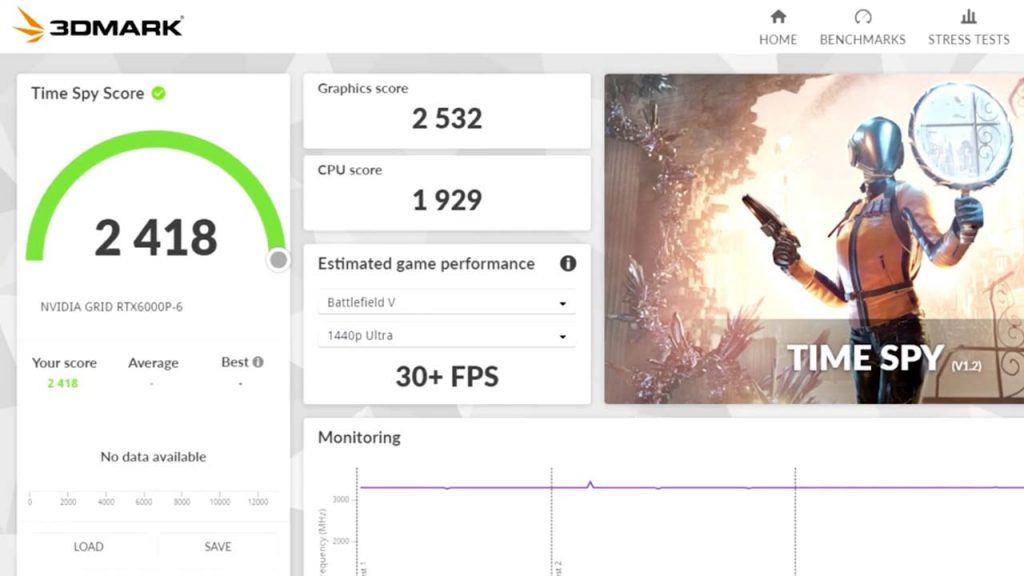 So does this new hardware setup run much better than the old setup? Let's see in 3dMark.
I was expecting at least 60 fps here with this kind of equipment, not just a 10 fps increase. It seems like they have a bottleneck somewhere in their system. I'm not sure where but this new hardware shouldn't be performing this bad.
Riders Republic Benchmark
I'll try a game benchmark using an even more up to date game, Riders Republic. Right off the bat it seems like Virtual RAM is being pushed to the max. This might be part of the issues as RAM might be spread out too thin. Let's take a look at the findings.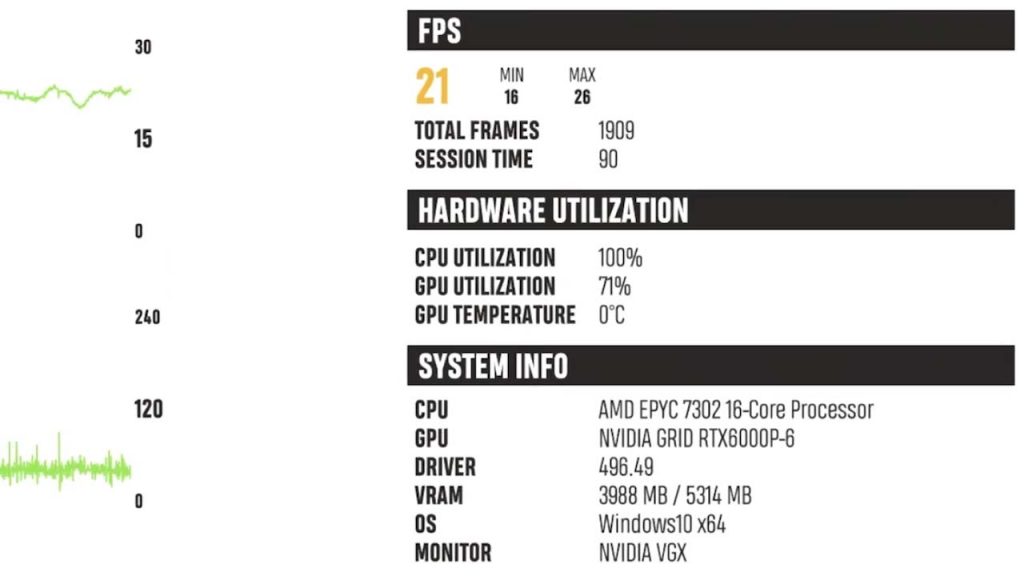 Oh wow. It looks like this a CPU problem. With the CPU at 100% utilization and the GPU only at 71%, the CPU is being overloaded and can't maximize GPU output. The bottleneck is real.
Overview
While it's good to see that Loudplay is actively upgrading their tech, I'm concerned that it might now be not good enough to handle new games and software. They have to find the bottleneck and generally improve their infrastructure to compete with the likes of GeForce Now, Stadia, and Shadow.
We'll be looking forward to see additional improvements Loudplay has to offer down the line. If you liked this benchmark of Loudplay, give us a like. Keep it locked right here to get the latest news, gameplay, and comparisons on Cloud gaming at the only place where you can do battle in gaming heaven – Cloud Gaming Battle.