In this GeForce Now News Update, The RTX 3080 Tier gets renamed to Ultimate and we have all the details. If you are regular viewer of the channel, I predicted they would have to do this. Unfortunately, I was guessing they would name it TITAN tier. I guess I was close enough.
New Ultimate Tier Upgrade
The CES Special Address really gave us some great info on not only the name change but the upgrades to what the Ultimate tier will bring. The Ultimate will get new Ada Lovelace RTX 4080 hardware to handle the new games that we've been mentioning that have been slacking lately. And apparently, Nvidia noticed they were slacking as well.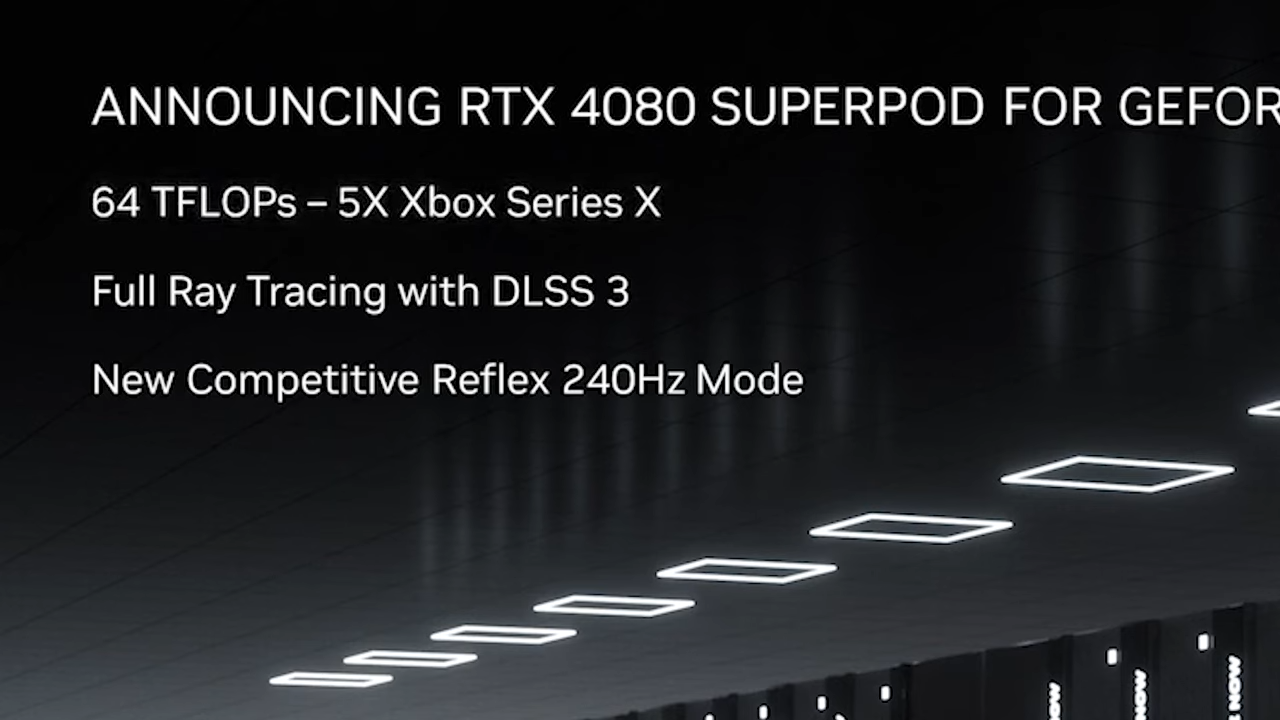 The RTX 4080 SuperPOD will have 64 TFLOPs of power which is estimated around 5 times that of an Xbox series X. These machines will also be capable of running full Ray-tracing with the latest DLSS 3. These cards also make it possible to run your game in 240 Hz with the power of Nvidia Reflex. This will lower your latency at ton. This will be extremely beneficial to those playing FPS games to lower latency, especially if you are further from a GeForce Now server.
So what kind of new support can you expect from the Ultimate tier upgrade? Get ready for 240 FPS streaming up to 1080p resolution devices, ultrawide monitor support, and 4K gaming at 120 FPS! Good times to be had!
What's great about this upgrade is that it's not going to cost you a thing! They are keeping the same price for this tier. If you are an RTX 3080 member, you don't have to do a thing. If you haven't noticed, they have already changed the app to reflect the Ultimate name change for current RTX 3080 members. They plan to role the hardware upgrade out later this month.
GPU Info
Now this is speculation but, it's been rumored by some viewers that they will be using new Nvidia L40G card for this tier. For those who don't know, servers don't use PC consumer cards for cloud gaming. They use workstation cards like this one. And right now, the Nvidia L40G performance is better than an RTX 4090. Pure awesomeness. We'll dive more into this in our upcoming benchmark video.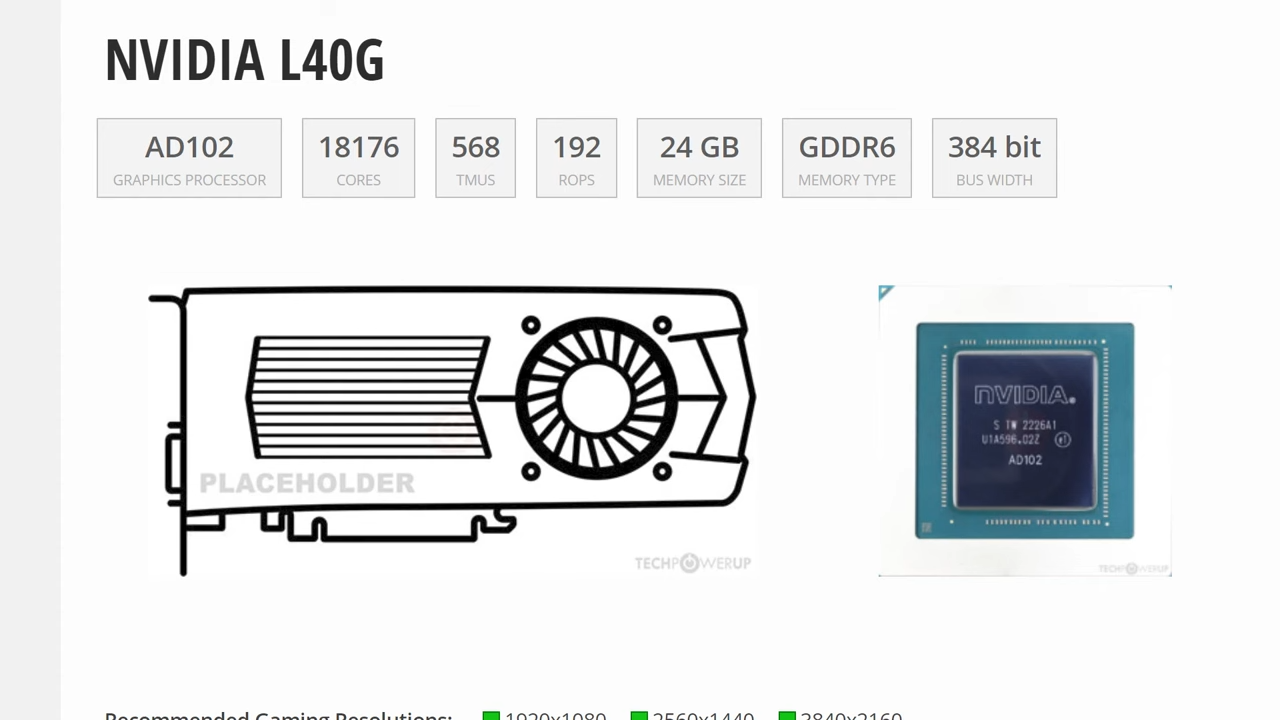 What happens to the RTX 3080 cards? The A10G cards which were running the RTX 3080 tier will still be in use by Ultimate members. These cards will be used for games that don't necessarily need 4080 caliber power.
Global Expansion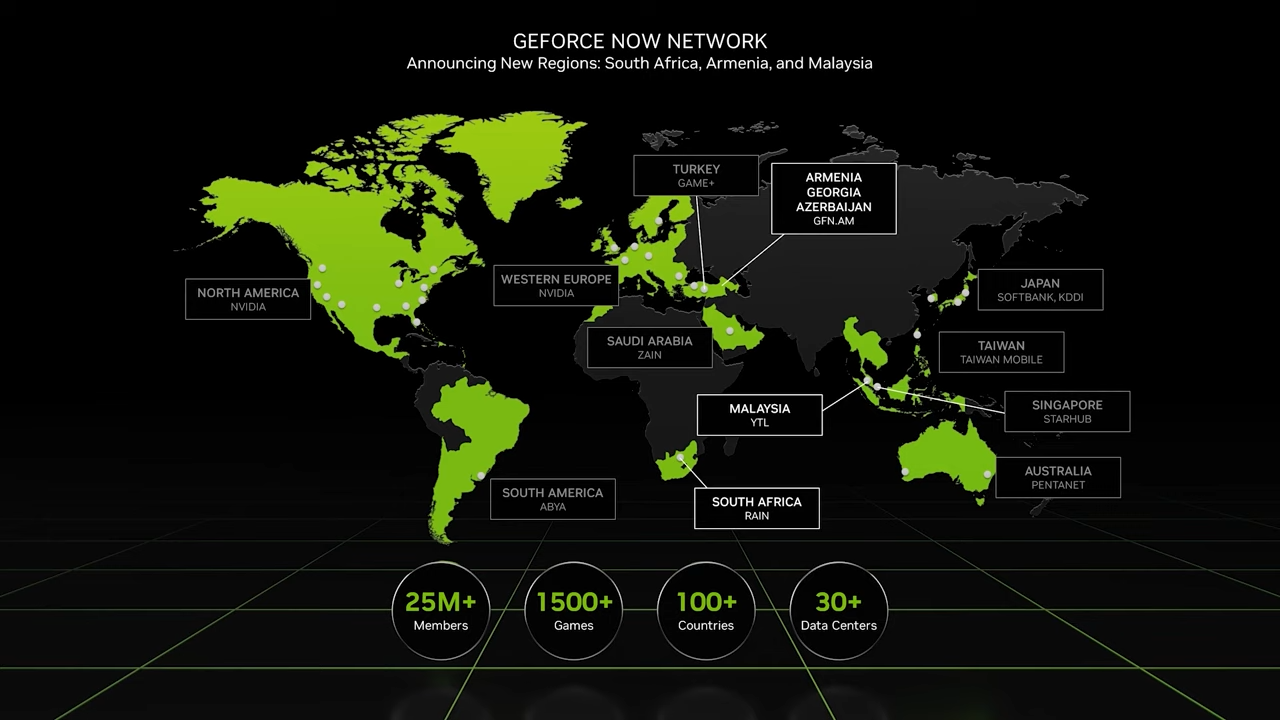 The expansion for GeForce now is also insane. Now we've touched on this in previous GFN updates but GeForce Now is expanding to other countries including South Africa, Malaysia, and Armenia through the GFN partner network. GeForce Now has also reached over 1500 games and 25 million members.
GeForce Now Streaming to Cars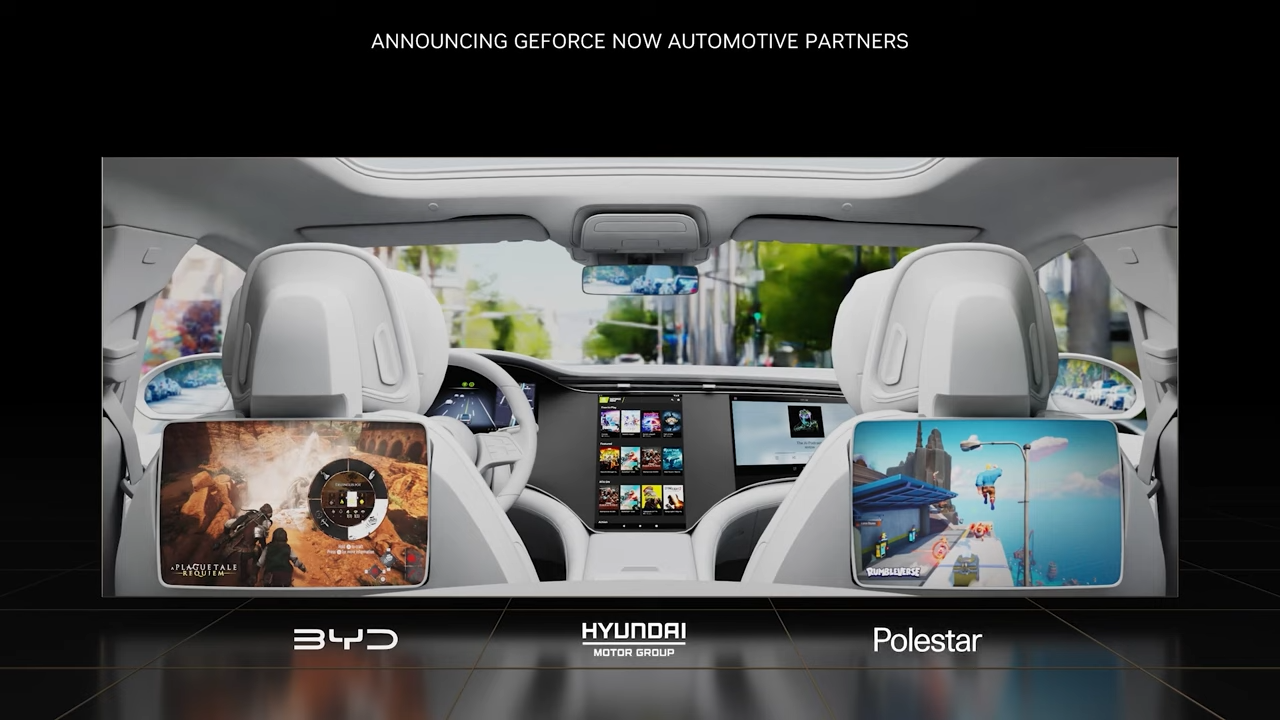 On top of the 4080 upgrade, Nvidia has been involved with car automation. What does this have to do with GeForce Now? Good question. Well, they included the ability to stream GeForce Now to several of these car brands starting with these brands here. Soon you'll be able to play GeForce Now natively on cars from these brands. I'm sure internet is completely separate price.
At&T 5G Deal
Looking to tryout the Ultimate Tier for free? AT&T joined forces with NVIDIA to kick off 2023 with a brand-new GeForce NOW offer that gives gamers six months of the Ultimate membership on them!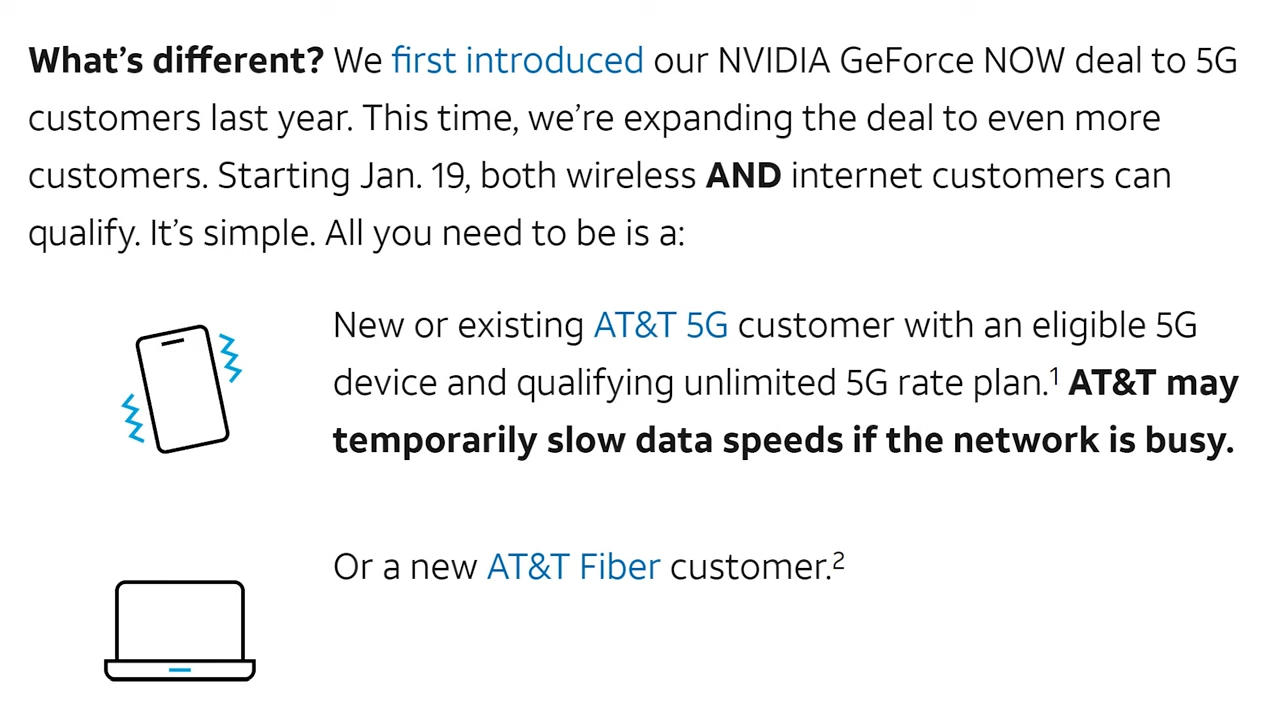 Starting Jan. 19, both wireless AND internet customers can qualify. It's simple. All you need to be is a: New or existing AT&T 5G customer with an eligible 5G device and qualifying unlimited 5G rate plan. OR a new AT&T Fiber customer. More information on the AT&T Gaming page.
Internet Requirements
The Ultimate tier changes sounds fine and dandy. Let's talk about something you'll need to know about the new internet and hardware requirements to support these changes. Ultimate Members can enjoy up to 3840×2160 (4k), 2560×1440 and 2560×1600 resolutions. 120 FPS and 240 FPS will require displays that support 120 or 240 Hz respectively.
Here are the minimum internet download recommendations for current resolutions: You'll need a minimum of 45 Mbps to stream 4K at 120 FPS. You'll need at least 35 Mbps for 1440p and 1600p for streaming 120 FPS. Please note that the highest resolution for streaming at 240 Hz is 1080p and they recommend at least 35 Mbps for this.
They HIGHLY suggest an Ethernet connection or a really good 5GHz Wifi connection as I've always stated. They are still working system requirements for ultra-wide monitors so stay tuned for more info on those.
New GeForce Now Games
Finally, GeForce Now is all about the games. One beloved game, Portal gets a FREE update to support ray-tracing: Portal with RTX has been added to GeForce Now. This ray-traced reimagining of Valve's classic game was built using a revolutionary modding tool called NVIDIA RTX Remix, which brings the test chambers of Portal's "Aperture Science" to new life.
More big titles are on the way. As announced at CES 2023 this week, members can expect to see the impressive Atomic Heart and the very controversial game, The Day Before join GeForce NOW when they release later this year. Stay tuned to future GFN Thursday updates for more details. On top of this, there are 24 new games joining GeForce Now this month:
In addition, members can look for the following this week: