GeForce Now is a cloud gaming platform that seems to be dominating the gaming scene lately. With the renaming of their top membership tier and their cloud gaming rival Stadia now defunct, will GeForce Now be a suitable gaming solution for you? We have the details on ALL of the tiers including the free tier so let's dive in!
Quick Cloud Gaming Overview
First you might be wondering what the heck cloud gaming is. We have a ton of information on this but to keep it super simple, it's Netflix for gaming. Play your games through the cloud. No game installs, no game consoles, no expensive supercomputer – only if you want to. This includes playing them on PC, your mobile device, or on your TV. It's that easy! You might need a bit hardware to actually play your games in certain circumstances, but we'll get into that later.
The GeForce Now Model
How does GeForce Now work? Good question! It's fairly simple. GeForce Now plays the games you own from third-party game distributors like Steam, The Epic Game Store, The EA App, and others. Buy your games from these sites, and you'll be able to play them on GeForce Now through the cloud. If you are a native PC gamer, you should fit right in.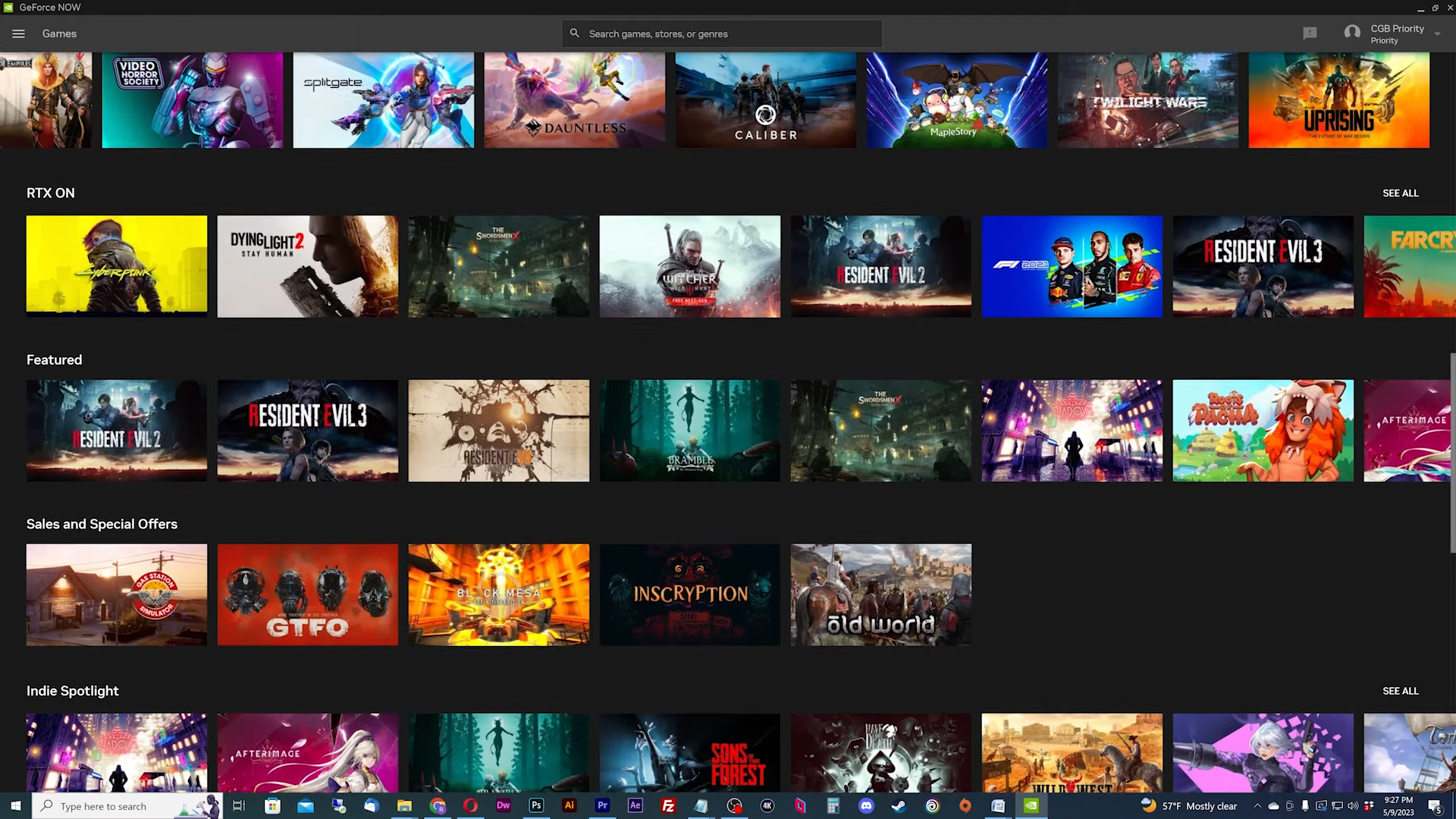 You should know that many of these third-party distributors offer many popular free to play games like Fortnite, Genshin Impact, CS:GO, Rocket League, and many more. With the free tier of GeForce Now, you'll be able to play any of those games on almost any device for absolutely free. This aspect has been making the platform extremely popular. Sound like something you want to know more about? Let's get into the details of each tier to see which one will be suited for you.
Free Tier
Let's talk about the Free tier first since most will be signing up with this. Since our Before You Buy video on GeForce Now last year, the platform has increased its member number by at least 10 million. Now keep this in mind because this affects the free tier a lot.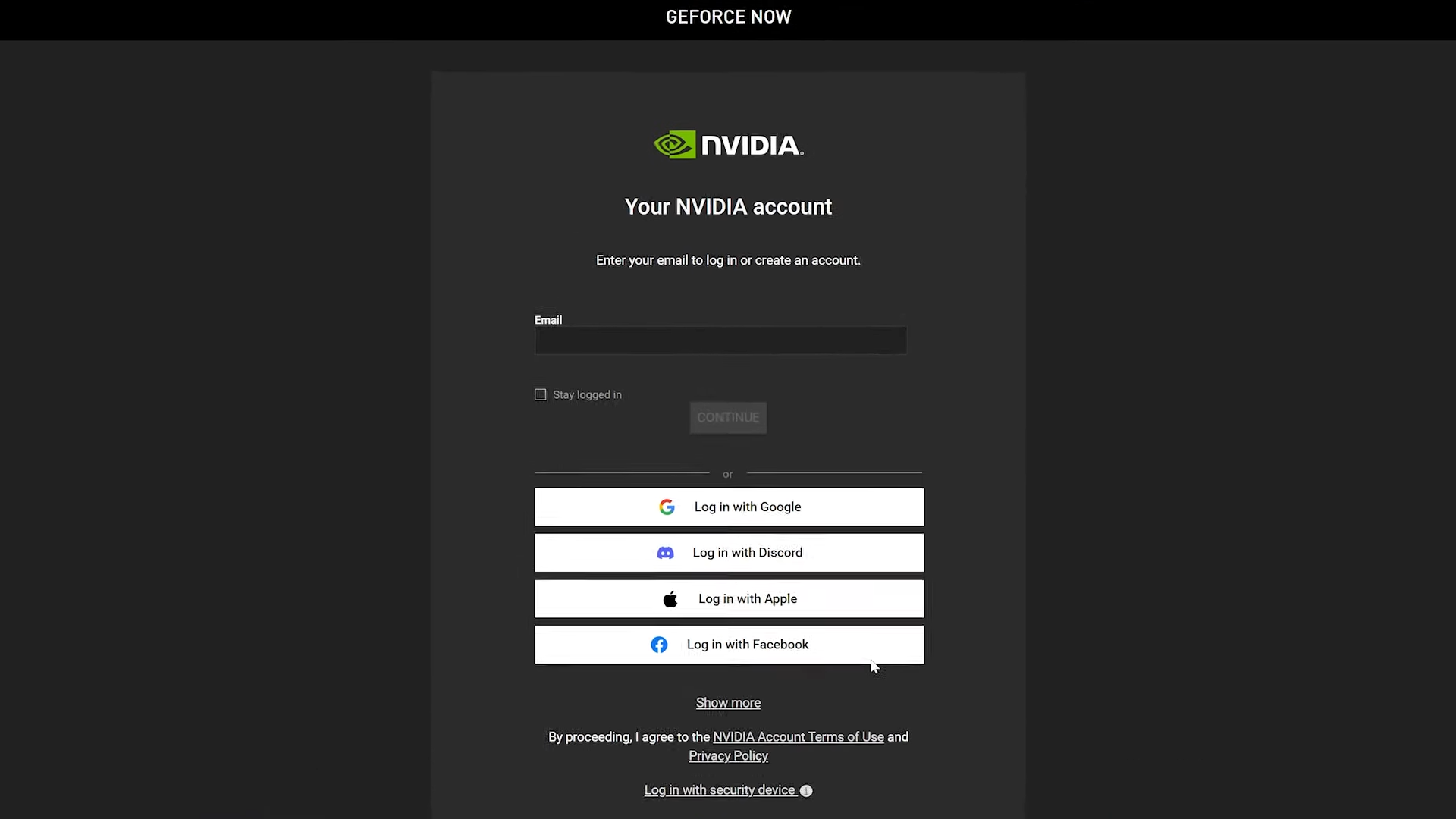 To get started with the Free tier, all you have to do is signup for a free Nvidia account, and activate your free GeForce Now membership in the account settings. Simple. From here you can sign in to use GeForce Now on any device where it is supported including Chromebooks.
Their app works great and you'll have access to the full library over 1500 games on the platform. The catch is you have to OWN them from various third-party game distributors like Steam, Epic Games, the EA app, and plenty more. You buy your games here and you are able to play them on the platform on any device. If you are looking to get started in with the Geforce Now, we have a full getting started video to help you get setup.
Free Tier Downsides
You might say this sounds great, but there must be other catches being free. You would be right. There are 2 huge downsides to the free tier. The first being the queue wait time. Remember I mentioned the increase of GeForce Now users? GeForce Now only has but so many free spots at one time. Depending on where you are located, this could be several hundred at a time. And now, there are millions of new Free users trying to get in all day, everyday.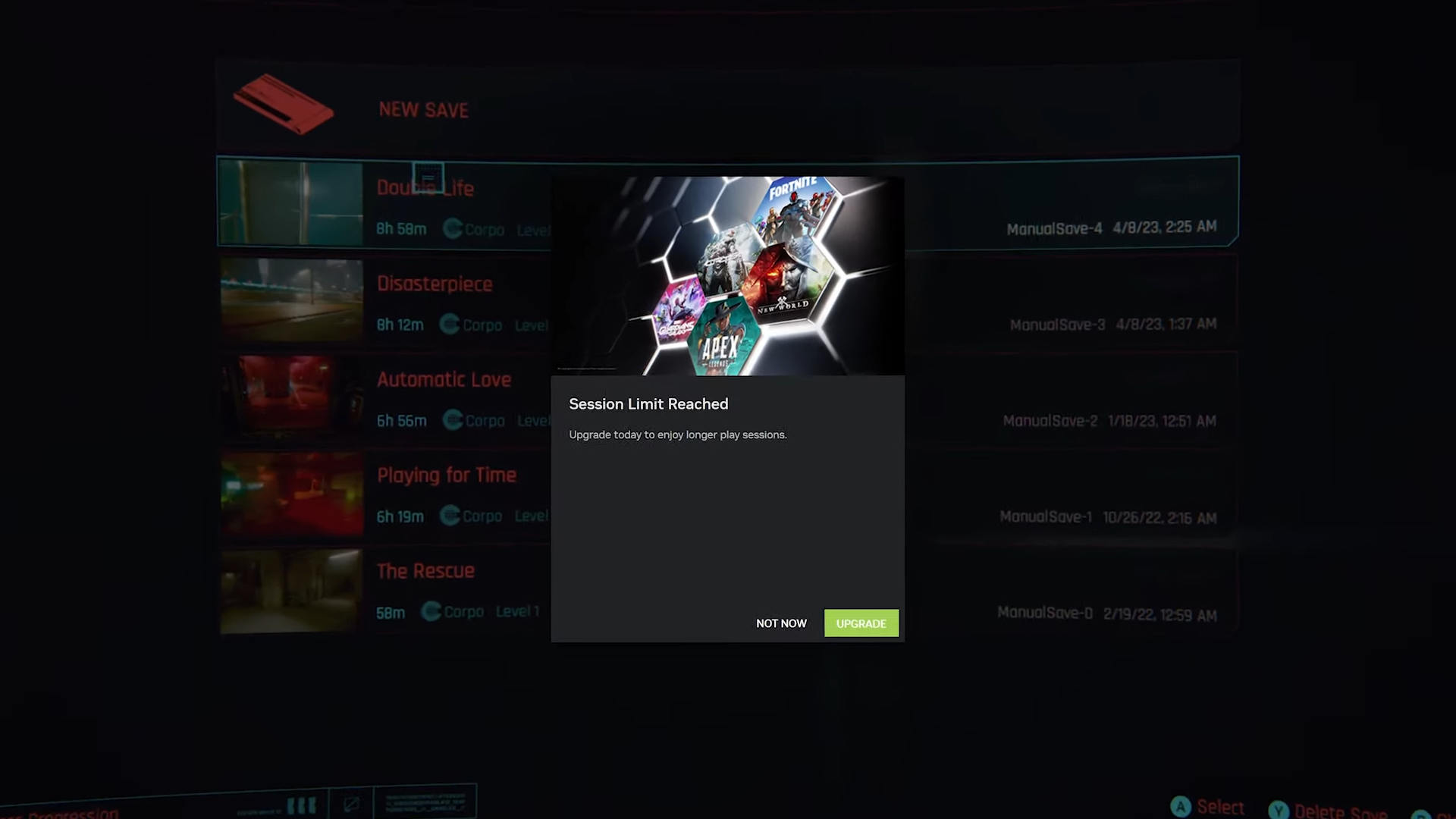 The second major downside of the free tier is the hour limit per session. Once you actually get into your game after waiting in the queue, you only get one hour to play your game. So this might limit the types of games you play. So those games that might take over an hour like running raids or long campaign missions, you might have a hard time squeezing into that hour time frame. The free tier is a lot more suited for playing games with quicker multiplayer matches like Fortnite or Rocket League where you can manage that hour accordingly between matches. Or play single player games where you generally save and quit whenever you want.
Thankfully, GeForce Now doesn't limit the number of sessions you can play in a day, so once you quit a session, you can start one again as much as you want. The only thing is that you will enter the queue again for every game you start. Bummer.
Priority Tier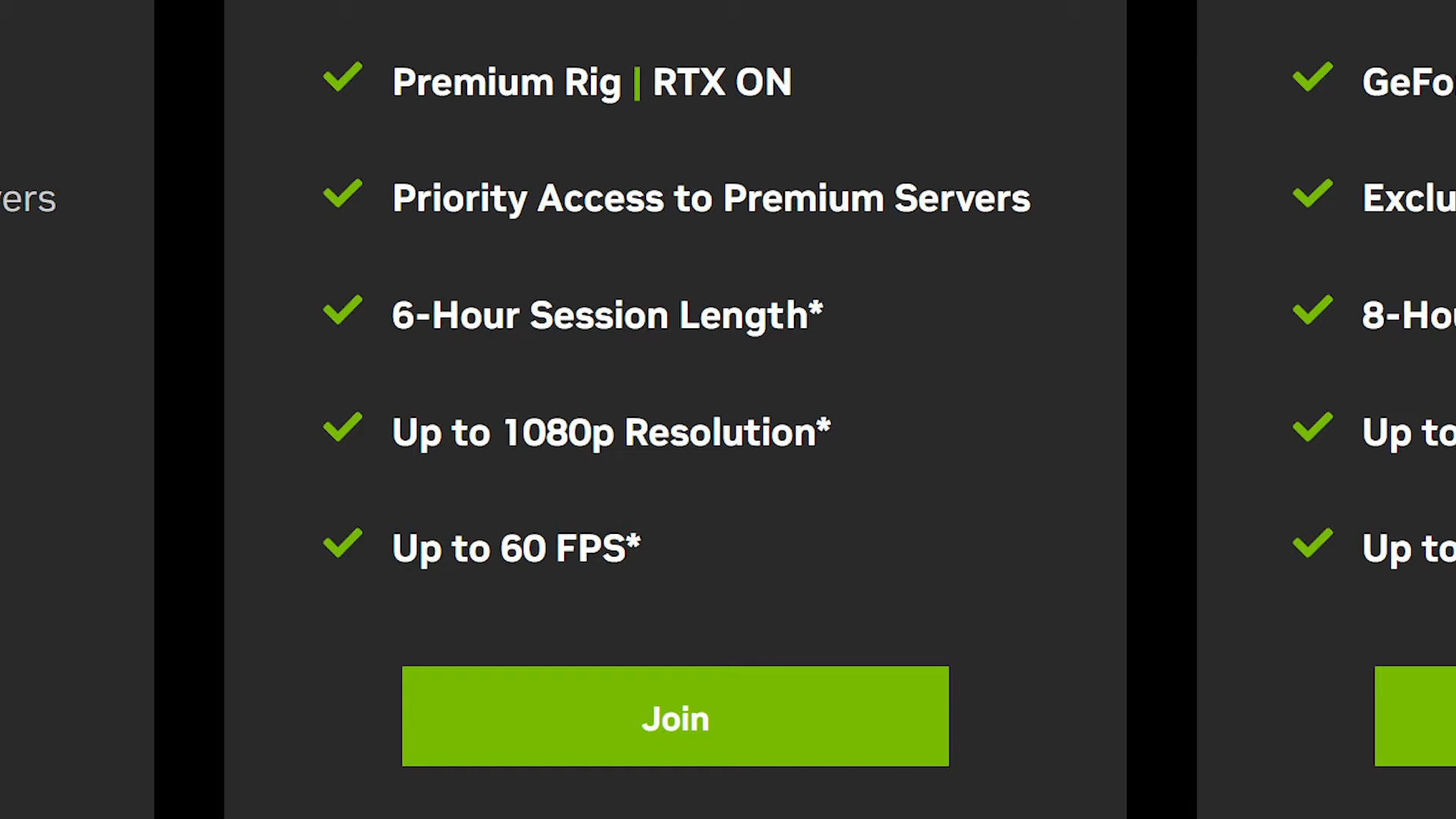 Does the Priority tier help the downsides of the Free tier? The Priority certainly does. Not only does it give you a 6-hour session but now you will skip the queue. (celebration meme) And you will get this for $10 a month. And to me, that is well worth it. And if you are even smarter, you can get this cheaper if signup for a 6-month subscription. This will equate to just over $8 a month. Not shabby at all.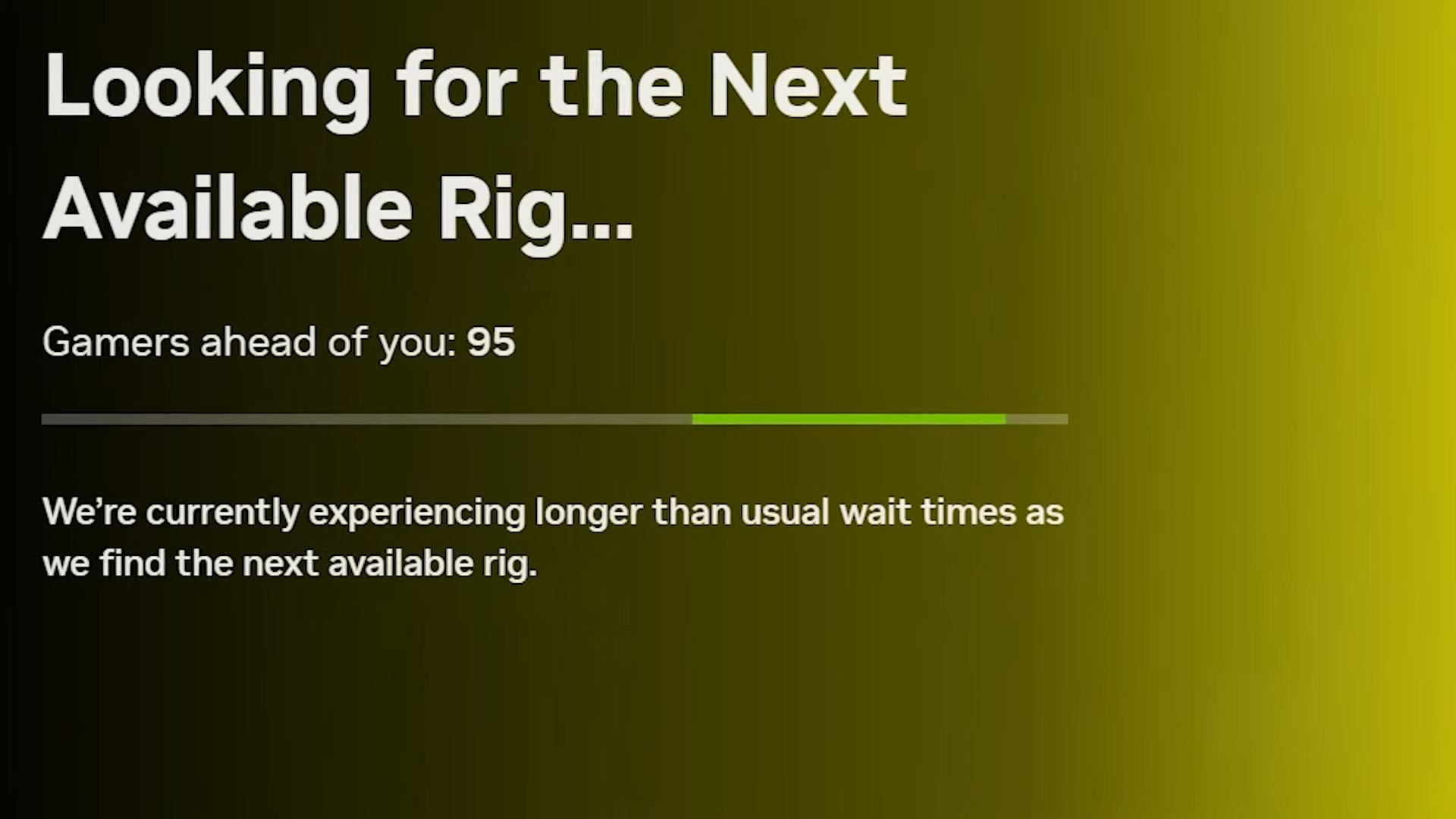 But, remember those new millions of users? They affect the Priority tier as well. At peak hours, I've had to wait a couple of minutes to get on because even the Priority tier had a queue. This was rare but yes, it did happen. GeForce Now is getting pretty popular.
RTX
Are there any additional bonuses on top of the time limit and queue for the Priority tier? Oh yes. You still get a maximum of 1080p gameplay at 60 FPS but, you now get access to RTX aka Ray-tracing servers.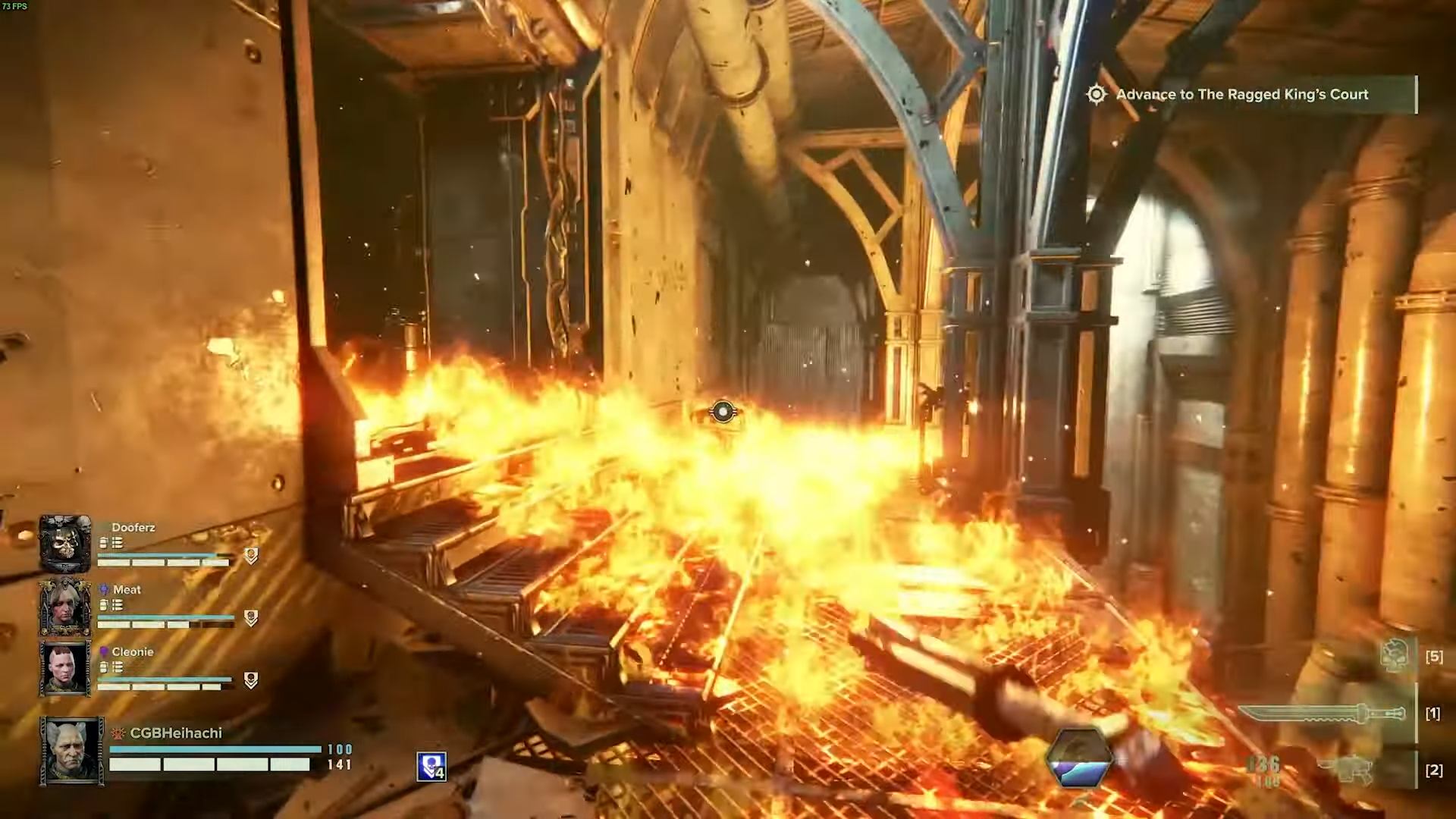 So, you can play those games like CyberPunk and Darktide that have ray-tracing. For those who don't have a crazy gaming PC or haven't been keeping up with these expensive GPUs every year, this might be a great option for you for great 1080p, 60 fps gameplay, with ray-tracing for only $100 a year if you buy a subscription at 6months at a time. This is a steal.
Ultimate Tier
But what if you are a hardcore gamer? You have your 1440p, 4K, or even an ultrawide monitor with a high refresh rate and you want to know if you can play GeForce Now at the highest level possible with the best quality? In short, you absolutely can. Introducing the new refined – Ultimate Tier. I'm going to breakdown everything you need to know about the Ultimate tier. This will include the differences from when it used to be called the RTX 3080 tier.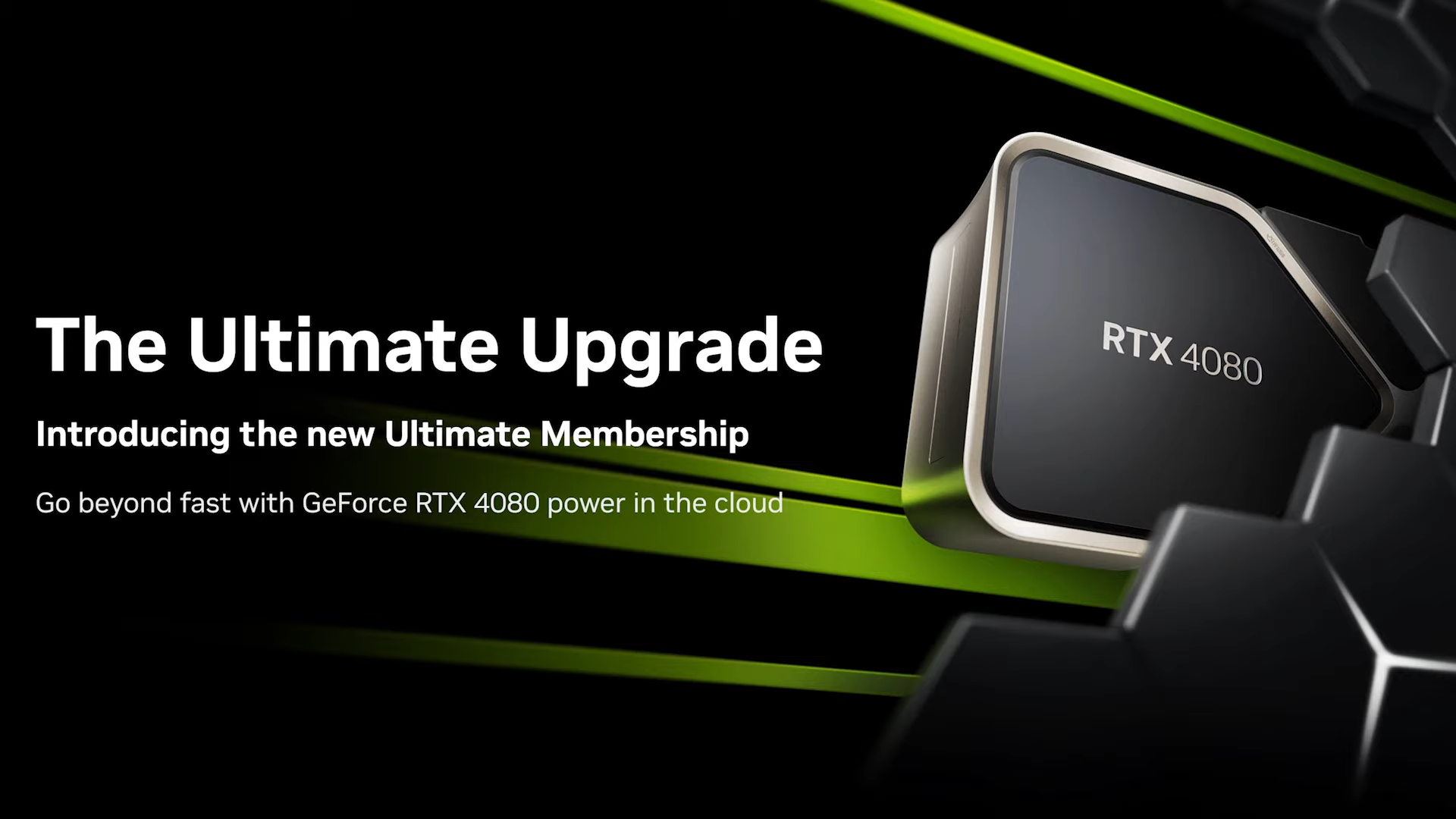 So what's the big deal about the Ultimate tier? It is the latest custom cloud gaming hardware from Nvidia consisting of top-of-the-line propriety hardware from their current RTX 4080 Ada Lovelace GPU generation. They call these custom cloud gaming servers:The 4080 SuperPODs.
Superior Latency?
One of the things that makes these servers special is the fact that no one has this hardware as of now. These are the highest-grade cloud gaming servers on the market hands down. Would you expect anything less from Nvidia? Nvidia also claims that because of the power and how fast these machines are, they are able to produce better gaming latency than all previous GeForce Now tiers and this also includes beating the Xbox – all through the cloud.
Now these were big claims and we had put this to the test. Because of the Nvidia Reflex technology, which allows your inputs to respond at the GPU level because of the efficiency of the RTX 4080, let me tell you they were not joking on how fast your response time is. I had to lower my sensitivity in Fortnite because I was overshooting my target. It was that quick and this was at 4K!
For those people who already don't have the best latency (latency being the distance from your GFN server), going the Ultimate tier route would make up for a lot of the lower latency gameplay. Even if your game doesn't support the Reflex technology, having more frames produces a faster response in general. If you are curious on the locations of the GeForce Now servers, the link is in the description.
70% Better Performance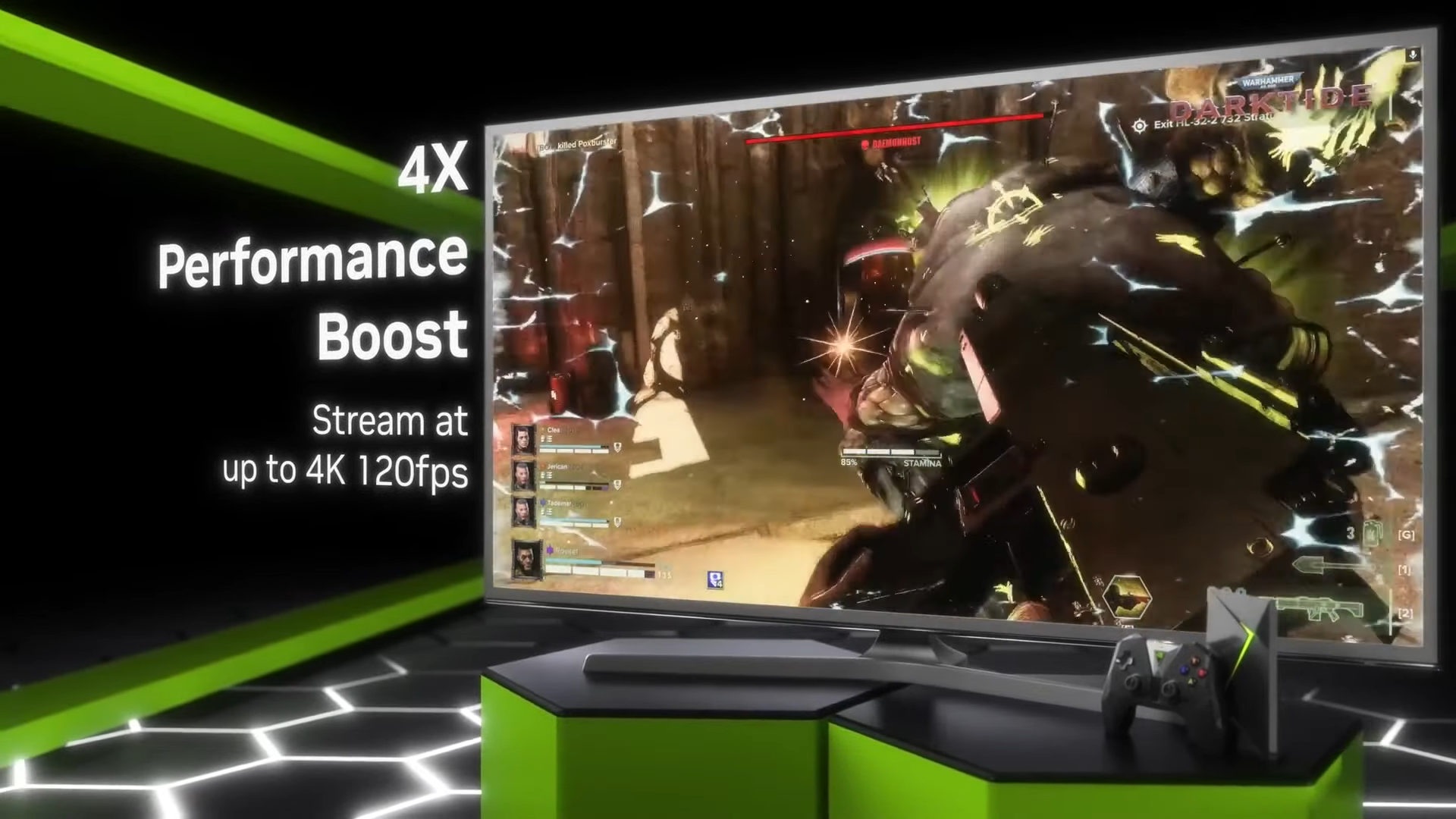 The old 3080s already provided 1440p resolution at 120Hz and 4K resolution at 60 Hz but now, the new Ultimate tier is now providing 240Hz gameplay at 1080p, 120Hz gameplay at 4K, and the introduction of Ultrawide screen monitors with a top resolution of 3440×1440 at 120Hz. Pretty impressive.
Nvidia also claimed that the 4080 SuperPODs perform 70% better than the old 3080s to easily handle these updated refresh rates. Is this true? Yes and No. This is kind of the most polarizing aspect of the Ultimate tier. Let me explain.
DLSS 3 helps a lot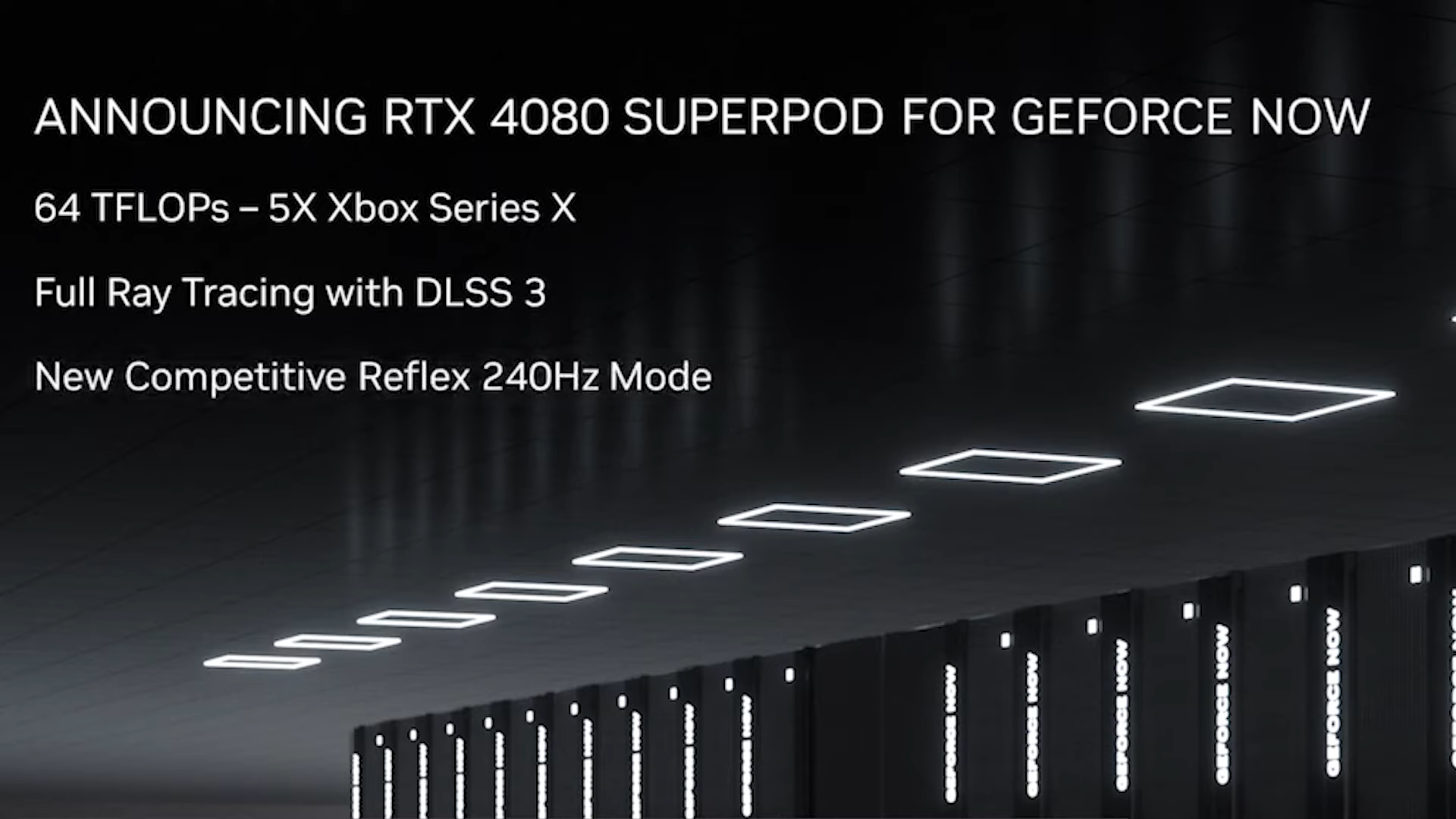 These 4080 SuperPODs support the newly released DLSS 3 which is really Frame Generation. This AI technology adds frames to your gameplay to increase your framerate drastically. This is where the 70% performance increase comes from. The problem is that as of now, is that there are only about 1% of games onGeForce Now that support DLSS 3. We made a video on the games that support it if you want to see the differences with frame generation on.
For those games that have DLSS but not Frame Generation, we found that we only get around a 30-50% performance increase. Be aware that there are many games that have DLSS but not Frame Generation which is DLSS 3. We've noticed that the best games to benefit from the Ultimate tier upgrade are older games from the past 5 years or so that have DLSS. These games have made significant performance increases. I wouldn't say 70% though.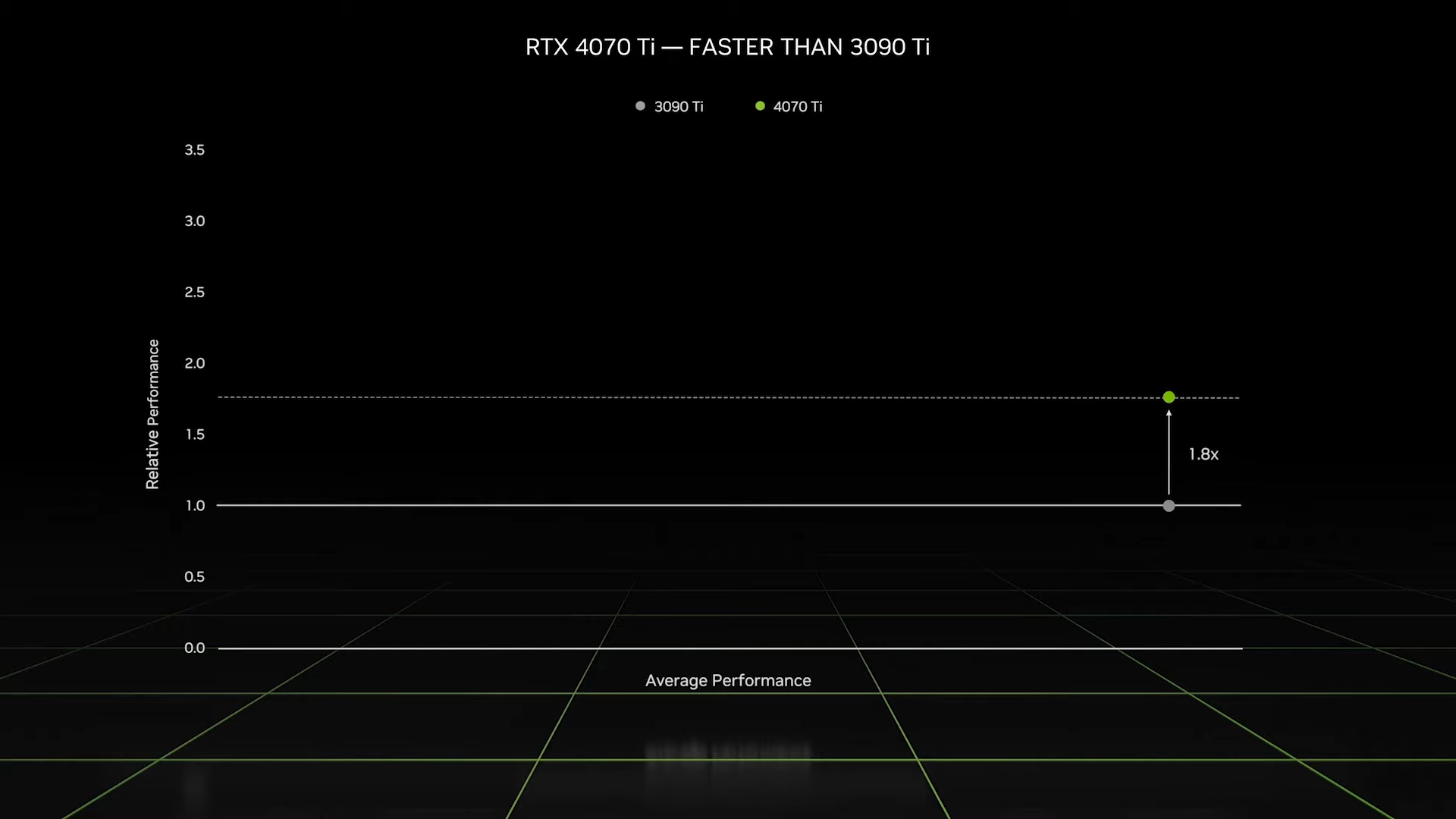 The games that don't support DLSS at all seemed to suffer the most with only a 10%-20% increase in performance. We also noticed that performance will vary from time to time with different games because they don't always give you the highest tier hardware. Why, because they are still using 3080 hardware for lower-end games that don't necessarily need that 4080 power. And no, you can't tell what hardware they have assigned you because they have it hidden on in-game benchmarks. Yea, we tried.
On the flip side, the 70% increase Nvidia was promoting was just an average. There were a few games that went way beyond a 70% increase. A Plague Tale Requiem, which was in need of a boost from the 3080 and Portal with RTX which was basically unplayable before this upgrade, got well over a 100% performance increase. But of course, why did they have high performance increase?
Because these two games have DLSS 3 – frame generation. The Ultimate tier has its weaknesses and its strengths. If your game has frame generation, your performance will go through the roof but if it doesn't the increase will be pretty minimal to average.
Monitor Support
For those with higher-end gaming monitors, this tier is for you. 1080p players get refresh rates up to 240 Hz. 4K players get a refresh rate up 120 Hz. And finally, Ultrawide monitor owners get the recognition they deserve the introduction ultrawide monitor support up to 3440 x 1440 resolution and up to 120 Hz.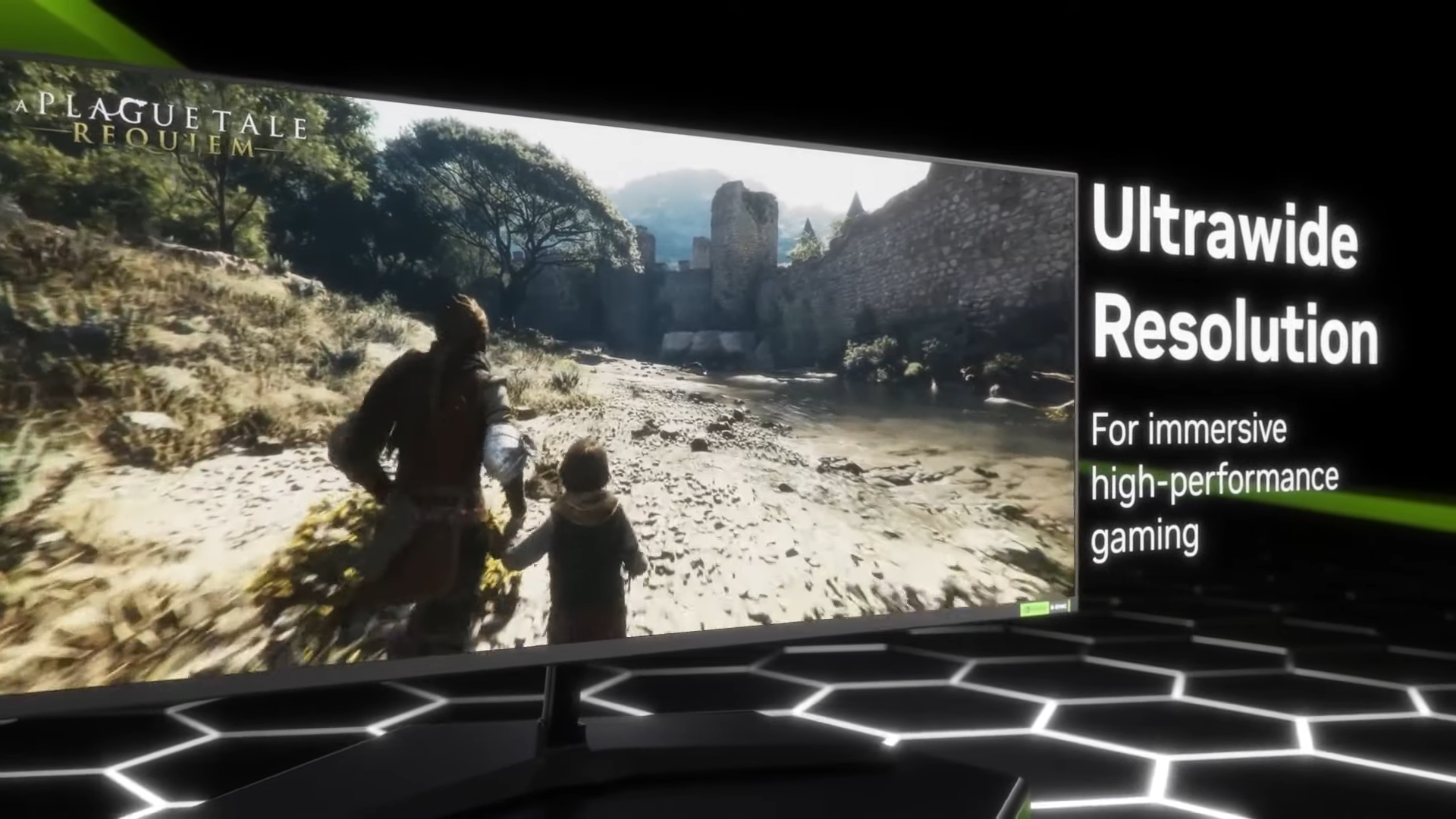 The question is does the Ultimate tier perform well and hit the upgraded refresh rates? We did a test to see whether their minimum requirements for 240Hz and 4K at 120Hz were enough to handle streams of this magnitude. And guys, as long as you have a stable internet connection with 35 mbps for 1080p and 45 mbps for 4K and Ultrawide, you'll be able to stream in great quality along with a high refresh rates. Nvidia has been doing this for a long time now and their experience in streaming shows.
GPU Requirements for Ultrawide and 4K
All this sounds great right? Here's the issue that you definitely need to be aware of before you buy. The Ultimate tier has minimal video card requirements. Why? Most people can decode 1080p HD streams with no problem. We are not at a point where most devices can decode 4K streams effectively.
For you PC gamers out there, you'll need a GTX 1000 series GPU or equivalent or higher if you want to stream at 4K or at Ultrawide resolutions. Check this FAQ page out for a more in depth look at resolution hardware requirements.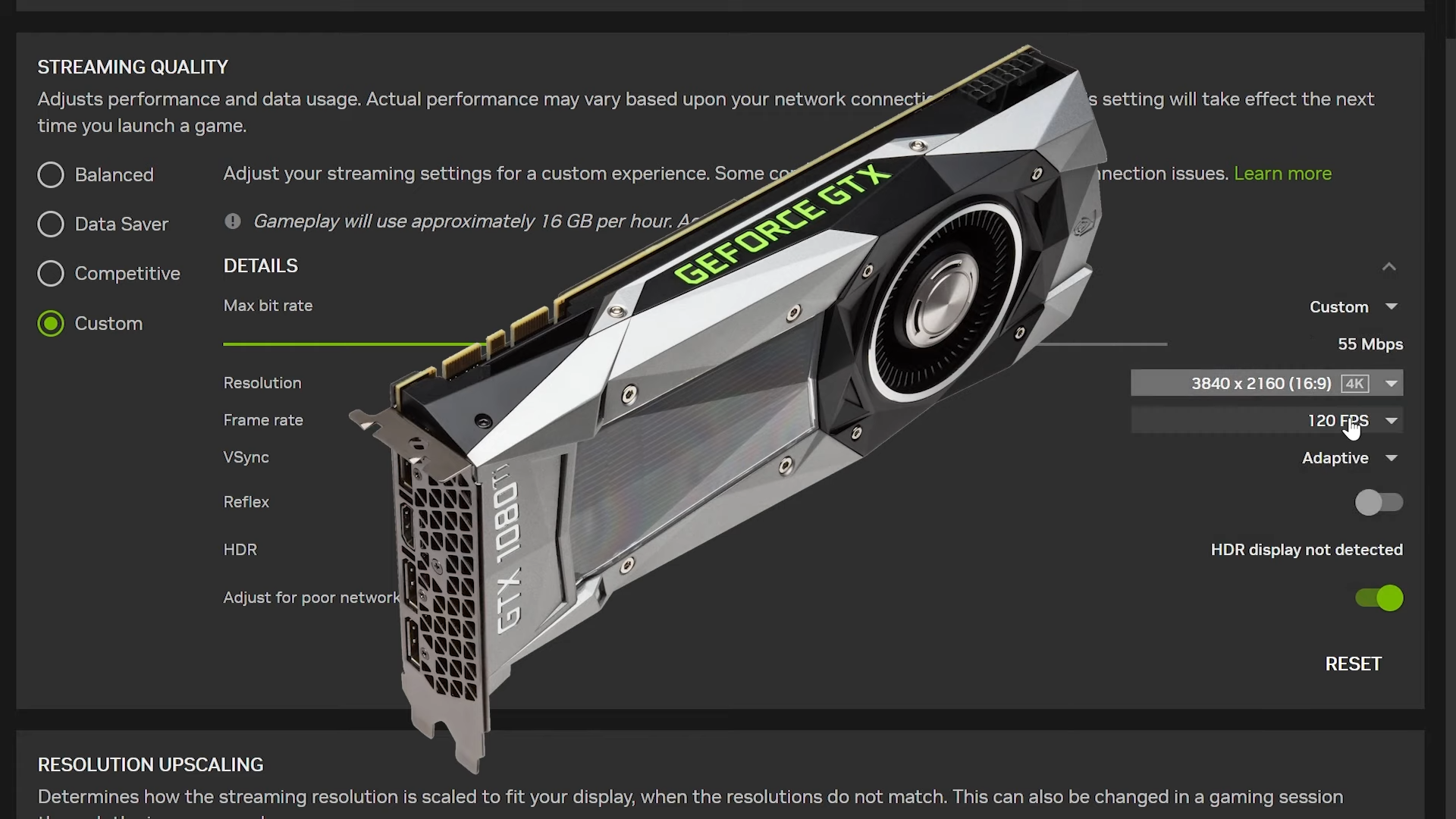 For those who are not into gaming PCs but want to utilize the full power of the Ultimate tier let's say on a 4K TV, there are a number of avenues. The NVIDIA Shield TV Pro can stream GeForce Now at 4K. New select LG TVs and Samsung TVs with the Samsung Gaming Hub can stream GeForce Now at 4K.
Mini PCs are also on the rise which I have been loving greatly. We have one that has an AMD GPU that hits the minimum requirements for streaming GeForce Now at 4K. It is a fully-fledged Windows 11 Mini PC which I highly recommend for cloud streaming.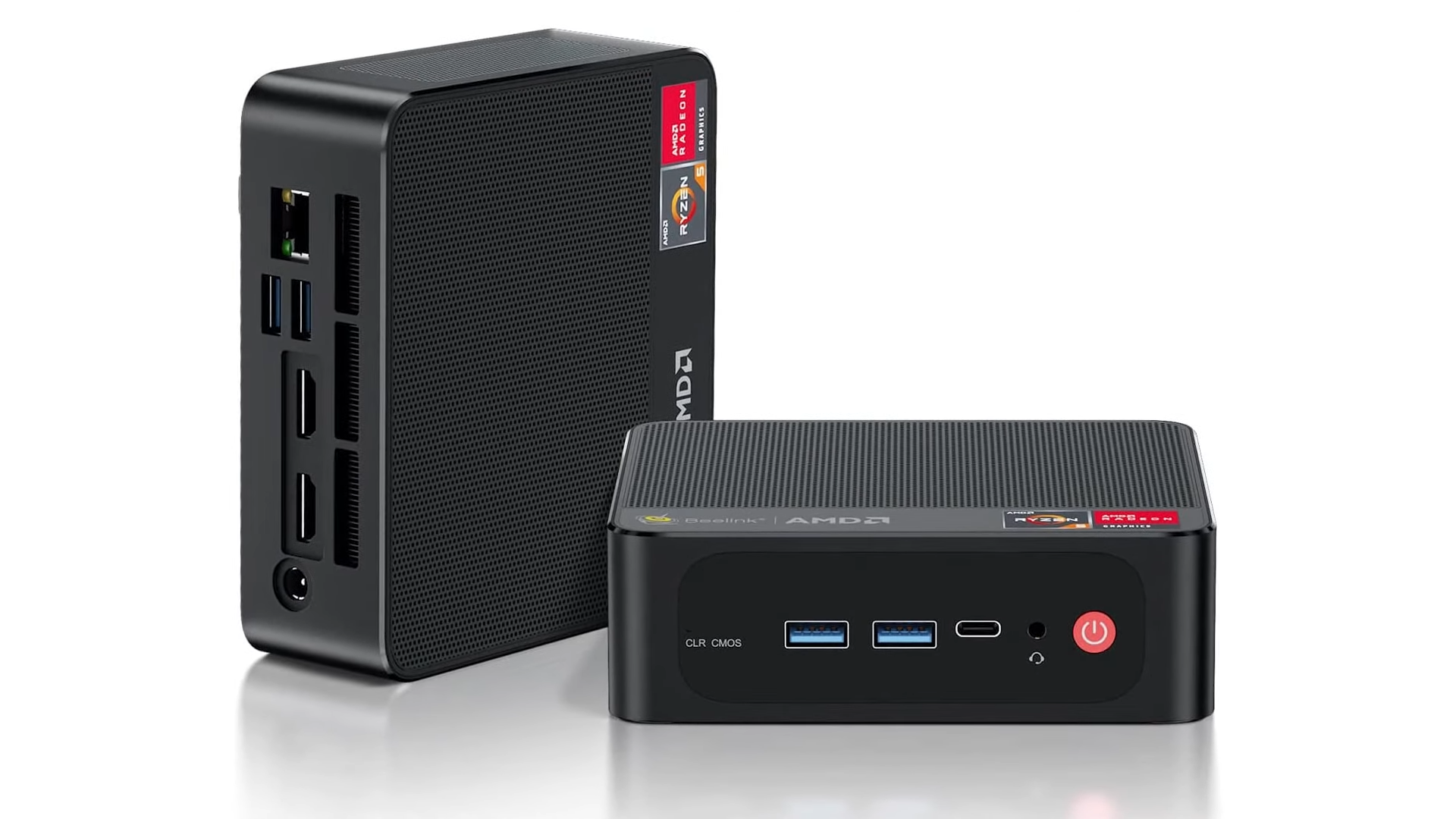 If you are looking for GeForce Now Ultimate specific monitors, the NVIDIA Shield TV Pro, our Mini PC and compatible TVs, we have all those links in the description.
4080 Locations
As of now, Nvidia has about half of their datacenters upgraded with the 4080 SuperPODs. Yes, it is taking awhile but upgrades that happen around the world like this can take quite some time which is also a reason why this review is coming now and not earlier when we had early access. How can you give a full review on something that isn't even fully released yet. Our servers have been implemented recently to the masses so our results are what the average user will get.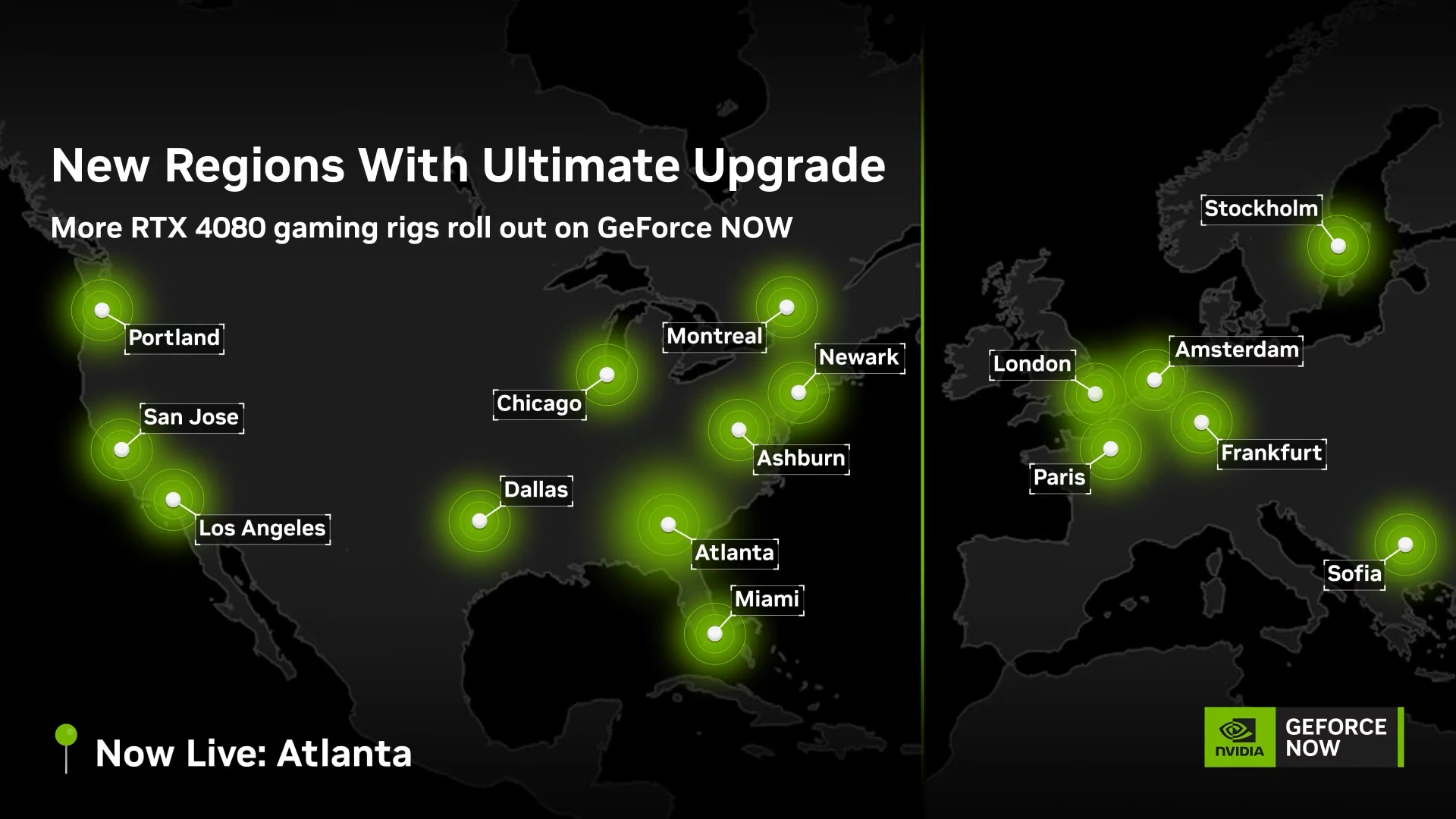 Overall, the Ultimate tier performance is incredible. Remember, the 3080 tier was already the best tier on the market to begin with so an increase is an increase even if the increase is minimal. Plus, this upgrade is FREE! They are keeping the Ultimate Tier at the same price as the RTX 3080 tier was before so no worries.
Game List needs Work
Now for the elephant in the room. One of the biggest criticisms GeForce Now has faced in the past year has been their lack of AAA games. They are missing a ton of AAA publishers from their library ever since many left when GeForce Now switched to a subscription model. But there have been developments since then. Capcom has been releasing games along with Bandi Namco.
Incorporating Game Pass games
Also, one thing that GeForce Now does allow is the use of the Microsoft PC Game Pass to be used on the service. This means that if there is a game that GeForce Now has on Game Pass that can be accessed with the EA app or Ubisoft Connect credentials, you will be able to play it. You'll have to sync your EA and Ubisoft account before you can play but it does work. Check the video about to get that setup.
Games with a Windows login do not work right now because GeForce Now doesn't have the Microsoft Store launcher integrated. But that is about to change.
Microsoft games coming
Nvidia has recently announced a 10-year deal that will bring the full line of Microsoft PC games to the platform soon. This includes franchises like Halo, Forza, Elder Scrolls, Fallout, Microsoft Flight Simulator, etc.This will also include all the games under Activision/Blizzard if the Microsoft deal goes through to acquire the company. Get ready for World of Warcraft, Overwatch, Diablo, and of course Call of Duty among many other games under the Activision/Blizzard name.
Need other Publishers like Bandai, Rockstar, WB Games
Hopefully, this is a great sign of things to come. Bandai Namco has jumped on board with adding a number of their games. Maybe we'll see other AAA publishers like WB Games and Rockstar to come back to the platform soon. We all know what happened with the Microsoft Activision deal and we'll have to hold off seeing Call of Duty on the platform for now.
Gamepad compatibility
GeForce Now is also compatible with various gamepads including Xbox, Playstation, and third-party controllers. Of course it really depends on the device you are on for controller compatibility but as long as controller can connect, they should be able to play on the service.
Local Multiplayer
These controllers come in handy when having people over to play local multiplayer games like Rocket League. The Ultimate tier is perfect for streaming couch multiplayer games at 4K with your select Samsung or LG TV.
Overview
So, is GeForce Now worth the buy? For us, it is the world's best cloud gaming platform hands down. From mobile and causal gamers to hardcore gamers with amazing PC setups, GeForce Now tier can bring top tier gaming to anyone's device for a small fraction of the cost. Just long as they meet the internet requirements.
Internet Requirements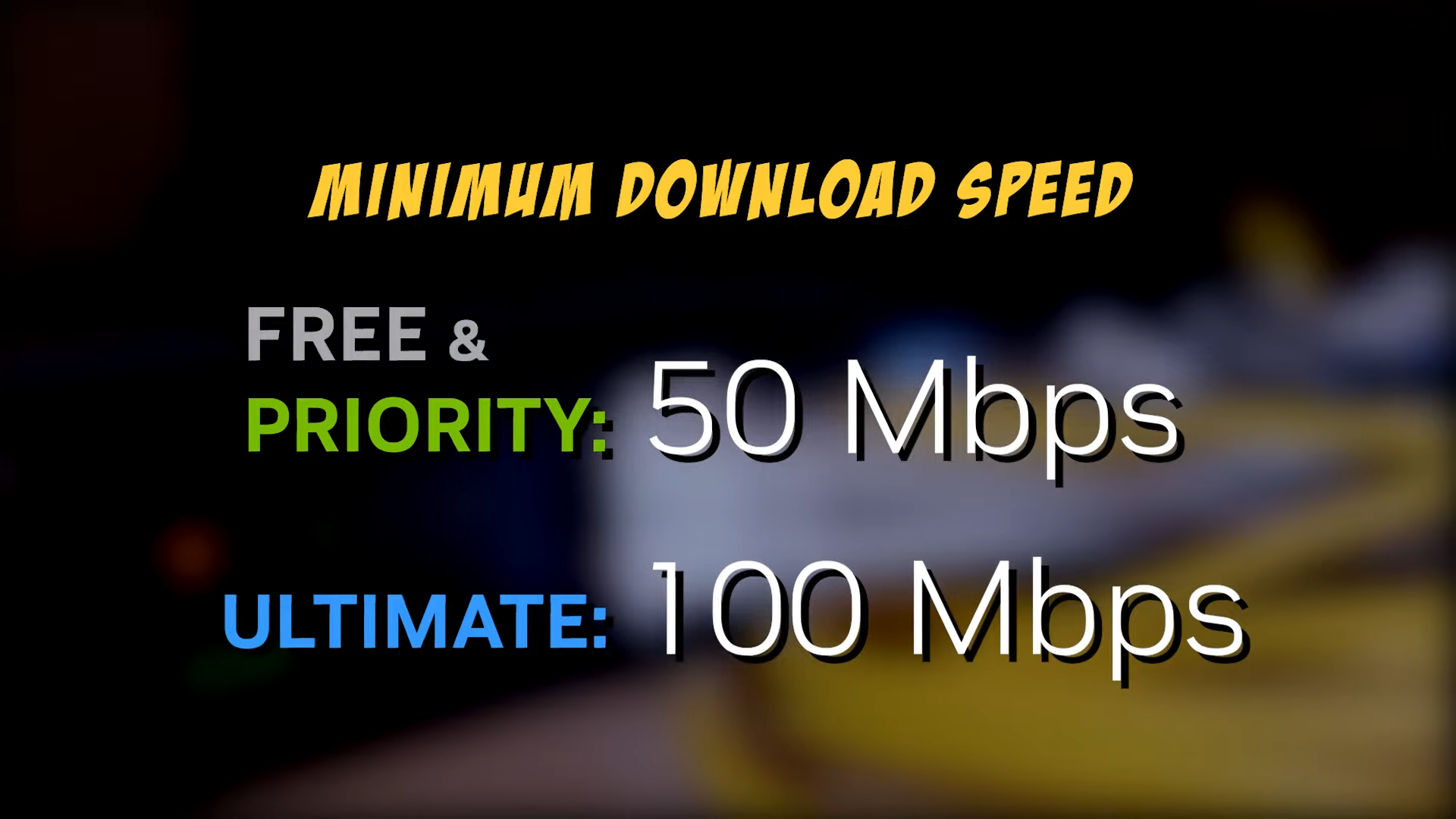 Remember to check whether you qualify decent quality game streaming on the GeForce Now FAQ page but, we recommend minimum download speed 50 mbps for Priority members and 100 mbps for the Ultimate tier for maximum bitrate streams especially if you live with others using the internet. GeForce Now also recommends a 5Ghz Wifi connection if you are on a wireless network or 5G on a cellular network. But being on a wired Ethernet connection is the best option. GeForce Now has the power, the price, and hopefully the publishers soon. Other than that you can't go wrong with GeForce Now. They are leading the cloud gaming pack with quality. We can't wait to see the evolution of the platform in the future.