Playkey is a Russian made pickup and play cloud gaming service that allows you to play your whole catalog of games from various third-party distributors including Steam, Origin, and Epic Games. Is this cloud gaming platform for you? Let's get keyed in with the details of Playkey.
Playkey Infrastructure
Playkey headquarters might be in Russia but they have servers in London, Amsterdam, Frankfurt, Moscow, and Dubai. They run a decentralized gaming server network meaning their architecture distributes workloads among several machines, instead of relying on a single central server.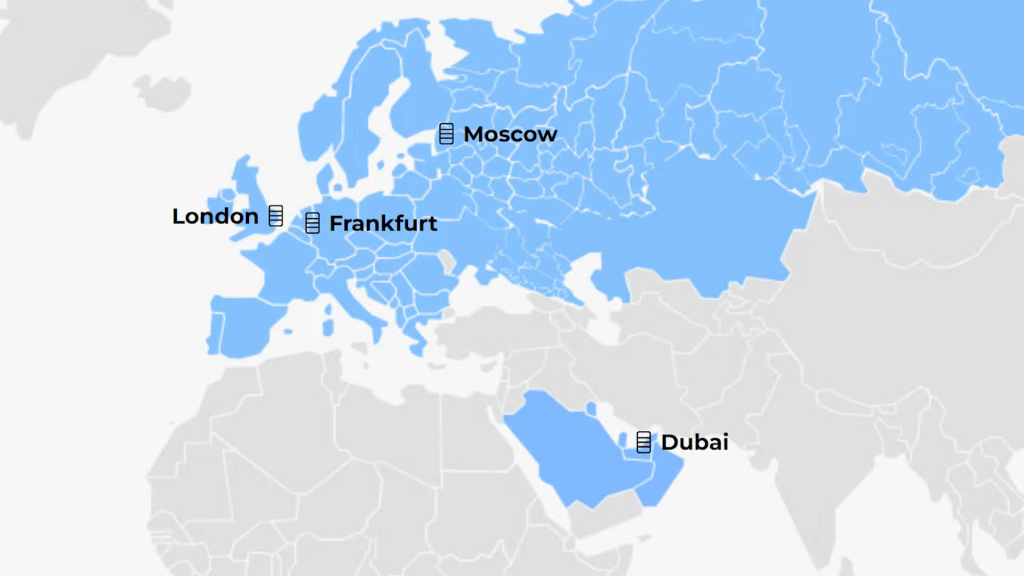 Their infrastructure consists of various crypto mining hardware configurations from miners willing to rent out their hardware for cloud gaming purposes. In turn, miners get Playkey tokens, a cryptocurrency which operates on the Ethereum platform. And gamers get a slew of different gaming hardware profiles to run cloud games. More on this in our Playkey benchmark.
Playkey Subscription
Playkey is a credit-based service in which you pay for the amount of time you want to play per hour. The amount of hours you can choose from starts from 1 hour to 100 hours to unlimited. The unlimited plan is a monthly plan set at $49 a month. The hourly plans have an expiration date of 2 months so choose wisely.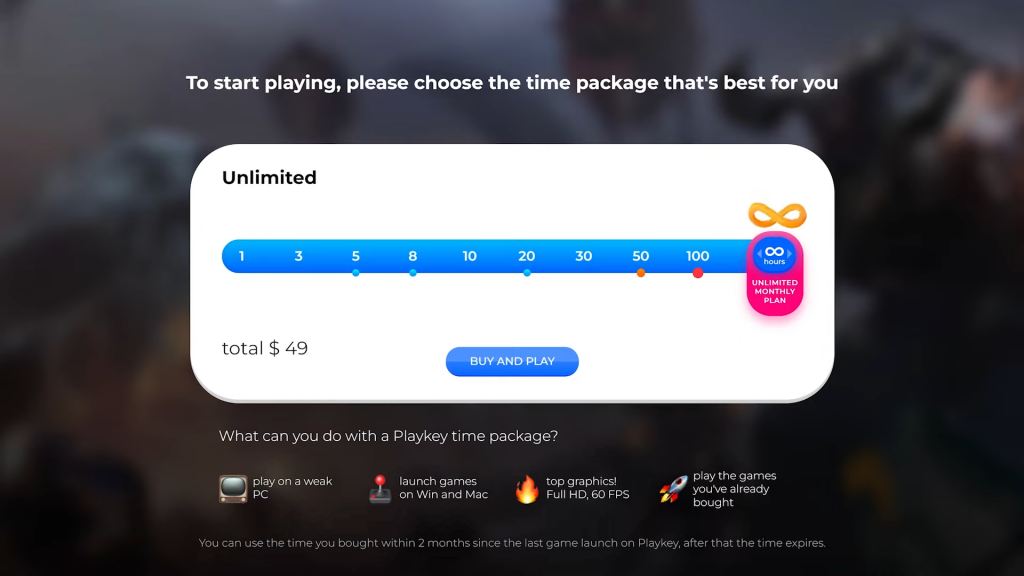 If you need help getting started with the setup with the Playkey, feel free to jump to our getting started post which will go into detail on this.
Playkey Dashboard
What makes Playkey unique on the gaming front, is not only are they a Pickup n' Play type of platform where they have pre-installed games on demand, but they allow you to install any game you want from the Steam, Origin, and the Epic Game Store digital game distributors.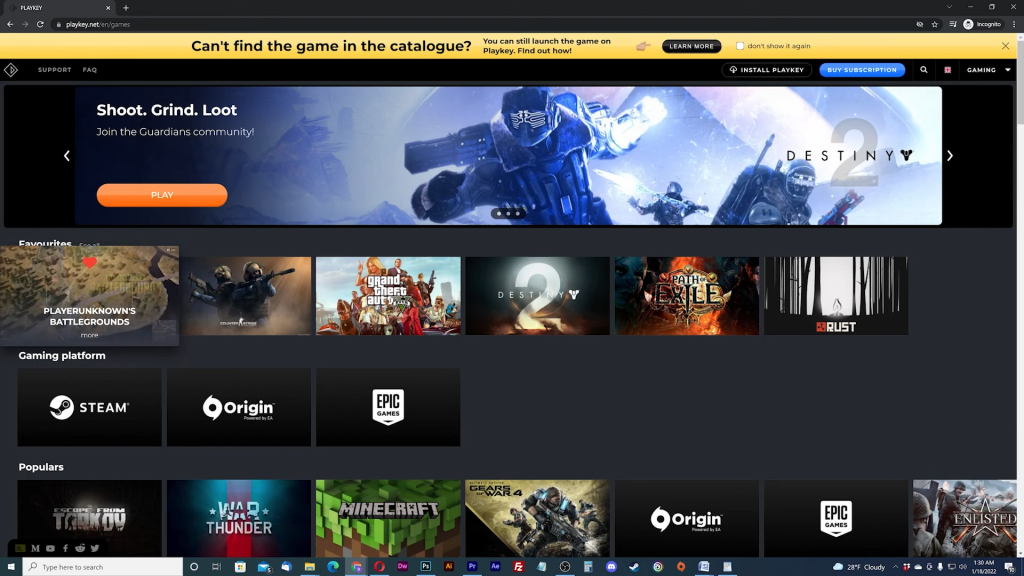 The Playkey in the middle east (playkey.me) has access to Battle.net games as well. Be aware that you'll need a separate account to use playkey.me rather than playkey.net.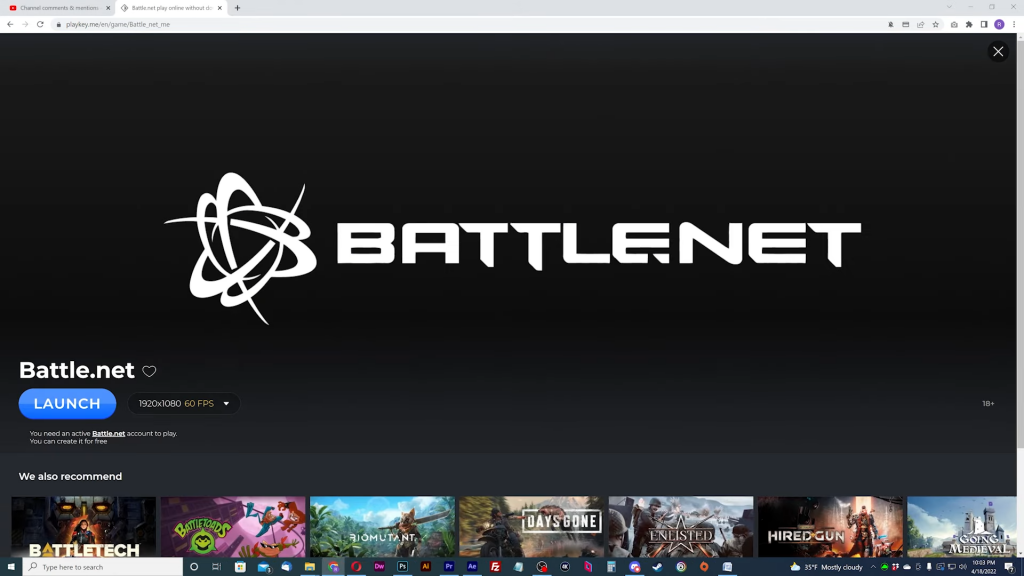 The homepage of their website is also their dashboard to the games already installed on their platform. You can see that it looks a lot like the GeForce Now dashboard. To me this is a good thing. It makes games simple to access.
If you don't see what you want to play, either search it up or launch the app that distributes the game, install it, and run it. Please note that if you use one of the distributor apps, you'll have to go through downloading the game which might take quite a bit of time. This will eat into your paid game time. Your time starts the second they grant you access to one of their servers as you can see in the corner.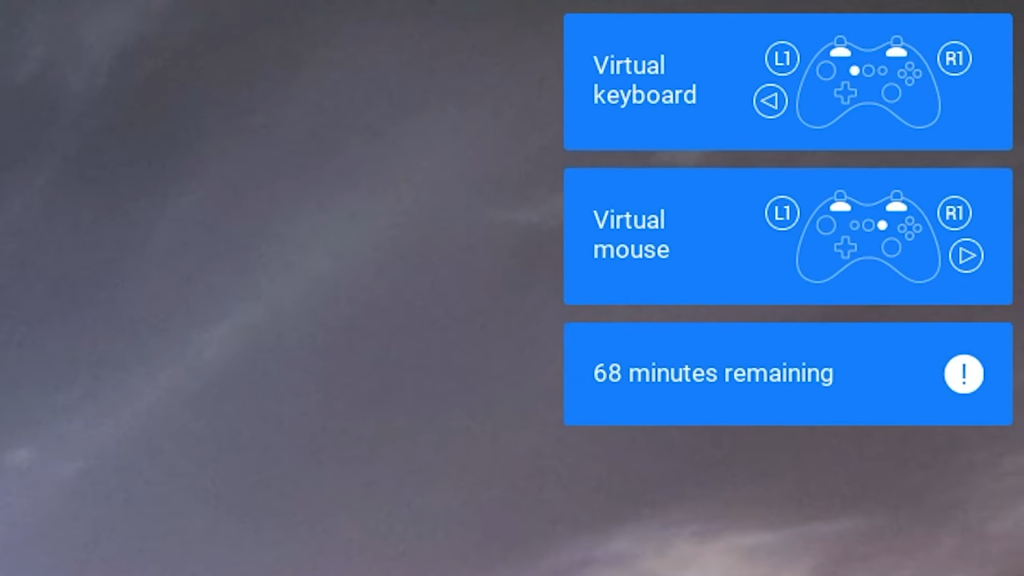 What is nice is that they allot you several hundred GBs of storage for your custom game downloads. This is saved under your account so don't have to download again. This might depend on the game though.
Desktop App
You don't actually play the games through the browser though unfortunately. They require you to download their Windows app. It's a small app which resides in your hidden icons menu if you ever want to close it.
Please note that this is their only way to play their games. They don't have a browser app, no Android app, no iOS app, nothing. And the only way to choose the games you want is to select it on the website first which will open in the desktop app.
They need to add more device support soon because various device support is what cloud gaming is all about.
Their app is easy to use. I initially had trouble with displaying my video so you might need to play with the settings to get things to work. The app does support resolutions over 1080p but games will only max out at 1080p resolution.
Gameplay on Playkey
Since Playkey has a pool of various types of hardware profiles, you'll get a new hardware profile every time you start a game. So, performance could vary depending on what you get. But know that we never got a profile that didn't run the game at a point where it was unplayable. Granted it wasn't the best. Depending on the game, we usually got between 40 to 60 FPS. To me that is pretty acceptable.
Playkey Input Lag
We are located in the US and my server was located in Russia which gave us 136 ms in latency when playing on playkey.net. My server in Europe while playing on playkey.me gave us over 200 ms in latency. Yes, this gave us some significant lag in games especially for first person shooters. It wasn't bad enough though to stop playing any of the games we were playing.
If you are in the US, I wouldn't recommend playing any competitive titles on Playkey. If you are much closer to any of these servers, response times should be much better. Their infrastructure is good enough to where their video quality is solid. We experienced little to no hiccups during gameplay.
Local Multiplayer
I was also very surprised that their desktop app supports multiple controllers. We first tried a 2-player co-op game. Then we tried a 4-player co-op game. We tried different types of controllers and we had no issues playing these multiplayer games. So if you have a large collection of multiplayer games, feel free to entertain company on the couch.
Overview
Overall, Playkey is a solid platform. It is definitely a contender to rival GeForce Now, especially with being able to install any game from the third-party game distributors they support. If you are in Europe, Russia, or Dubai, you should have a really good experience.
Hopefully they will add more high-end hardware to their pool so we can get some 4K gameplay. I'd also like to see additional device support along with support in the US. It was on their roadmap but the Russian conflict might had something to do with that. We'll be looking forward to see what Playkey has in store for cloud gamers in the near future.