Airgpu is a cloud PC Rental service similar to Shadow and Maximum Settings. As of now, they currently offer different tiered cloud gaming PCs in 15 data centers across 4 continents including North America, Europe, and Asia Pacific. We'll go into the specifics on the each tier with benchmarks. Let's catch some air!
Infrastructure Background
Before we dive into the specifications of each tier, it's important to know that AirGPU's infrastructure is using AWS or Amazon Web Services for their cloud-based instances. Primarily, they are using the Amazon Elastic Compute Cloud (EC2) G4 Virtual Instances. Amazon is ahead of the game when it comes to cloud instances being able to deploy custom virtual workstations with a click of a button.
G4 Line
The G4 line has 2 different tiers: the G4dn tier, which are lower costing NVIDIA GPUs consisting of Tesla T4 GPUS (Compare to the GTX 1080).
The second tier, the G4ad tier, are powered by AMD Radeon Pro V520 GPUs which is currently the staple in the G4 line. This is because this is the most cost-efficient tier with 45% better performance over the G4dn tier.
G5 Line
Amazon also has a high-end tier featuring the latest generation of NVIDIA GPUs equaling the power of the RTX 3080. They call this the G5 tier. This tier is about x3 the power of the G4 tier.
AirGPU Tiers
AirGPU has several tiers utilizing the many variations of the G4 line. Let's start with the first one: the T4 tiers which are Amazon's G4dn line of virtual instances.
T4-S & T4-M
Operating System: Microsoft Windows Server 2022 Datacenter
Processor: Intel® Xeon® Platinum 8259CL CPU @ 2.50GHz (4 CPUs – S | 8 CPUs – M)
RAM:16 GB (S) and 32 GB (M)
GPU: NVIDIA Tesla T4
The Intel® Xeon® Platinum 8259CL CPU is a workstation server processor with 24 cores and 48 threads with a clock speed of 2.50GHz. The T4-S tier will use 4 vCPUs while the T4-M tier will use 8 vCPUs. This processor generally performs lower than the AMD EPYC processors. Keep this mind for future tiers.
The NVIDIA Tesla T4 is workstation GPU designed for cloud instances. It is based on the Turing architecture which means it on the same generation as the RTX 20 series – hello ray-tracing. It has the power of about a GTX 1080.
V520-S & V520-M
Operating System: Microsoft Windows Server 2022 Datacenter
Processor: AMD EPYC 7R32 CPU @ up to 3.3GHz (4 CPUs – S | 8 CPUs – M)
RAM: 16 GB (S) and 32 GB (M)
GPU: AMD Radeon Pro V520
These would be Amazon's G4ad line. From what we found, the 7R32 version of the AMD EPYC processor, also know as the "Rome" version, was designed specifically for Amazon Web Services. This 2nd generation of AMD EPYC CPUs are now Amazon's most optimal choice when building virtual cloud instances.
It has a clock speed up to 3.3 GHz and has 48 cores and 96 threads being able to support up to 96 vCPUs at once. This processor is the game changer for all of AWS.
The AMD Radeon Pro V520 is a workstation graphics card. I would consider it a mid-range card comparable to the RTX 2060 or the RX 5700 XT.
Here's a graph showing how well it performs over the Tesla T4. One card it beats out as well is the NVIDIA Quadro P5000 which most Shadow machines are running. So, the mid-tier V520-S tier score just under Shadow's while the M tier score above it.
So, if you want a machine similar to Shadow's choose your tier wisely.
A10G-M&A10G-L
Operating System: Microsoft Windows Server 2022 Datacenter
Processor: AMD EPYC 7R32 CPU @ up to 3.3 GHz (8 CPUs – S | 16 CPUs – M)
RAM: 32 GB (S) and 64 GB (M)
GPU: NVIDIA A10G
This is Amazon's G5 tier. These tiers also use the AMD EPYC 7R32 CPU just using more vCPUs for additional power – 8 the "M" tier and 16 for "L" tier.
These tiers also have the RAM doubled – 32 for the "M" tier and 64 for the "L" tier.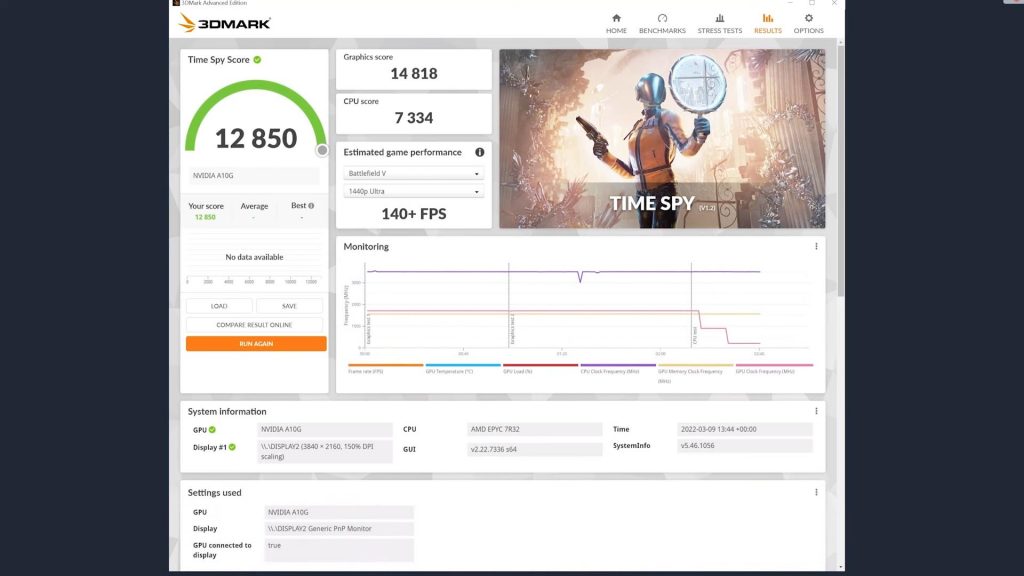 For the GPU, they are using the NVIDIA A10G which is the same GPU GeForce Now is using for their RTX 3080 line. Performance for these tiers are stellar. You will pay for them though. This isn't really the fault of AirGPU. Amazon's prices are pretty crazy.
Overview
Overall, Amazon's line of cloud gaming machines are a game changer in the industry. Being able to spin up a wide variety of cloud computers through AWS is now an easy task. They also perform well and are easy to connect to. I have a feeling we'll be see a lot more startup companies using AWS to provide cloud gaming PC rentals in the near future. Hopefully there will be more competition, so the prices drop and we'll see a more competitive price plan.