The Shadow Power Upgrade has been released for several months now and we have had plenty of time to review this updated tier for the Shadow line of cloud PCs. Since our last Before You Buy review on Shadow, they have not only launched this new tier, but unveiled a brand new company look. Plus, they released brand new business ventures including a cloud storage service and cloud PCs for businesses.
The question is whether the new Shadow Power upgrade is up to snuff as they promised or do we still have to look to other providers for a decent Cloud PC? We have a lot to talk about regarding the new Shadow Power Upgrade so let's get started.
Platform Overview
For those who don't know, Shadow is a cloud PC service that provides a powerful Windows PC that you can access remotely from just about any device. They are widely known in the industry as one the leading cloud gaming PC services on the market. They offer their own app built in-house to provide access to their cloud PC for nearly all devices which, to us, is the top cloud app in the industry. I'll go into more detail later. For more information on how to get started with your Shadow machine included how to use the Shadow app, check our Getting Started article.
Power Upgrade Graphics
Now the Power Upgrade is all about the new up-to-date hardware to run the most modern games. And since we have 4K monitors, we've been testing in 4K resolution for the ultimate test. The Power Upgrade is running newer AMD EPYC CPUs and most importantly, our version is running an RTX A4500 which is equivalent to a regular consumer based RTX 3070.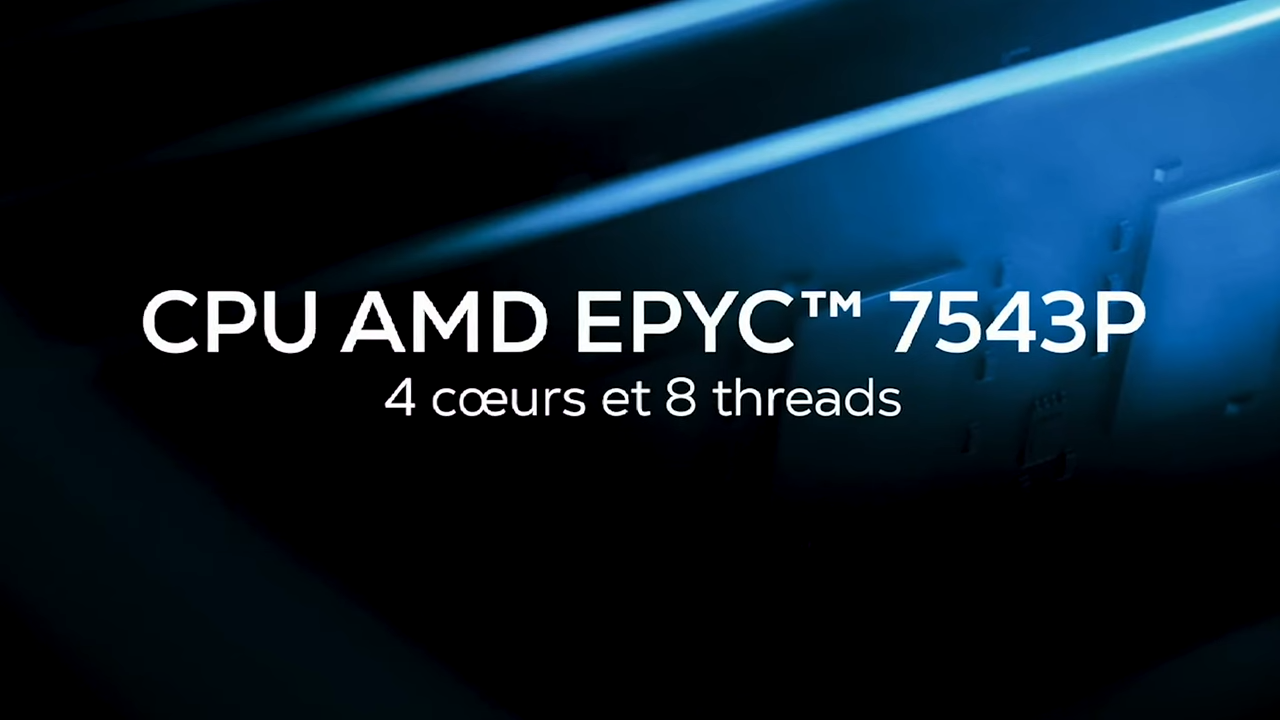 From our benchmark findings, the performance is actually much better than what Shadow was initially stating. They said that full Power Upgrade was going to be about 65% better than the base Shadow tier. From our 3DMark software benchmarks, it actually came out to a 71% improvement! Well done. For our full benchmark findings, check out our full Power Upgrade benchmark.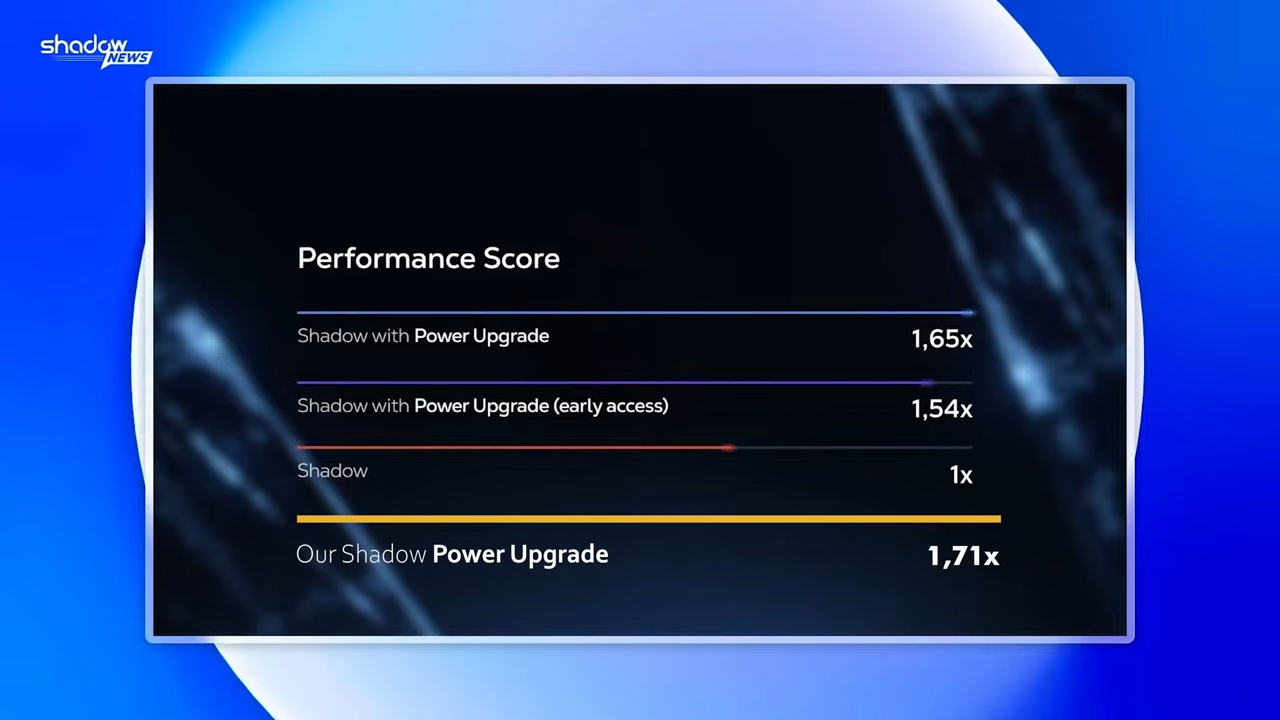 Power Upgrade Performance
Now the question is, how well do these performance findings translate in-game? Well, if you have been a fan of the channel for the past several months, you'll know that we have been covering some of the latest games in 4K with high graphic settings on the Shadow Power Upgrade with no issues.
Modern Warfare 2, Spider-Man Miles Morales, Battlefield 2042, Red Dead Redemption 2, and batman Arkham Knight all played very well at 4K. This especially holds true since DLSS can be turned on with this upgrade. The same holds true with Ray-tracing capabilities.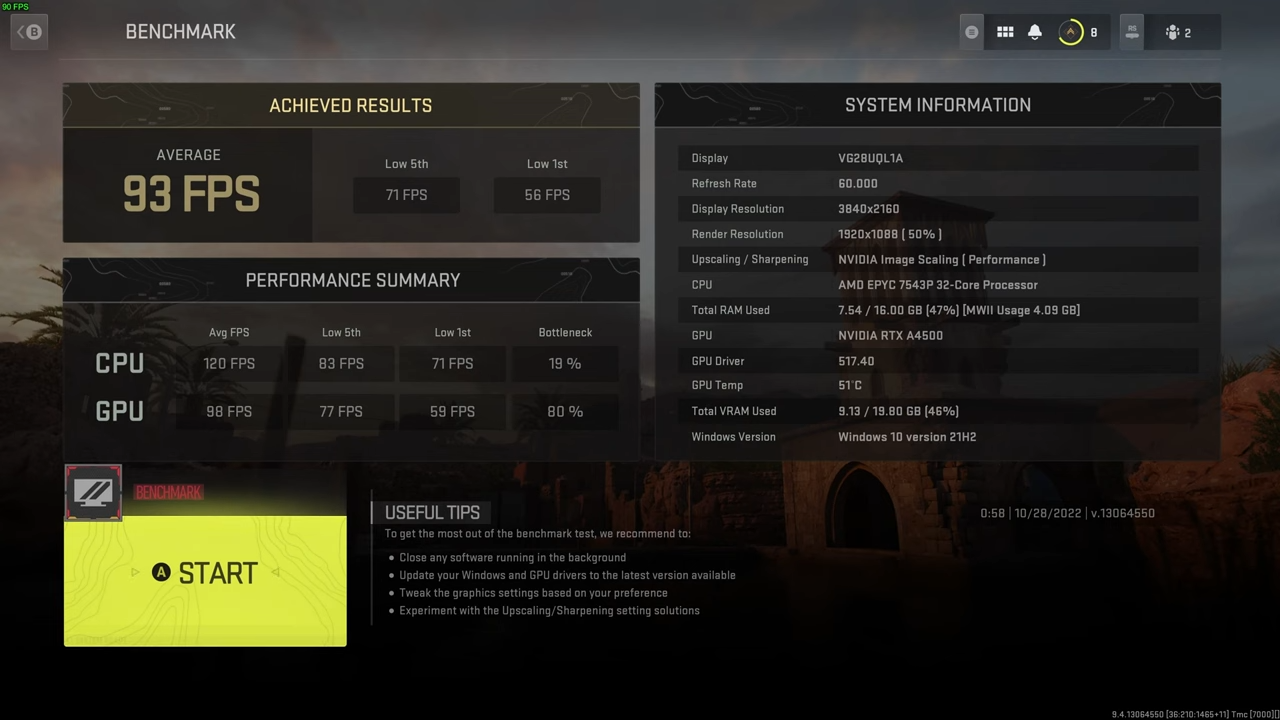 We'll be performing more game overviews in the future but this comparison we came across was the kicker in just how good the Shadow Power Upgrade performs. We were playing Warhammer 40K: Darktide comparing the Shadow Power Upgrade to the new AirGPU A5000 tier, which supposed to have 12 cores from a similar EPYC CPU, more RAM, and of course, a GPU a model higher than the Shadow Power Upgrade. We set the graphics exactly the same at 4K and the Power Upgrade was not just keeping up with it, it was surpassing it in FPS in several instances. This was incredibly impressive. Shadow has really optimized this tier.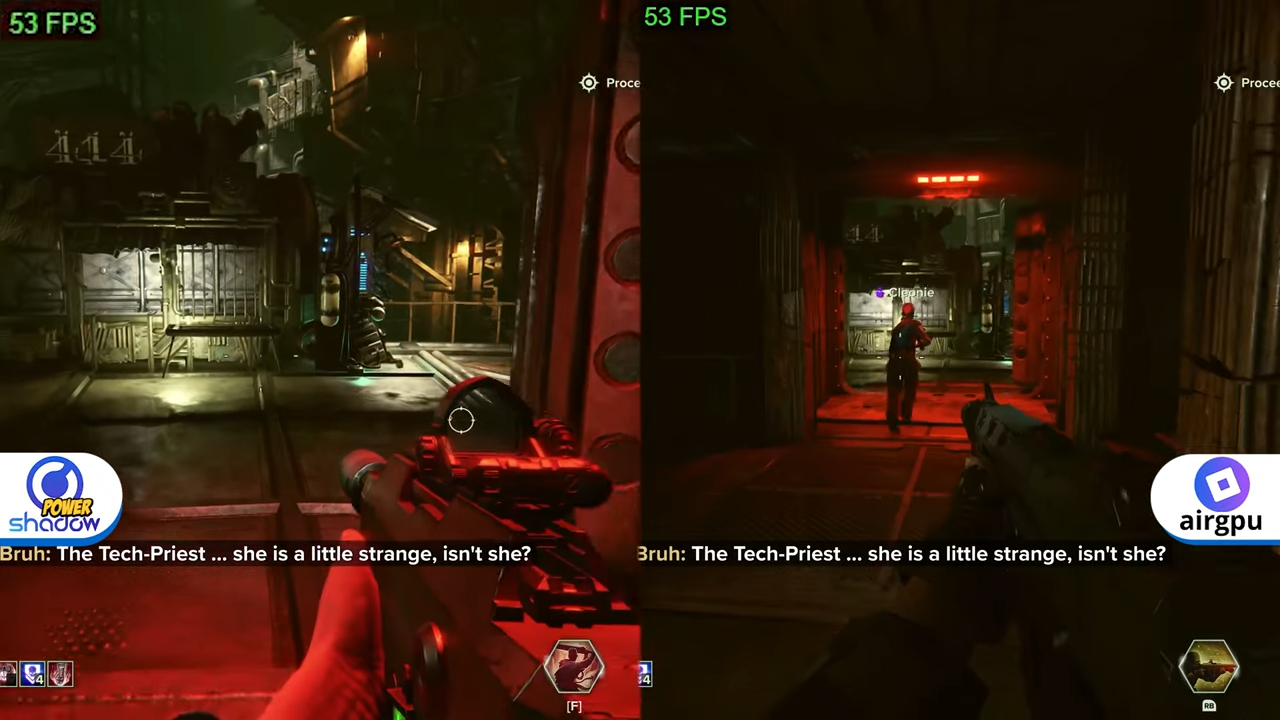 Now saying all this, it's still not the most powerful tier on the market. The GeForce Now RTX 3080 Tier is still more powerful. The Paperspace and TensorDock A6000 machines are superior as well. But, for the cost saving route Shadow went, they made a very capable tier that rivals a lot of other tiers with similar hardware profiles. 
Future Shadow Improvements
What about going forward? They have been giving us monthly updates through their Twitch channel on the improvements that they are working and planning on for the future of the platform. This includes a better mobile experience, better support for a wider range of USB peripherals, VR gaming, and more devices.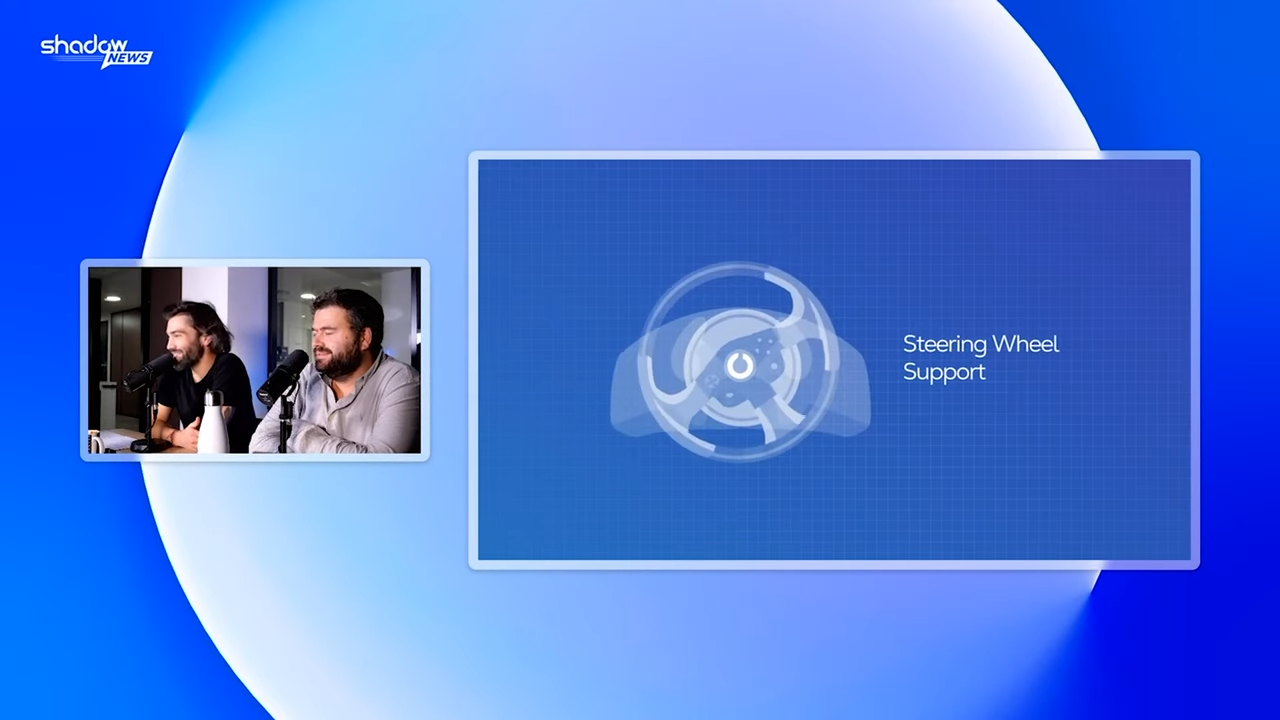 They also stated that Power Upgrade would get new hardware every couple of years to keep up with the hardware demands. Then the base Shadow tier would get the current Power Upgrade hardware. This sounds like a decent plan so people don't have to worry about the upgrades down the line. As long as you have the Power Upgrade, you should always get the latest hardware every couple of years.
My UI Change
I mentioned earlier that Shadow had the best app in the industry. Their quick menu to control your machine while in session is second to none. The only real change I would make is to have a way to add the network stats panel in a smaller form on screen as you are playing. It could look a little similar to this.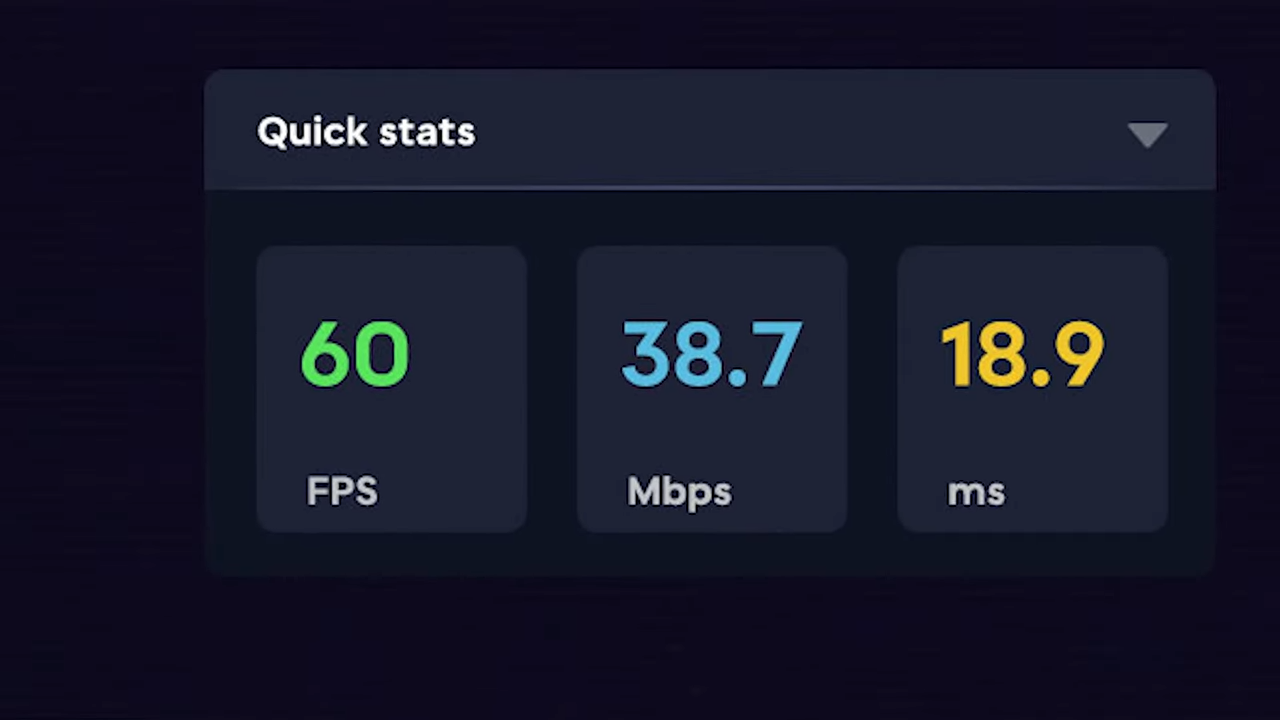 This way we know if the stream is running higher than 60 fps in real-time. It will come in handy for those who have a monitor capable of running higher than 60 Hz – just my 2-cents.
Overview
Overall, the Shadow Power Upgrade has surpassed our expectations. We initially thought they were going to give us cheaper lower-end hardware to save costs and still charge us $45 a month. They really stepped up their game on this one.
I don't have to know my IP address, I don't have to login with Remote Desktop to connect Parsec or Moonlight, and I don't have to go to their website to start up or shut down my machine. None of that mess. Download the app on any supported device, login, and get playing. That's it! That's the way it should be and why Shadow continues to be the gold standard in the cloud gaming industry. If you want to compete, here's your blueprint. We're looking forward to see the future updates Shadow has to bring.